Liverpool - United live online: Premier League 2018-19
Follow all the action from Anfield as Jürgen Klopp's side seek to return to the league summit as they host Manchester United on Sunday December 16 at 17:00 CET.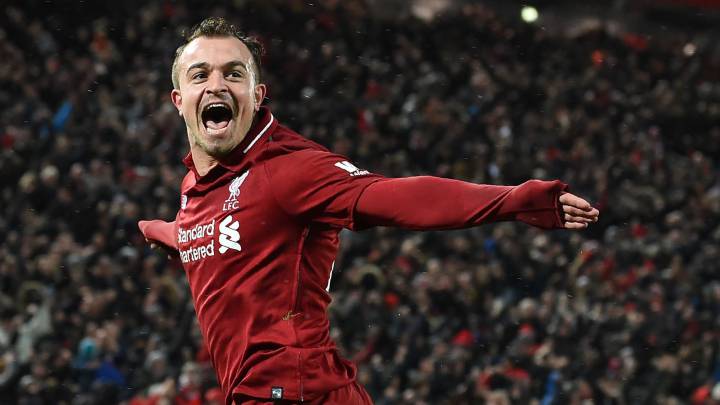 Liverpool 3-1 Manchester United: match report
Two second-half goals from substitute Xherdan Shaqiri gave Liverpool a 3-1 Premier League win over Manchester United on Sunday as Juergen Klopp's side regained top spot with a pulsating performance in the North West derby.
Liverpool roared out of the traps at Anfield and took the game to Jose Mourinho's side, grabbing the lead in the 24th minute when Sadio Mane chested down a pass from Fabinho and slotted past David De Gea.
Against the run of play, United drew level in the 33rd minute when Liverpool keeper Alisson Becker spilled a harmless low cross from Romelu Lukaku and Jesse Lingard pounced on the loose ball to find the net.
The hosts continued to dominate but it was not until the introduction of Swiss international Shaqiri that the game turned decisively in their favour.
Mane's pull back from the byline took two deflections as it ricocheted to Shaqiri on the edge of the area and his shot flew off Ashley Young and into the top corner to make it 2-1 in the 73rd minute.
Seven minutes later fortune was on Shaqiri's side again as another deflected shot, this time off Eric Bailly, beat the helpless De Gea.
Unbeaten Liverpool have 45 points from 17 games with champions Manchester City, who beat Everton 3-1 on Saturday, a point behind.
Liverpool vs Manchester United live online: latest updates
90'+3' GAME OVER! Never really a game at all as United go down to a much better Liverpool side.
90'+3'   Salah strikes and it hits the roof of the net. He has a smile to himself. Not gonna get a goal today it seems but not the worst day at the office.
90'+2'   Firmino shoots now and that catches the side netting. 
90'+1'   Mata hits one and it's deflected out for a goalkick.
89'   Henderson tries his luck but that's a mile over. He was leaning back when he hit it. No chance.
88'   Goal kick for United.
86'   Lovren kicks the ball out for a throw. Rashford gets it off the fans after a long wait.
86' Mata on for Lingard.
83' Mane is going off for Henderson. 
83'   Shaqiri to Wijnaldum and it's saved by De Gea.
83'   United can't even bring the ball out of their own half. Liverpool might push for another one yet.
81' The party begins. Shaqiri gets it from a Firmino pass, that was slightly lucky. He strikes and it's deflected. 3-1. No way back for United now.
81'   Wijnaldum on the ball now. Liverpool building again.
80'   Salah tripped by Bailly but no foul. Fellaini tries to drive it up the field by Mane clears.
79'   Fellaini with a foul on Fabinho.
79' Martial on for Herrera.
78'   Herrera strikes it across the box. No United players waiting for it and Liverpool win it back. Matic with a foul.
77'   United clear and Liverpool win it again. United just relying on a mistake now by someone on the opposition.
76'   Shaqiri searching for Salah and it's cut out but Liverpool win it again. Mane plays it inside to Salah and United clear.
76'   Lingard drives forward. Lukaku plays it to him and he gets it back. The shot from Lingard is a mile over the bar. Poor effort.
76'   Wijnaldum has a crack from outside the box. Drifts wide.
73'   It took a slight deflection of Ashley Young too.
73' SHAQIRI! 2-1. Mane with a lovely run down the left. He skips inside and squares. It's sent out only as far as Shaqiri and he drives it in off the crossbar.
72'   Lingard with a cross and that's to nobody. Way over everyone's head but Mourinho off his line to applaud the effort.
72'   Shot from Fabinho from outside the area again. He had loads of space and that's not a bad effort but De Gea grabs it.
71' Keita replaced by Shaqiri.
70'   Here go Liverpool again. Keita is tripped up outside the box but referee says it's fair. 
69'   Wijnaldum shoots after Mane's first effort is blocked.
68'   Dangerous attack by Liverpool. Mane spies Firmino on the other side of the box but his ball is blocked out. United getting into this one now as the game opens up more.
67'   That good spell by United comes to an end with an offside. Liverpool not completely convincing at the back.
67'   Shaqiri coming on for the Pool.
66'   Firmino out for another corner.
65'   Corner for United. Young delivers and Fellaini heads it back into the danger zone. 
64'   Good attack this time as Wijnaldum is thrown off the ball by Lukaku and Young picks it up. Cross is delivered and Henderson puts it out for a throw.
64'   Ball back to De Gea after Alisson kicks it up the field. No hurry whatsoever from the Spaniard. United can't get a kick at the moment. 
63'   Low and hard. Cleared and then out for another corner.
62'   Another corner! 
62'   But it took a nick off a United player. Another corner. Robertson takes and it's cleared for a throw.
62'   Salah gets the corner short and it's to the back post. Lovren heads it down at the back post. 
61'   Salah wins a corner after battling with Rashford.
61'   Liverpool taking some crazy shots. Van Dijk this time. It's blocked. If Liverpool keep this up, you feel they will eventually score.
60'   Clyne cross and that's too high. Lingard clears. 
59'   Lovren with a shot from downtown. Miles over, as you might expect.
58'   Robertson again down the left. Crosses and that's blocked too.
58'   Liverpool trying to figure out how to break United down here.
56'   United can't get the ball out of their own half. Clyne shoots and it's blocked for another corner.
56'   Clyne fouled by Rashford. This is similar pressure we saw from Liverpool in the first half.
55'   Fellaini with a pass to Lukaku but that's way off target. Liverpool back on the attack.
54'   Corner in and it's headed away.
53'   Bailly is not comfortable but he's stretching his lower back to see if he can shake it off. 
53'   An injury to Bailly here. He isn't going to be able to continue, is he? He's really uncomfortable.
52'   What a run and show by Firmino. Not quite sure how he kept the ball there. He toepokes one towards De Gea and he saves. It's out to Keita and he strikes but it's blocked. Corner.
50'   Free for Liverpool and Robertson sends it in. Headed down by Fabinho but there was a hint of hand ball and it's cleared anyway.
48'   Mane with a lovely cross that didn't look like it was going to make it. Out by United but only to the left and it's sent back in but De Gea grabs that one.
47'   Young is slow to get up here and he limps away from that clash eventually.
47'   That came after a nice move from Rashford down the left. He crossed to nobody though.
47'   Clyne strikes after getting the through ball from Salah. Out for a goal-kick.
46'   We are back underway! 
45' Fellaini is on for Dalot.
The hype after the save against Napoli was too much and the abuse after that mistake will also trend in that direction! It was pretty bad though.
45'+2'   There won't be time for it.  Half-time. 
45'+2'   Another throw.
45'+2'   Throw for United as Rashford gets it, leaves it for a teammate and Young takes his sweet time over it. 
45'+1'   Mane offside and he almost got to that too. De Gea off his line quickly though.
45'+1'   There will be two minutes of added time.
45'   Cleared by Lingard in an acrobatic fashion.
45'   Fabinho with another shot outside the box. That's blocked for a corner now too. One last chance before the break. It's Liverpool's 7th of the half.
43'   Firmino looks for the pass into the box with some movement ahead of him. United clear and Liverpool win it back.
41'   Liverpool trying to push forward now before the break. 
39'   Strike comes in that Alisson saves this time. 
39'   Just to confirm, it was Lukaku who was booked.
39'   Replay shows Keita's studs were up too though. The yellow will be given to Lukaku, I think?!
39' There's a yellow card for Lukaku as he goes in on Keita. The two men are on the ground but Lukaku might be just trying to avoid the card. 
38'   Dalot robs Robertson but he was offside. Liverpool survive a scare there thanks to the linesman's flag.
36'   Shot from Mane. He hits it with his left but never looks comfortable. It bounced in front of De Gea and he saves it easily.
34'   That's as bad a mistake as you'll see from a top goalkeeper. Routine stuff. United have a lifeline! 
31' 1-1. What a dreadful mistake by Alisson. Easy ball inside to grab as Lukaku crosses. It falls out of his hands and Lingard pounces. That is a howler.
31'   Ball inside to Salah for him to battle for. Out for a throw.
31'   United have improved but that's more because of Liverpool relaxing for a minute. 
30'   Ball inside by Herrera and Lukaku gets to it. He centers but that's cleared. Liverpool counter and Young steps in front of a through ball. 
28'   Should be 2-0. Ball in from Robertston and Firmino finds Lovren. He strikes, looks to fouled by Bailly, but drives over the bar anyway.
27' Robertson tripped by Dalot. Booked. Free for Liverpool outside the box just slightly to the left. 
26'   Now what do United do? They've been second best all game.
25' Firmino to Fabinho and an absolutely lovely pass from Fabinho. Cool-headed from Mane as he slots home. 1-0.
23'   Throw for Liverpool and no free. Salah not happy.
23'   Salah with a cross and Young cuts it out. Firmino blocks it and then Young absolutely launches into a tackle.
22'   Dalot with a run down the right and Robertson wins it back from him with ease now too. Liverpool win a throw.
22'   Lukaku and Vank Dijk battle in the air but the reinforcements arrive for the Liverpool man and they win it back fairly easily.
21'   Free for United inside their own penalty area as they try to break out. 
21'   Seven shots for Liverpool so far and one for United. 
20'   Cross from Robertson with the left, from the left and that's blocked for another corner. 
17'   They are still dominating though.
15'   Liverpool's onslaught has relaxed slightly. 
14'   Bailly heads a clipped pass out. Firmino gets it and shoots. Well over but another chance. United fighting for their lives here.
14'   Klopp applauds the effort. 
13'   Kaita straight through the heart of United's defence. The pass is slightly off. Goal-kick after a shot comes in that goes 40 miles over the bar.
11'   United clear the corner and, you guesses it, Liverpool win it back. Out behind for a goal-kick eventually and United have the chance to breathe.
11'   Salah shoots. Blocked and they're back on the ball! Cleared for another corner. 
10'   Ball into the box and Young clears off the line. Ball driven into the box again. Wow! Liverpool win it again. They're back on the attack. 
9'   Salah down the left again. This is really intense. Gets the ball into the middle when he realises he won't be able to shooting himself. Mane loses it and Fabinho shoots! Corner and that was just wide too. 
7'   Keita looking for the through ball and it's blocked out but they have it back. Cut back from the left hand side and Herrera clears before Robertson wins it back. Liverpool piling on the pressure. They're continuing on from the Napoli game with that collective pressure.
6'   Firmino with the ball in the middle. He drives a shot towards goal. Saves by De Gea as it was creeping into the bottom corner. Keita makes it to it and sends it back towards the middle as Salah is bundled over. No penalty and it was the correct decision. 
5'   Chances at either end here after just five minute! 
5'   Robertson sends a free in for Liverpool now and that's into a dangerous position. Behind for a corner and Firmino heads the resulting set-piece wide. 
4'   GOAL?! No, it's offside. The ball hit the back of the net but Lukaku was offside. The ball was swung in and Lukaku did throw his leg at it but missed badly from an offisde position. Some confusion there but that's cleared up. NO GOAL! Free Liverpool.
3'   Rashford drives up the line with Keita for company. The Liverpool player puts his arm around his chest and that's a free. 
3'   It bobbles around outside the box and Wijnaldum picks it back up. 
3'   Lightening fast Liverpool counter that sees Salah play it to Firmino. He strikes from the right of the box and it's blocked for a corner. 
2'   Header down to Van Dijk and Lukaku almost takes advantage. The Netherlands defender knocks it back to Alisson. 
2'   Long ball over the top looking for Rashford but Alisson off his line and gathers. 
1'   We are underway at Anfield.
    Liverpool fans sing 'You'll Never Walk Alone' and the flags wave! Marvellous atmosphere.
    This is the most points United have been behind Liverpool in the league table before Christmas since Christmas Eve 1990 (16 points), while it's the most points Liverpool have been ahead of United ahead of a top-flight meeting between the sides since March 1990 (21 points). - Stat via Sky Sports.
    Both sides couldn't have had different games in the middle of the week. Liverpool outplayed Napoli and won to go through to the last 16 whereas United were beaten by a struggling Valencia side and scraped through to the knockout stages. 
    Mourinho compared Liverpool to a house during the week in the build-up. "It's not just about spending money and reinforcing the squad, a football team is more than that. It's like a house: it's not just about buying the furniture, you have to do work, you spend money on the best possible furniture and then you're ready to live in an amazing house," he says.
    Pogba left out yet again. It's becoming increasingly clear that the Frenchman and Mourinho need to consciously uncouple in the near future. He won't have a shortage of suitors but who had the money?
Romelu Lukaku gets the nod in attack and Diego Dalot retains his place but there's no room in the starting XI for Paul Pogba, who must be closer to a January exit than ever. 
United's away record this season has been patchy to say the least, Mourinho's side losing to Brighton, West Ham and Manchester City on the road and conceding three times on each occasion. On United's last trip outside Old Trafford, Southampton earned a point in a 2-2 draw. The Portuguese will have to shore up his back line to get anything out of Anfield this afternoon, but he has a knack for the big occasion. 
Liverpool have gone 28 games at Anfield without defeat in the league, recording 19 wins and nine draws during that sequence. So far this season, Klopp's side have only dropped points against fellow top five opponents Chelsea, Manchester City and Arsenal. 
  Jürgen Klopp's side can return to the top of the Premier League with victory over José Mourinho's United, who could find themselves even further off the top-four pace with both Chelsea and Arsenal in action earlier on Sunday. 
  Hello and welcome to AS English's live coverage of Liverpool vs Manchester United from Anfield, with kick-off at 17:00. 
Liverpool vs Manchester United live online: match preview
Liverpool will seek the opportunity to return to the top of the Premier League on Sunday when they host Manchester United at Anfield in an eagerly awaited clash between two sides at opposite ends of the satisfied punters spectrum.
While Jürgen Klopp's Liverpool are riding high on a wave of attacking verve, defensive solidity and general good cheer, José Mourinho has been busy weaving a pall of gloom around Old Trafford as he seeks to explain away a series of bad results and a style of play as easy to digest for United fans as an entire Christmas pudding.
Mourinho's side go into the game sixth in the league and could find themselves 11 points adrift of Arsenal in fifth if the Gunners beat Southampton earlier in the day. Defeat at Anfield could well spell the end of any realistic hopes of the top four for United, which has become the minimum bar for Mourinho to hurdle in an effort to salvage his side's league campaign.
For Klopp, it is a glorious opportunity to cement Liverpool's title credentials while heaping more woe upon Mourinho and Old Trafford into the bargain.
Liverpool
Klopp is not without his injury concerns going into the game, having lost Joel Matip and Trent Alexander-Arnold after the victory over Napoli that sealed Champions League progression.
The latest two absentees join Alex Oxlade-Chamberlain and Joe Gomez on the sidelines, with Nathaniel Clyne also doubtful for the Anfield clash. That may lead Klopp to play James Milner at right back with Fabinho possibly coming into the midfield.
Liverpool's front three will remain unchanged, with Mo Salah coming into the game off the back of a hat-trick against Bournemouth last time out.
Manchester United
The main point of interest in United's starting line-up will be the presence or otherwise of Paul Pogba, the Frenchman having fallen out of favour under Mourinho and increasingly accustomed to observing affairs from the bench. Pogba's run-out against Valencia hardly assuaged concerns that he has decided to throw in the towel at United and Romelu Lukaku, previously a Mourinho stalwart, is also not guaranteed a place at Anfield.
Mourinho has confirmed that Jesse Lingard and Marcus Rashford will start but Anthony Martial is struggling for fitness, which may open the door for the Belgium striker. The Portuguese plotter will also have to shuffle his deck at the back with Victor Lindelöf and Marcos Rojo out and Chris Smalling, Matteo Darmian and Diogo Dalot all doubtful.