LALIGA
Barcelona beat Levante as marvellous Messi shines again
Lionel Messi scored a hat-trick and has two asissts as Barcelona beat Levante in LaLiga to push them three points clear of the chasing pack.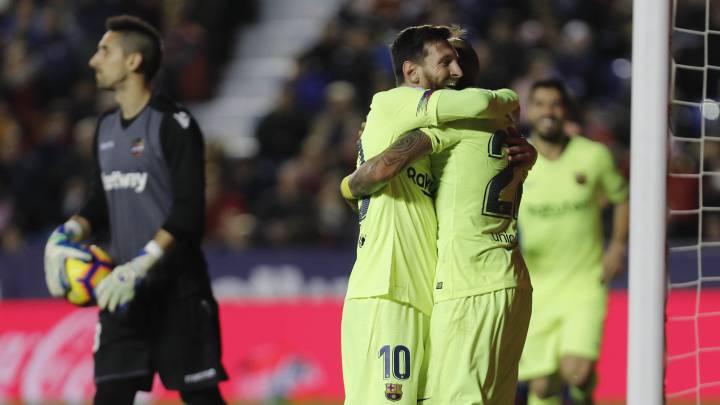 Levante 0-5 Barcelona: match report
Lionel Messi netted his first hat-trick of the La Liga season and provided two assists in a sensational individual display as a rampant Barcelona won 5-0 at Levante to strengthen their lead at the top of the table on Sunday.
Messi carved his way through the home side's defence before producing an outrageous no-look pass for Luis Suarez to open the scoring in the 35th minute, shortly after mid-table Levante had hit the underside of the crossbar.
The Argentine struck his first goal of the night two minutes before the interval, latching on to a defence-splitting pass from Sergio Busquets and racing clear to knock the ball through the legs of Levante's goalkeeper with his weaker right foot.
Messi further stretched Barca's advantage at the start of the second half, dispatching Jordi Alba's low cross into the bottom corner with a first-time finish, before completing his treble from close range.
The Barca captain's hat-trick followed his two mesmeric goals from free kicks against Espanyol last week and took him on to 14 goals for the season, becoming the top scorer in La Liga and Europe's top five leagues.
Messi also laid on the 88th minute pass for defender Gerard Pique to complete the rout which took leaders Barca on to 34 points after 16 games, three points clear of both second-placed Sevilla and Atletico Madrid, in third.
Levante vs Barcelona live online: match commentary and updates
90'+2' GAME OVER!
90'+2'   Mayoral goal and he's offside. Well offside actually. 
90'+1'   One last attack for Levante. And it's a good one but with no result. Prcic with the right-footed effort that Ter Stegen palms wide. Corner.
89'   Well, this has been comprehensive from Barcelona.
87' PIQUE! GOAL! 5-0. Messi plays it to the defender and he slots it under everyone. 
84'   Messi into Denis Suarez' path and he sees the shot saved by Oier with his feet. Poor miss again.
84'   Denis Suarez inside to Messi. Out to Coutinho and he cuts inside before striking over the bar.
82' Dembele off for Denis Suarez.
81'   Messi plays it to Suarez. He gifts it to him on a plate actually, is the more accurate term. Suarez goes with his right and he misses. Poor miss that.
79'   Shot from Mayoral. Nope. That's not how to get back into this one. Miles over. And well wide too.
78' Vidal off for Coutinho.
76' We have a red card now as Cabaco hauls down Dembele. Dembele was falling into him and the tackle was absolutely wild. 
75'   The corner comes in and Pique heads it out. Shot comes in eventually by Campana. Lord that is a mile wide! 
75'   Corner for Levante as Coutinho warms up for Barcelona.
74'   That scoreline cripples Levante but they haven't been bad at all. Barcelona, well, they've just been superhuman.
72'   BArdhi drives forward and just misses the target with a rifle of a shot. Really good effort. 
72'   Ball through from Jason but Morales is offside and he knew it too.
70'   Campana with a ball through to Mayoral but he's picked off and Barcelona recover. All very frantic for Levante but they've had no luck so far.
69' Changes for Levante. Prcic on for Postigo.
65'   Levante corner and that's caugh again by Ter Stegen.
63'   Arthur is tripped up now. He's not happy and there really wasn't any need for the foul either. Ball taken quickly and Alba with a foul on Jason.
62' Boateng off for Mayoral.
60' Messi hat-trick. GOAL! 4-0. That was splendid. Suarez with a nutmeg, pass across to Vidal and squared to Messi. Poked home.
57'   Bardhi with a really nice look here. He will shoot with his right and he gets it on target. Ter Stegen has to get his hole body behind that now to save.
55'   Suarez with a chance now. One-on-one with Oier and it's saved. He tries outside of the boot effort. Lovely pass by Arthur.
55'   Pique with a block that saved a certain goal. 
54'   Out on the right and Moreales has it. They're playing the patient game now.
53'   Messi tries to wriggles his way through a number of Levante defenders but he can't. They win it back and attack. 
49' Arthur on for Vermaelen. Not sure if he's injured but not great sign being taken off this early into the second half.
46'   Strike from Tono as Levante look for a way back into this. Saved by Ter Stegen and it's out for a corner. Ball bounces out to Bardhi and he strikes. Way over though! 
46' Impossible to defend against. That looked like a straight forward finish but it wasn't. Suarez drives forward and plays it to Alba. He cuts back, step over from Suarez and Messi buries it. 3-0 now and no way back for Levante.
46'   Nice delivery but ultimately it's too close to the keeper. Ter Stegen not having and problem with that one.
46'   Levante kick us off an almost immediately win a corner.
    Teams back out on the turf and ready for more action.
45'   That'll do it for the first half. Messi, yet again, outdoing the opposition and has Barcelona in the lead!
42' MESSI! 2-0. He races through and slots it under Oier. Silly pass in the middle by Levante and Busquets picks him out, sees the run and plays it through to him with a perfect pass.
42'   The corner is headed out to Bardhi and it's straight into the hands of Ter Stegen.
41'   Crossed and Vermaelen blocks it for a corner.
40'   Alba gets caught by two Levante players and he concedes a throw. Levante with another attack.
39'   Boateng on the counter. He launches one across for Morales and Pique heads down and Barcelona clear. 
38'   Morales down the left. He has Pique next to him and the defender gets a block on the shot. Corner but really well done by Pique.
37' Rakitic is booked now for a stud into Morales' shin. That looked really sore. Rakitic questioning it but no doubt really.
35' GOAL! What a pass from Messi. Suarez buries it on the volley. 1-0 to Barcelona.
34'   Levante apply more pressure now as Pique gets it and sends a risky ball across to Alba. Nearly intercepted but they survive and advance. Dembele loses it after a run down the right.
33'   Messi up the other end and he shoots but it's blocked.
33'   WHAT A SHOT! Boateng just nearly broke the crossbar. He absolutely rattled it after a nice move. 
31'   Into the front post and headed out for another corner. Vidal gets up slowly as he grabs at his ankle. Pique fell into the back of him.
31'   Corner for Levante.
31'   Rakitic with a foul now as Levante keep possession and look for a way through.
30'   Morales drives forward and he gets turned upside down. No free again but Levante giving Barcelona plenty to think about so far.
29'   Bardhi with a lovely, really lovely, piece of skill as he kicks it over Alba's head and passes out wide. Throw for Barcelona in the end. 
27'  Vermaelen barges through Boateng in search of the ball. Catches him on the top of the head before hitting him in the back too. 
26'   Messi gets it on target. Oier is ready and he grabs it.
25'   This...could...be...dangerous.
25' Handled by Rober as it makes its way to Suarez. Yellow and a free with Messi lurking over it.
25'   Boateng and Morales link up again. They nearly get a shot away but it bounces up kindly to Ter Stegen.
24'   Levante looking dangerous down the left and right.
24'   Morales ball into the box. Boateng gets it and it looks like he was pushed in the back. He fouls Lenglet in the end after losing it. 
22'   Rakitic with an almost perfect pass over the top to Messi. Oier off his line to grab it. A yard slower and that ball was in Messi's possession and there was probably only one result.
21'   What a ball into the box by Cabaco. Boateng with a diving header but his neck is too short. Tono nearly gets to it too but it's out behind for a goalkick. 
19'   Messi fouled by Rochina. 
18' Dembele booked for foul on Tono. Slides in from behind him.
16'   Marvellous tackle from Postigo as he wins it back off Messi. It was all duck or no dinner there from Postigo because if he missed it was a yellow and a dangerous free. 
16'   Levante take the ball down now and throw it around. What a ball down the left to Tono. He takes it down with his head and Pique arrives to win it back. Launched down the field to Suarez and slide comes in for them to win the throw. Even fight so far. No blows landed by either side yet though.
15'   Both of Barça's attacks after those 'fouls' come to nothing. 
14'   Foul? Two fouls, it looked like but the ref says no twice. Levante fans enjoying this one! 
13'   Levante looking decent in attack but that latest one ends with Pique driving forward from the right. He is on the right-hand side of a back three tonight. 
13'   Busquets jumps on top of Boatend as he brings out a novel approach to slowing down Levante's counter. Referee whistles it, as you'd expect.
12'   Busquets with a stray pass that Levante win back. Barcelona win it back as they close around the Levante midfielder. Offside from Suárez is the end result though.
10'   Messi with a warning shot. Ball inside from Dembele and he curls one just wide of the post. He has Oier paying attention there. 
10'   Really nice corner and Vermaelen heads powerfully over. Good effort but off target.
10'   Barcelona have taken over here as they dominate the ball. Alba pretends to play the ball after it takes a deflection but he'd rather accept the corner. Messi to take.
8'   Dembele mekaes his way over to it and he sends it in. Lovely cross and Pique climbs for it. He can't make it though! Levante survive a scare. 
8'   Corner for Barcelona. 
6'   Good start for Levante. Barcelona yet to attack but they do through Dembele, who plays to Messi. Ball cleared by Levante.
5'   Really good chance for Levante. Jason onside as he recieves it on the right. He drives a shot low towards Ter Stegen and he blocks with his foot and grabs it as it bounces up to him.
4'   Morales down the line again. Pique comes across this time to slide and win a throw. Dembele with Morales to watch all day could be fun.
3'   Bardhi takes. Ball sent in dangerously and it makes its way through a crowd before being cleared. 
3'   Corner for Levante as Dembele gets a foot on the ball as Morales runs into the penalty area.
2'   Barcelona playing with three at the back. They have Rakitic and Alba as the two wings back, it looks like. It's more like a 3-4-3. 
1'   Messi picks the ball up and runs into trouble as Levante win it back off him. 
1'   We are underway! 
    Here is the table as it stands. 

    Two teams in the tunnel and ready to take to the field. 
    Rubiales takes his seat in the stand! 
    Barcelona's subs tonight are: Cillessen, Denis Suárez, Coutinho, Arthur, Munir, Aleñá, Miranda.
    More evidence of goals to come in this one. There have been over 2.5 goals scored in 8 of Levante's last 9 home games (La Liga). They also played out a 4-4 draw last weekend against Eibar.
    Goalfest incoming? Barcelona have scored at least 3 goals in 7 of their last 8 matches against Levante in all competitions.
    Vermaelen, who is injury prone himself replacing Nelson Semedo at right-back with Sergi Roberto already out injured. That Barcelona defence has not been their strong point either this season and the most recent shuffles mean they will only weaken them further.
    Levante XI: Oier, Toño Garcia, Róber Pier, Bardhi, Morels, Postigo, Rochina, Cabaco, Boateng, Jason, Campaña.
    Barcelona XI: Ter Stegen; Piqué, Lenglet, Vermaelen, Alba; Busquets, Rakitic, Arturo Vidal; Messi, Luis Suárez, Dembélé.
    Wonder will he start? https://en.as.com/en/2018/12/11/football/1544530428_688929.html
    Christmas break is nearly upon us. Valverde is only giving Barca seven days off over Christmas though.
    Valverde is sure that Barcelona can get the best out of Coutinho and Dembele and with injuries, it means both should probably start tonight.

    Hello and welcome to our live online coverage of Levante versus Barcelona. Kick-off is at 20:45 CET! 
Levante vs Barcelona live online: preview
Barcelona travel to play Levante on Sunday, December 16 at 20:45 CET with their sights set on solidifying their grip on the league's top spot after Sevilla, Atlético Madrid and the other three teams below them in the league all won this weekend. Barcelona will finish first barring a ridiculous defeat but a win would move them one step closer to the Christmas break with a healthy lead over their rivals.
The last time the two sides met in this stadium, Barcelona were humbled. Chasing an unbeaten season, they were beaten 5-4 after going behind by five goals to one. Messi came on and changed the game that day and it's impossible to see how he doesn't start on Sunday night in Valencia.
Levante are currently sitting in seventh and a win would propel them into the European places. Pedro Lopez, Samu Garcia and Cheick Doukouré are all out against Barcelona but Paco Lopez won't have to reshape his attack too much as none of those players played against Eibar in their thrilling 4-4 draw with Eibar last week.
Barcelona are missing Samuel Umtiti, Sergi Roberto, Rafinha and Malcom, who are all out for longer terms with Vermaelen expected to be given a chance with central defenders thin on the ground for the league leaders.. Dembele, who has been in the news recently over his tardiness but also his excellence, scored a cracker against Spurs and is settling into the team nicely. Valverde says he is delighted with him and he should start tonight alongside Messi and Suárez.