Isco: Guardiola eyeing a move for Real Madrid midfielder
The Manchester City boss has targeted the out-of-favour Spain international as a summer signing and initial contact has been made with the player.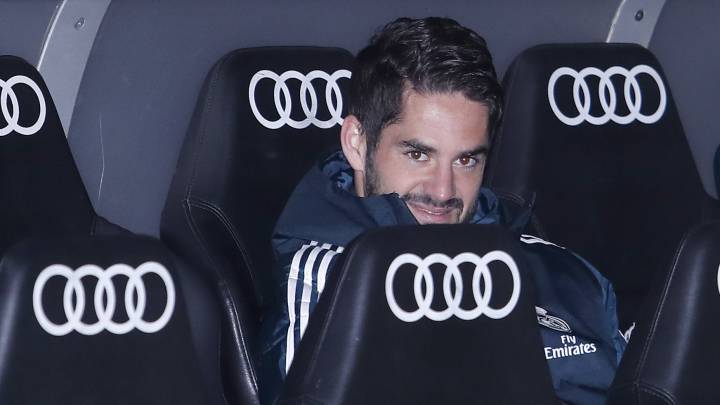 Isco is enduring his lowest ebb at the Bernabéu since joining Real Madrid from Málaga in 2013. Out of the picture entirely under Santiago Solari, for the first time the crowd favourite has also been the target of jeers from the stands, which he apparently returned with gusto in a recent game. But a shaft of light in the shape of a former admirer has emerged with reports that Manchester City are not only interested in acquiring his services but have already sounded the player out via an intermediary.
Isco is under contract at the Bernabéu until 2022 and has a minimum release clause of 700 million euros but City are hopeful that the player's evident discontent can persuade Florentino Pérez to part with one of his crown jewels.
In 2013, City were in the running to sign Isco from Málaga but the midfielder elected instead to join Real Madrid. Now City are planning to take advantage of the tense relationships between Isco and Solari to land a player that Pep Guardiola has identified as a priority signing for 2019-20.
City may have to beat Ronaldo fee to land Isco
According to reports in the UK, City are preparing an offer of 86 million euros to test Pérez's resolve, even if Madrid will not consider selling for anything under 100 million. It is likely City will have to go higher than that and make Isco the most expensive sale the Bernabéu has ever made by beating the 117 million euros that Juventus coughed up to take Cristiano Ronaldo to Turin last summer.
Isco would be likely to view working under Guardiola as a significant draw, the Spaniard being a coach noted for bringing the best out of his players. In the Premier League with Guardiola as mentor he would be able to reach his full potential, something that won't happen under Solari, who favours quick transitions and short periods of possession.
Rumours of Eden Hazard arriving in Madrid next summer would not only leave Isco further out in the cold but would also facilitate his departure. With Guardiola and City at the front of the queue, it would be no surprise to see Isco lining up at the Etihad next season.