Hat-trick hero Bale fires Real Madrid past Kashima and into the Club World Cup final
Gareth Bale helped himself to a hat-trick as Real Madrid beat Kashima Antlers 3-1 in the Club World Cup semi-final in Abu Dhabi on Tuesday evening.
Kashima Antlers 1-3 Real Madrid: match report
Real Madrid remain on course to win their seventh Club World Cup title after beating Kashima Antlers in Abu Dhabi on Wednesday evening thanks to a Gareth Bale hat-trick.
Kashima Antlers put up a challenge for the opening few minutes but once Real Madrid figured out their press, the Champions League winners were comfortable.
The half looked like it might end without a goal before Bale popped up with the finish. It came after a nice combination between Luka Modric and Marcelo, which ended with a one-two with the Brazilian and a finish in off the post by Bale.
Real Madrid continued in that same dominant fashion after the break and put the game to bed during a two minute spell that saw the Welshman bag his second and third and become just the third player to score hat-tricks in the competition after Luis Suarez and Cristiano Ronaldo.
The second goal came from a mistake by Yamamoto. he played the ball between his central defender and keeper but it made it to neither of them. Bale snuck in and slotted home as he brought it out to the right to finish.
The third came as Marcelo fed the attacker and Bale picked it up on the left. He slammed home and with that slammed the door shut on Kashima's hopes of a final date.
They did give themselves a lifeline after 79 minutes when Doi slammed home after Endo headed into his path. That was as close as they would get, however, as Real Madrid saw out the game.
The only bad news for them on the night was that they lost Marco Asensio shortly after coming on with a thigh injury that was troubling him in the build-up to the game but they did welcome Casemiro back after a long spell on the sidelines.
Real Madrid will meet the hosts, Al Ain in the final on Sunday with Kashima going into the bronze medal game against River Plate on Satiurday.
Kashima Antlers - Real Madrid: live updates
90'+4'   GAME OVER! Real Madrid into the final on Sunday.
90'+4'   Kashima fans still jumping up and down!
90'+3'   Al Ain await Real Madrid.
90'+1'   Four minutes of added time.
90'+1'   Fan runs onto the field to hug Marcelo. He gets taken away by security after sneaking an embrace with his hero.
86'   Isco with a wonderful pass into Benzema's path. He blazes that one just wide.
85'   Marcelo cross and Suntae nabs that one.
84'   Isco with a shot, or maybe a cross, in the penalty area. He sees it blocked and Kashima race up the field. They've no ideas though.
82'   Leo Silva shoots into Courtois' breadbasket. 
81'   Corner for Real Madrid. Kroos delivers and Benzema heads it well wide in the end.
79'   Ball was sent into Endo and Doi chested down the header before slamming home from tough angle.
79' GOAL! It has been awarded. Nothing wrong with it. 3-1 all of a sudden. Comeback on?
79'   That's onside anyway. Maybe a hand ball? That still hasn't been ruled out.
79' GOAL! Doi scores but it was offside. We have VAR though. Talk of a hand ball or an offside?
77'   Corner for Kashima is headed out by Varane. 
77'   Dangerous ball down the right and Uchida makes it there before Ramos. Kashima can't do anything with it though and Benzema loses it on the counter.  
75'   Asensio with another setback as his thigh looked to be bothering him. He had just come on for Bale. 
75' Asensio has to go off. Casemiro coming on. 
73'   Carvajal put under pressure down the right and he blocks the cross for a corner. Some rare defensive work to be done now by Real Madrid. 
72'   Real Madrid continue to dominate possession. Kashima have no answer.
69' Isco on for Lucas Vazquez.
67'   Vazquez with a poor finish that time but he did have two Kashima players trailing him and he was under pressure. 
65'   Lucas Vazquez trips to lob the keeper as he bears down on goal. Tht's straight into the hands of Suntae.
65'   Leo Silva picked off in the center again. He is taking too much time on the ball, I would recommend. 
64'   Benzema gets the ball from Kroos and that's a nice ball inside. Passed back to the keeper by Shoji and he clears. 
63'   Vazquez races down the middle and he has men either side of him. He opts for Asensio but the pass is too heavy. Asensio crosses to the back post. Headed away. 
62'   A ball inside and Anzai causing problems. Varane swings his foot at it and Courtois gathers. 
61'   Vazquez clips one across to Marcelo. Real Madrid threatning again. 
60' Bale is being replaced now by Marco Asensio.
58'   Real Madrid cruising now and you'd imagine that's it. They have been dominant here since the start of the second half and even before that too. 
55' Vazquez pulls it back to Modric. He whiffs at it and the ball is out to the left eventually. BALE HAT-TRICK! Marcelo with his second assist too.
53'   BALE GOAL! Meltdown by Kashima. What are they doing there? Modric coughs up the ball and Yamamoto plays it back to the keeper. But it's neither to him or the defender. Bale sneaks in, brings it out to the right and finishes. 2-0. 
52' Yamamoto with a foul on Vazquez. He is booked for that effort as Vazquez grabs the bottom of his leg again.
51'   Kashima into Real Madrid's area. Nishi with a foul on Modric as he is the last man back. A nervy moment there undone by Kashima's impatience. 
50'   Llorente steps in front of a pass into the middle and Kashima's attack ends. 
49'   OFF THE LINE! Bale down the left again and he cuts back. It takes a deflection and lands to Benzema. He strikes but Yamamoto kicks it clear. 
49'   Foul on Carvajal and then on Vazquez. Yamamoto with the final tackle that wins the free for Real Madrid. Vazquez jumps up and limps away from the scene of the foul.
48'   Real Madrid starting this half as they finished the last one. They are really dominant here again. Loads of possession. 
47' Nagaki has been replaced by Uchida. 
47'   Bale from Marcelo to Bale is to close to Suntae. 
46'   We are back underway for the second half!
45'+2' That is indeed it for the first half. 
45'+2'   That should do it for the first half. 
45'+2'   Carvajal pass inside to Vazquez and it's off the mark. One last for Kashima as Doi crosses wide. 
45'+1'   Real Madrid happy with their lead now and they throw it around the middle. 
45'+1'   Two minutes of added time. 
45'   Dangerous ball into the middle and Real Madrid recover. Kroos picks it up and they clear. 
44' GOAL! Marcelo links with Bale and he slots home. That's a lovely finish. First time, left-footed finish. 
44'   Bale cross is a decent one by Junt heads out for a throw. 
43'   Abe back on his feet. Peace made between them and ready to continue. 
42'   Ball comes down to Abe again and Carvajal is lucky not to be booked again maybe. He goes through the back of the attacker and catches his calf with his studs. 
42' Carvajal gets himself a booking now for a foul on Yamamoto. 
41'   Ramos with a diagonal ball looking for Carvajal but that's too far from the speedy full-back.
40'   Llorente with another foul. Kashima can't keep the ball from the free though. 
39'   Leo Silva with a free-kick. Miles over. 
39'   Real Madrid arranging their wall. This is a shooting opportunity. Leo Silva wants it but Serginho there too. 
38'   Free for Kashima. Leo Silva with a really nice run as Llorente catches him on the knee with a kick. 
37'   Leo Silva loses the ball and Modric frees Bale. Suntae off his line and he grabs it. Nice move again from Real Madrid.
36'   Some more nice passing by Real Madrid but the ball is sent in from Bale straight to Suntae in goals. Real Madrid definitely improve here but still no massive chances. 
35'   Doi looking for Serginho. Varane intercepts that one quite easily. 
34'   Another attack down the left and he crosses to Benzema. Nice ball from Marcelo as Benzema arrives late to head wide. Real Madrid getting closer and closer.
32'   Kroos will take. He delivers and Ramos heads it wide. He takes a head to his temple too as he holds his head. 
31'   Bale races into the area from the left. He pulls it back but Kashima clear. Shoji steps in to clean it up and then there's a hand ball from the clearance. Real Madrid free.
30'   Llorente with a ball out to the left to Vazquez. Ball inside and Kroos shoots. Doesn't get enough bend or speed on it and it's saved by Suntae.
28'   Bale has a crack, well it was more of a whiff, at the ball after getting into a nice position in the penalty area. Kashima have been under a little it of pressure at times at the back.
26'   Benzema tries his luck but that right-footed effort dribbles into Suntae's arms.
26'   Lovely ball inside to Doi by Nishi. Courtois out to save the day as he gets his whole body on the shot.
26'   Foul by Vazquez and Kashima start again. 
25'   He says he was being fouled but the referee isn't listening. 
25'   Ramos fouling from the corner and gets whislted for it. 
25'   Banezmea cuts it back from the left. Jung across to clear for a corner to Real Madrid. 
23'   Really good corner that Benzema heads into the air. Abe arrives to hit it and that slices and spins off his foot. Wide.
23'   Corner. But not before the referee comes over and talks to Marcelo and Daigo. 
21'   Another good attack from Kashima. Down the left this time and it's Yamamoto. He crosses and Ramos heads clear for a corner.
21'   Kashima are technically really good. They're working the ball up the field really well and probably have had the better chances. 
20'   Serginho into the channel and has Varane next to him. He strikes from the right with his right and that's a tough shot. Driven over the bar with Courtois hardly flinching.
19'   Marcelo with a cross into Benzema but that's over his head.
17'   Doi in the middle and assesses the movement ahead of him. They manage to work it into a nice position and the cross is blocked by Carvajal. Vazquez picks it up and Real Madrid have the ball back. 
16'   Kashima push Real Madrid all the way back but it's to Courtois and he just restarts. Kashima chasing shadows now. Benzema skips by a challenge and plays to Bale but his crossed is cleared and Kashima pick up the ball.
15'   Llorente tries one over the top and diagonally. Out of Carvajal's reach and Suntae grabs it.
14'   Real Madrid with some nice passing in the middle and Bale breaks down the left. Kashima with their backs to the wall a little but but the ball in from the left from Kroos is cleared. Real Madrid improving here by the minute.
13'   Kashima showing a tendency to play it out from the back but they've been caught now once and almost another time. They need to clear the ball quicker or they will pay for that.
12'   Real Madrid slowly grappling control from Kashima here. They have more time on the ball now too but the middle is still not won with Kashima pressing Modric and Kroos. 
10'   Modric into the path of Benzema and he fires one towards goals. He stings the gloves of Suntae and he palms it down to himself.
10'   Abe wins it off Carvajal. But it's all too tight in the penalty area with loads of white jerseys in that space. Real Madrid recover that one but looked bright from the left winger. 
9'   Leo Silva out to the left and the cross comes in. Courtois gathers that one easily.
9'   Llorente to Kroos and out to Bale. They get it up the line as Marcelo plays it to Bale with a no-look pass. Slide arrives from Jung and Kashima recover. 
8'   Kroos caught flat-footed there and waiting for someone else to make it to the ball down from Marcelo. Kashima recover it again.
7'   Ball sent in and Varane heads out to Kroos. They lose it again though. 
7'   Vazquez with a cross to nobody. Finally reaches a Kashima player and they attack. Doi to Silva and he plays it out to the left.
6'   Bale with a foul on Nishi now as he pulls back his shoulders and drives forward.
5'   Marcelo with a high ball and Daigo wins it in the air. He did so with the help of climbing on Bale's back though. Free to Real Madrid.
4'   Bale fouls Leo Silva. He was playing about with it and Modric nearly wins it off him before Bale puts him under pressure.
4'   Modric with a long, curling ball out to the left as Bale chases it down and wins a throw.
3'   How did they miss? The ball comes across the middle and everyone misses it. Shoji arrives into the six-yard box and Courtois stands still. Right across the face of goal. So close to the opener! 
2'   Shot comes in and that's saved. It was a shot by Serginho that forces a save. Corner for Kashima after that attack down the left.
1'   Free for Kashima early on. Ball down the line that Llorente steps in and passes back to Courtois. Carvajal sees it out for a goal kick after another Kashima attack.
1'   We are underway in the second semi-final of the Club World Cup 2018. Who will join Al Ain in the final.
    Their captain, Endo, has to leave to greet Sergio Ramos in the middle of the field as they greet each other and exchange penants and handshakes. 
    Kashima Antlers laughing now for photos as the camera seems to malfunction. They have to keep smiling some fairly awkward smiles before the camera finally works. 
    The teams emerge onto the field. And now the tournament's hymn is played. Nothing particularly stand-out about it really. 
    Two teams in the tunnel now. Ramos, in particular, looking very serious. 
    Since Jose Mourinho's sacking, speculation has turned to where he will go next. Florentino Perez still fancies the Portuguese and Solari, fighting for his first title, could lose out if he doesn't convince in the coming weeks. He's not afraid for his job but if he comes home empty handed from Abu Dhabi, he might be looking over his shoulder. Marcelo was asked about it too and he said it's not his decision as to whether Mourinho returns to Real Madrid or not.
    Kashima Antlers are without five players today, which might be their undoing today with their lack of options off the bench.  Yuma Suzuki, Atsutaka Nakamura, Kento Misao, Yukitoshi Ito and Itsuki Oda are those missing.
    Kashima Antlers' secret weapon, Hiroki Abe, starts tonight. The club were fearful that their hidden gem would be lost to them by foreign scouts if they got the chance to see him. He comes in for Leandro tonight as the club's manager, Go Oiwa, gives him the nod despite not starting in the game against Chivas.
    Real Madrid are are the only club to have won six FIFA Club World Cups. 
    Two changes for Kashima Antlers versus Real Madrid. Uchida is replaced by Nishi and Leandro makes way for Hiroki Abe.
    Kashima Antlers XI: Suntae, Nishi, Seunghyun, Shoji, Yamamoto, Nagaki, Leo Silva, Endo, Abe, Serginho, Doi.
    Real Madrid's starting XI for the semi-final.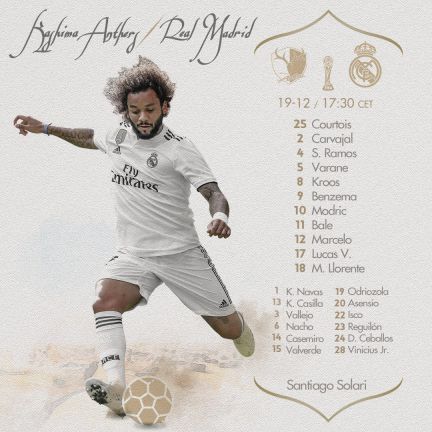 Kashima Antlers put it up to Real Madrid two years ago in 2016. Ramos was a lucky, lucky chap that day not to see red and Antlers were seen off in extra-time.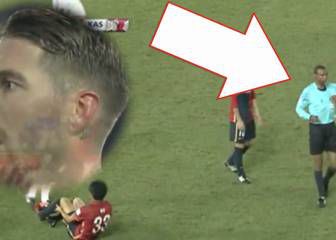 We won't be seeing Mariano in the Club World Cup. He failed to recover in time from a muscle injury but Marco Asensio and Gareth Bale have been given the go-ahead before this game and Bale could start after an ankle injury against Huesca.
    Hello and welcome to our live online coverage of the Club World Cup semi-final between Real Madrid and Kashima Antlers. Kick-off from Al Ain is at 17:30 CET!
Kashima Antlers - Real Madrid: preview
Champions League holders Real Madrid take on AFC Champions League winners Kashima Antlers in the second semi-final of the 2018 FIFA Club World Cup this evening (20:30 local time; 17:30 CET), as Los Blancos begin their bid to lift the trophy for the third year in a row.
Kashima are familiar opponents for Madrid, who were given a major scare by the Japanese side in the tournament's 2016 final - a clash that saw the LaLiga giants finally claim a 4-2 victory after extra time, having at one point trailed 2-1 to the Asians.
The winners of today's encounter at Abu Dhabi's Zayed Sports City Stadium will face Al Ain at the same venue in Saturday's final, after the Club World Cup hosts surprisingly dumped South American champions River Plate out on penalties in yesterday's opening last-four tie.
Line-ups
39

Tomoya Inukai

2

Uchida

19

Kazuma Yamaguchi

14

Takeshi Kanamori

11

Leandro

32

Koki Anzai