Real Madrid win the Club World Cup with victory over Al Ain
Goals from Modric, Llorente, Ramos and an own goal helped Real Madrid over Al Ain in the the final of the Club World Cup in Abu Dhabi on Saturday night.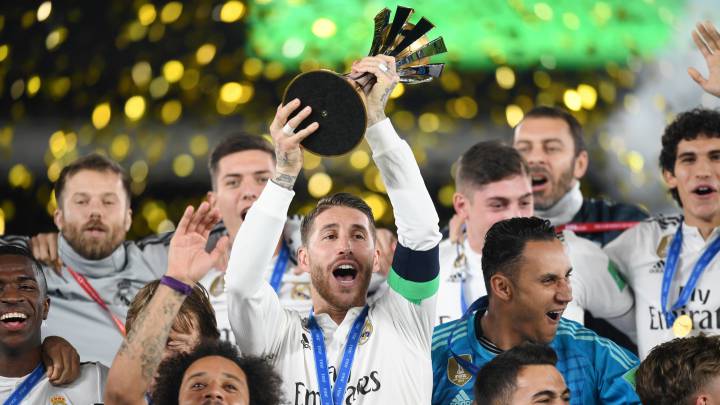 Real Madrid 4-1 Al Ain: match report
Real Madrid lifted the FIFA Club World Cup for a record fourth time on Saturday after thrashing local side Al Ain 4-1 in the final in Abu Dhabi with the help of impressive distance strikes in either half from midfielders Luka Modric and Marcos Llorente.
Recently crowned Ballon d'Or winner Modric took one touch before thumping the ball into the bottom corner from outside the box to break the deadlock in the 14th minute after Al Ain had missed two early chances to take a shock lead.
Madrid's home-grown midfielder Marcos Llorente doubled the European champions lead on the hour-mark with a superbly struck volley from outside the area.
Real captain Sergio Ramos grabbed his side's third goal with a powerful header from a corner before Al Ain, who shocked South American champions River Plate in the semi-finals, got a late consolation goal through Japanese defender Tsukasa Shiotani.
Madrid substitute Vinicius Jr. burst through in stoppage an fired in a shot which defender Yahia Nader diverted into his own net.
Real have won the last three editions of the tournament, also lifting the trophy in 2014, and moved ahead of Barcelona as the team to have won it the most times.
Real Madrid vs Al Ain: Club World Cup final live updates
90'+4' GAME OVER!
90'+3'   That should do it. Caseiro down to Bale and he keeps it in Ball crossed in and Benzema can't reach it.
90'   El Shabat fires over. Caio was waiting for it, not so patiently. He's upset it wasn't passed to him. 
90' GOAL! Vinicius with the finish. 4-1 and that completely wraps things up for Real Madrid and their third consecutive Club World Cup. Took a wicked deflection and I think that will go down as an own goal. 
87'   Another free but Courtois out to grab that one.
86' GOAL! Shiotani heads home from a free. He is completely unmarked from the free that is whipped in. Courtois left looking at it loop over his head.
84' Vinicius comes on for Lucas Vazquez.
82' Casemiro comes on for Llorente.
81'   Ramos heads home from the corner with a really weak hand from Eisa. 
78' GOAL! Ramos scores and Real Madrid are up 3-0.
78'   Vazquez squares to Bale but it's put out by Al Jaberi. Corner for Real Madrid.
76' Berg is replaced by Nader.
75'   Ball sent to the back post from the rebound and it's fired well over.
73'   Ball over the top to Caio again. Courtois off his line and saves with his foot. Really good save. 
72'   Nice ball down to Berg by Caio but Courtois is off his line to grab it. 
71'   Benzema plays the ball into Marcelo's path down the left but it's too far ahead of him and out for a goal kick.
69' Ceballos on for Kroos.
69'   Marcelo shakes off a knock to his ankle, and wins the ball. He gets fouled in the middle and Real Madrid finally have he chance to make a change.
68'   Ceballos is warming up. 
66' Another sub for Al Ain. Abdulrahman off for Amer.
66'   Replay shows a really good save from Eisa. 
65'   Benzema plays it through to Bale and he shoots against Eisa. Decent save. Real Madrid almost had three there.
64'   A decent chance for Al Ain which is knocked out for a corner.
62'   Chance for Al Ain. Shiotani heads into the middle and Real Madrid get it away.
60' GOAL!  2-0. Marcos Llorente. He absolutely wallops the ball into the back of the net from the headed clearance. 
59'   Good chance for Madrid. Lucas Vazquez to Benzema and he combines with Modric before shooting just wide with the help of a deflection. Corner.
58'   Shiotani clears after a bad ball from Fayez. Real Madrid pressing high and put Al Ain under pressure.
57'   Llorente barrels into Fayez and gives away the free. 
55'   Shot comes in from Al Jaberi. Abdulrahman plays it into his path and he opens his body out to shoot. Misses by a fairly wide margin.
52'   Bale down the left again. He is really testing Al Ain in this second half. He crosses and Benzema shoots wide. 
52'   Modric runs into the middle and plays it to Carvajal. He is bundled over in the penalty area but it's no penalty.
51'   Chilena from Bale. Modric to the middle and it's headed into Bale's path. A nice effort but loops over the bar.
48'   Bale down the left but Ahmad gets it off him before the Welshman fights back. Bale takes a heavy touch and it's out for a throw.
46'   Teams back on the field and we are ready for action! Al Ain's Eisa and Ismail give their players a pep talk before the tip. Benzema plays it back to Llorente to start.
45'   HALF-TIME!
45' Ramos booked. Caio taken out of it on the sideline and Ramos the first man's name to go in the book.
44'   Marcelo tries a little bit of skill on the edge of the penalty area. Loses out. Real Madrid keep it though and Vazquez is hauled back inside the penalty area and he keeps going. He's fouled eventually and no penalty. It's a corner. 
42'   Nice move from Benzema and he squares to Bale. He shoots over and Fayez goes down injured. He went in quite hard on Bale and comes out worse off. 
41'   Offside again from Real Madrid. They're really comfortable here.
39'   Modric goes really close again! Lovely volley as the corner is headed out to him. Blocked and then we have an offside by Ramos, who was standing in front of the keeper. Good save actually.
39'   Kroos corner and Bale heads it towards goal. Saved by Eisa as he gets his fingertips to it. Over the crossbar for another corner?
38'   Foul on Caio and he sends the free across the penalty area. That was literally to nobody. Out for a throw.
35'   Benzema fires over. Vazquez gets the ball from Carvajal and Benzema fires over.
34'   Bale to Kroos and then back to Modric. Real Madrid building again.
34'   El Shahat with a run close to the penalty area. He ball across the line is cut out. 
31'   Vazquez passes into the path of Kroos. It goes out to the left and Bale tries a low cross but it's out for a goal-kick as it catches Bale on the way out.
29'   Llorente feigns innocence after he puts the ball out for a corner. Ref cops him and gives the coner. Courtois reaches high and grabs the back post corner.
28'   Offside from Bale.
26'   Vazquez drives forward and plays it to Kroos. He gets the ball at an awkward angle and crosses from the left.
24'   Carvajal is hauled down now as he gets to the ball first. 
22'   Header wide from the corner by Ramos.
21'   Benzema's shot out for a corner.
21'   Bale inside the penalty area. He gets a yard for himself to shoot and rifles it at Eisa. The keeper saves but Real Madrid keep attacking.
20'   Bale to Marcelo and back again. Bale delivers and Al Ain clear. Ahmad takes it down inside his own penalty box and clears again from another cross from the right. 
19'   Real Madrid in full control now. Vazquez to Modric. They're just assessing the terrain ahead of them in search of space. 
17'   Carvajal cuts it back to Vazquez and he slices it wide. Nicely worked chance down the right but the finish just slightly off.
15'   We have a goal. Al Ain score but there's an offside. It was Caio with the finish. A quick look from VAR and ref says it was offside. Right decision.
14' MODRIC! GOAL! He strikes with his left after recieving the ball from Benzema. Nice strike. 1-0. 
13'   What a chance! Al Ain attack through the left with Al Shabat after Marcelo heads down into his path. He beats Courtois but can't beat Ramos on the line. Corner for Al Ain which is headed back to the keeper.
12'   Benzema gets a pass from Modric on the left. He strikes but that's well wide. Nice connection with Modric though.
11'   Marcelo, Bale and Kroos combine down the left looking for a way through. No dice though as they recycle it. 
8'   Al Ain threaten, kind off. Ball into their attack is stolen back. But Real Madrid can't keep it before Al Jaberi kicks it out for a throw.
8'   Corner sent in and Bale heads over.
7'   Vazquez clips it to Modric and he knocks it back to the winger. Ball put out by Ahmad for a corner. Real Madrid looking good early on here.
5'   Al Ain have a chance. It's to El Shahat and Varane plays it into his path as he tries to intercept. Courtois makes the angle tight for the Al Ain player and he kicks it againstthe side netting. Not a bad effort at all.
4'   Kroos takes it short and plays it to Marcelo. He drives it over the bar.
4'   Real Madrid chance. Llorente drives forward and recieves a pass. Ball cleared for a corner.
2'   Foul by Doumbia on Kroos. Real Madrid hanging on to possession here early on. That might be a trend tonight!
1'   We are underway! 
    The team emerge from the tunnel.
    The warm-ups are done and we are almost ready for action!
    Isco remains on the bench for another game. He is dropping down the pecking order at Real Madrid and reports this week suggest he is seriously considering a move in the summer to Manchester City.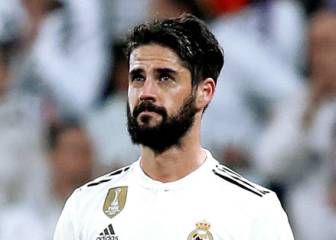 Meanwhile, Llorente also starts despite Casemiro being fit. Has he supplanted the Brazilian from the starting XI.
    "The ovation that the Bernabeu gave me the other day against Rayo Vallecano made me feel like they respect me," said Karim Benzema recently. He has been feeling the love lately and starts again tonight.
    Yaslem comes in for Barman, who had to be carried off in the semi-final against River Plate. He obviously hasn't recovered in time. 
    Al Ain XI: Khalid, Hamed, Ahmed, Caio, Marcus Berg, Mohamed Fayez, Abdulrahman, Ahmed, Shiotani, Yaslam, El Shahat.
    Real Madrid XI: Courtois, Carvajal, Ramos, Varane, Marcelo, Llorente, Kroos, Modric, Bale, Vazquez, Benzema.
    Santiago Solari has been bigging up Real Madrid's achievements ahead of the Club World Cup final today.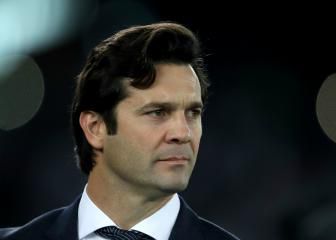 Marco Asensio came off after just 17 minutes in the semi-final with that thigh injury he has been suffering from. He isn't available today and that could open a door for Isco.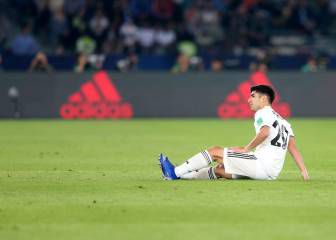 And Real Madrid's presser contained very little about their opponents today. Ramos answered questions on Mourinho, Isco and Ronaldo mostly.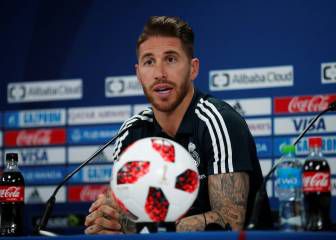 Al Ain's manager doesn't really give his side much hope today. He says "Real Madrid are like a Mercedes and Al Ain are like a Smart car."
    Hello and welcome to our live coverage of the FIFA Club World Cup between Al Ain and Real Madrid. Kick-off from Abu Dhabi is at 17:30 CET!
Real Madrid vs Al Ain: match preview
Real Madrid can win their third successive FIFA Club World Cup when they take on hosts Al Ain in today's final at Abu Dhabi's Sheikh Zayed Stadium (17:30 CET).
Real Madrid in final after Bale-inspired semi-final win over Kashima
The Champions League holders qualified for the showpiece clash courtesy of a 3-1 semi-final victory over Japan's Kashima Antlers on Wednesday, with Gareth Bale hitting a hat-trick that leaves him just one goal shy of the seven boasted by the competition's all-time top scorer, former club-mate Cristiano Ronaldo.

"It would be exceptional to win the third Club World Cup in a row and it would be great for all these players," said Santiago Solari ahead of a final in which the Argentine can claim his first trophy as Madrid coach in just his 13th game in charge. "It could be difficult to repeat".
"Difference between the teams like that between Smart car and Mercedes"
Having seen off Team Wellington and ES Tunis to reach the last four, meanwhile, UAE Pro-League champions Al Ain caused a major surprise on Tuesday when they knocked Copa Libertadores winners River Plate out on penalties in the tournament's first semi-final.
"Nothing is impossible," declared Al Ain boss Zoran Mamic as he prepared his side to face the 13-time kings of Europe. However, the Croat then also conceded: "I have to be conscious that the difference between the teams is like that between a Smart car and a Mercedes."
Line-ups
19

Mohnad Salem

6

Amer Abdulrahman

On for Mohammed Abdulrahman

18

Ibrahim Diaky

11

Bandar Al Ahbabi

30

Mohammed Khalfan

88

Yahia Nader

12

Hamad Al Mansoori

13

Ahmed Barman

44

Saaed Juma

1

Mohammed Bu Sanda

99

Jamal Maroof