Atlético Madrid: LaLiga club's CEO calls for spending cap
For a few years now, Dubai has hosted a get-together for the football world that's part conference, part awards gala. It's going from strength to strength, it's fair to say, and it's well worth keeping an eye out for what goes down there. Aside from the prizes - they're being presented today, and if Cristiano Ronaldo has flown out it's because he's been given certain assurances, I'd say - debates are held on particular issues. Yesterday, FIFA chief Gianni Infantino reasserted his idea of bringing in the World Cup's expansion to 48 teams at Qatar 2022, by also holding the event in neighbouring countries. He's out to help restore harmony between Qatar and those nations boycotting the state. I'll come back to that another day.

For now, I'm most interested in Atlético CEO Miguel Ángel Gil's suggestion that clubs should only be able to spend 70% of their budget on transfers and wages, i.e. the up-keep of their playing squads. It's an expense that's going through the roof. In Spain, it's kept in close check thanks to the tough restrictions brought in by LaLiga head Javier Tebas. They've been a godsend for Spanish football, even if Reus have (I'm not sure how) fallen through the cracks, having sought short-term fixes to their difficulties. We're now seeing what that leads to. But, with that exception, LaLiga's financial controls have helped create a sustainable model which benefits everyone. Now it would seem to be a case of managing to do likewise across Europe.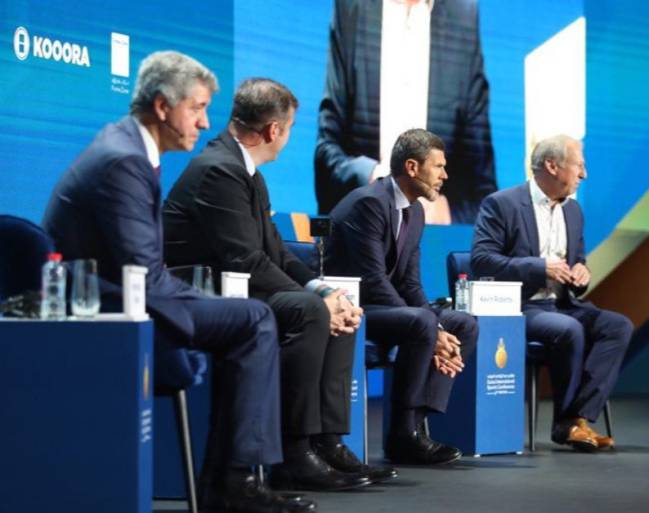 It's in the interests of Spain's game as whole, not just Atlético. Our major clubs depend on being able to make their way in an industry with a fair, reasonable market. Suddenly they're competing with investors from the Gulf, China or Russia who are willing to turn the system on its head with riches the market doesn't naturally yield. It's not good; it goes against the very essence of competition, and leaves the system at the mercy of backers who could just as easily lose interest overnight and take their exorbitant sums elsewhere. Next to Gil was Ferrán Soriano, the CEO of Pep Guardiola's Man City. He played dumb. He works to a rather different model: a sheikh who foots the bill and, if said sheikh gets bored, well... it was fun while it lasted.