Crystal Bale: 22 injuries for the Real Madrid attacker
After limping off against Villarreal, Gareth Bale has now suffered 22 injuries at Real Madrid and the latest setback is the 8th issue he has had with his left soleus.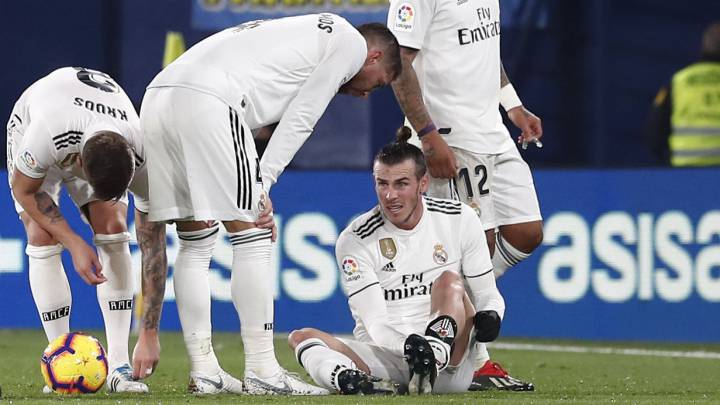 Gareth Bale hobbling, grimacing and doubling over to check on his calf with the Real Madrid medics inspecting his left leg. It's an image that has become all too frequent on the field for los Blancos. With the latest setback at the Estadio de la Cerámica on Thursday night, Bale has accumulated 22 injuries during his time at Real Madrid. It is the 13th time he has had to leave the field due to injury and he has missed 84 games in total during his spell in Spain.
Bale's muscle injury obsession

The 29-year-old is obsessed with his muscular problems (his stretching rituals spans the entire half-time break) to the point that he cuts his socks where his calves are and has stopped driving Lamborghinis because he believes the driving position is harmful.In training and matches, as soon as he feels he is about to break or is at the limit, he leaves the field.
Secrecy. At Madrid, they live with Bale's injury issues in private and have not released a medical statement on the player in a year and three months. The last one came in October 2017 with three injuries coming since then, which has caused confusion with his national team too. On December 31st, Real Madrid released a statement on Mariano's injury and two days later on Marcos Llorente but Santiago Solari said Bale took "a blow" after the game against Villarreal and that his problem was "strain". His recovery will be another mystery and the umpteenth for Bale.



LaLiga Santander
*Update 4 de enero de 2019