Real Madrid's Ramos slams VAR after Vinicius denied penalty
"It's been years since I've seen anything like this," said an angry Sergio Ramos after Real Madrid's 2-0 defeat to Real Sociedad on Sunday.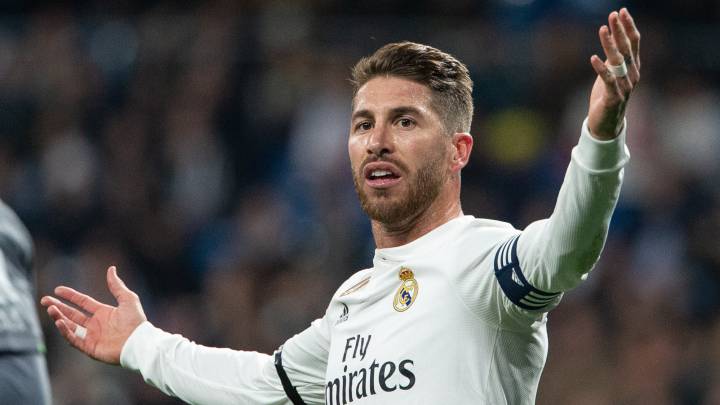 Real Madrid captain Sergio Ramos spoke to the media after Sunday's surprise home defeat to Real Sociedad, and was critical of the video assistant referee system's failure to overturn two penalty decisions that went against the hosts - particularly goalkeeper Gerónimo Rulli's apparent foul on Vinicius in the visitors' box.
Defeat: "Nothing went our way. We played well and created chances, but weren't clinical enough in attack. We have to get back to our best and, if we do, I'm sure the results will come. It's a difficult moment."
Blame: "It's not the time to point the finger at anyone, but we never shy away from looking at where we've gone wrong. Tomorrow we'll have a good talk face to face, because out of problems come opportunities. That's something that'll happen behind closed doors and that we'll keep to ourselves. There's still a long way to go this season, but it's a defeat that's very tough to take."
The two penalties that Madrid were denied: "They're very clear. Perhaps the one on me less so, because [Asier] Illarramendi does well to hide the fact that he pushes me. But the one on Vinicius is scandalous. I've always supported VAR, but this leaves you with your head in your hands. Why wasn't the opportunity taken [for the referee] to have another look at it?"
Disbelief: "It's been years since I've seen anything like this. Changes need to be made to VAR. We're not asking for favours; we're just asking for justice. If the challenge by [Raphael] Varane on [Luis] Suárez was given as a penalty at the Camp Nou [in the Clásico in October], then this one surely had to be given too."
What he said to the referee: "I'm someone who tends to try and help the referees out, but what happened today was scandalous. He said that it was clear to him [that it wasn't a penalty]."
Lapses in concentration: "You can't start pointing the finger when mistakes are made. Today it happened to Casemiro, but tomorrow it could happen to me. The team gave everything it had. My legs are hurting from running so much. We'll keep on fighting."



LaLiga Santander
*Update 6 de enero de 2019