Cristiano Ronaldo on the hunt for new records in 2019
The Portugal and Juventus forward has several fresh objectives to aim for in the second half of the season, some which have never been achieved before.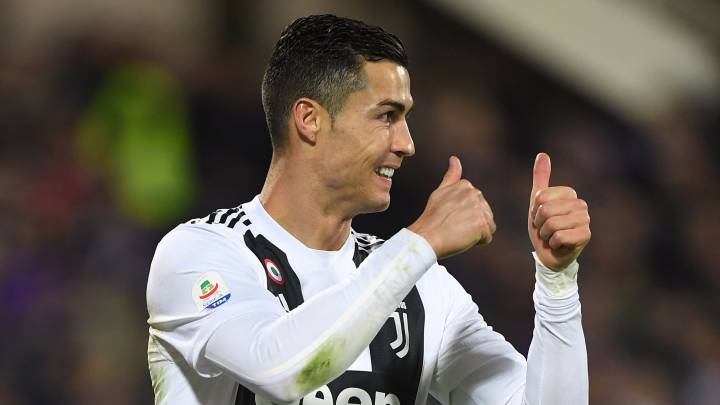 Failing to win the Ballon d'Or was a blow for Cristiano Ronaldo but missing out on the game's biggest individual prize will serve to spur the Juventus forward on to more achievements with his new club, and there are several on the table for the 33-year-old in the second half of the 2018-19 season for a player driven by the goal of being remembered as one of the greatest in history.
Ronaldo has the opportunity to become the first player to top the scoring charts in three of Europe's "big five" leagues (Serie A, Premier League, LaLiga, Bundesliga and Ligue 1) after winning the European Golden Shoe with both Manchester United (2007-08) and Real Madrid (2010-11, 2013-14 and 2014-15). The Portuguese currently leads the scoring stakes in Serie A with 14 goals to his name, ahead of Genoa's Krzysztof Piatek (13) and Sampdoria's Fabio Quagliarella (12). To date only a handful of players alongside Ronaldo have ever managed to end the season as top scorer in two different European leagues: Edinson Cavani, Zlatan Ibrahimovic, Edin Dzeko, Luca Toni, Christian Vieri and Luis Suárez.
If Ronaldo ends the season as capocannoniere and lifts the Scudetto, which seems quite likely given Juve are nine points clear of Napoli at the top of the table, he will also become the first player in Serie A history to do that particular domestic double in a debut season. Taking into account the list of strikers who have passed through the Italian top flight down the years, that will be no mean feat.
Champions League the main goal for Ronaldo and Juventus

In the Champions League, Ronaldo's tournament par excellence, both the forward and Juventus have matters pending. The Old Lady have not lifted old big ears since 1995-96 but have been runners-up on five occasions since then. Ronaldo has won the tournament the same number of times and if Juve are triumphant this season he will become only the second player in history to win six European Cup / Champions League titles after Real Madrid's Paco Gento.
Only one player, Clarence Seedorf, has won the Champions League with three different clubs and Ronaldo also has the opportunity to add his name to that very exclusive list in 2019.