Vinicus has Bernabéu on its feet as Real Madrid beat Leganés
A first-half Sergio Ramos penalty and second-half goals from Lucas Vázquez and Vinicius calmed the nerves at the Bernabéu, though the 44,000 strong crowd had called for Florentino Pérez's resignation at half-time.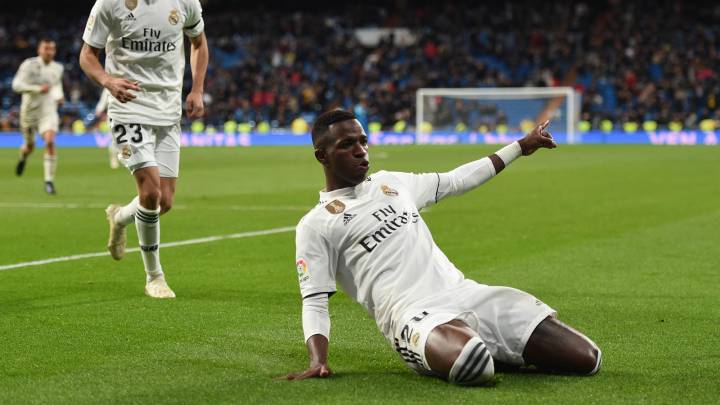 Real Madrid 3-0 Leganés: match report
Real Madrid notched their first win of 2019 with a 3-0 victory over Leganés in the Copa del Rey last 16 first leg at the Santiago Bernabéu on Wednesday night.
A draw against Villarreal followed by a loss to Real Sociedad meant only 44,000 fans flocked to the Bernabéu for the midweek game but those who attended were treated to Real Madrid's best performance in a number of weeks, three goals and a clean sheet.
Isco was left on the bench again as his status in the squad continues to flummox. Marcelo, Modric, Varane and Carvajal were all rested with a congested fixture list in the coming weeks against top four rivals Real Betis and Sevilla.
It was one of the stand-ins who helped Real Madrid into the lead when Álvaro Odriozola was bundled over by Gerard Gumbau inside the penalty area as half-time approached. Sergio Ramos pulled rank on Karim Benzema and sent Carlos Cuellár the wrong way to score his 100th goal in professional football and his 80th in a Real Madrid shirt.
That came after Leganés had worked themselves into the game despite a shoddy start and had a couple of chances through new signing Martin Braithwaite, who tested Keylor Navas with one particularly good header from a corner that he saw saved.
Gumbau, booked for his challenge on Odriozola, was whipped off at half-time but Leganés struggled in the second half with the ball spending the majority of the time in their half for the remainder.
They didn't help themselves when, on 68 minutes, Bustinza passed the ball back to his keeper and left him seriously short. Benzema accepted the present handed to him and he played it to Vinicius, who squared again to Lucas Vazquez. After tearing his shirt in frustration after his red card on Sunday, he celebrated as his fortunes changed on this ocassion.
Vinicius, who had another positive night on the left-hand side of attack, volleyed home from a cross from the right to put the game and, more than likely, the tie on 77 minutes.
Brahim Díaz made his debut as a late sub for Vinicius and Isco was summoned for Lucas Vazquez but neither had a chance to do much given their limited time on the field.
Real Madrid will turn their attention not to Real Betis after this comfortable win and it should allow them to rest more of their starters in the return leg next week at Butarque with a healthy 3-0 lead in the tie.
Real Madrid vs Leganés live online: match updates and commentary
90'+2'   FULL-TIME!
90'   Two minutes of added time.
89'   Isco tries his luck and he drills it just wide of the post. 
89'   Corner for Real Madrid.
88'   Braithwaite with another shot. That's just wide.
86'   Braithwaite with another header and that's just wide.
83' Cristo coming on for Real Madrid. Benzema off.
82'   Benzema to Isco and he shoots. Forces a save from Cuellár and he punches it over the bar.
81'   Braithwaite rejected again by Navas. Nice header low and at speed. Navas equal to it.
79'   Jose Arnaíz on for Juanfran.
78' Vinicius off for Brahim Díaz.
78' What a finish! Vinicius finishes with a lovely volley. Ball in from the right hand side and he volleys home after it goes over Benzema's head.
77'   Brahim coming on for Real Madrid, it looks like.
75'   Leganés have been really tame in this half. Real Madrid dominating. 
73'   Vinicius out on the right now. Odriozola fouled by Silva. Looked really soft though.
70' Isco coming on for Real Madrid. Vazquez coming off for him.
70'   Nice cross and Braithwaite heads just wide with the glancer.
69' Second goal! Another mistake by Leganés at the back. Bustinza with the pass back to the keeper and Benzema jumps in front of it. Vinicius plays it to Vazquez and that was just handy.
67'   Shot blocked out by Leganés as Reguilón hits an awkward looking one with his right foot.
67'   Real Madrid enjoying loads of possession now. Since Gumbau went off, they have really struggled. 
66'   El Zhar replaced by Eraso.
65'   Leganés with a mix-up and they nearly get caught out. Ball back to the keeper is nearly cut out by Valverde and then it's cleared to Vazquez but the visitors eventually scramble it away.
62'   Vinicius cuts inside again and it's blocked again.
59'   Free for Real Madrid. It's punched out by Cuellár and it's not convincing. Falls to Vinicius as he tries to chips the keeper. It lands in his chest though.
58'   Vinicius dangerous now as he steps inside from the right and curls one wide. 
57'   Cross from Reguilón and it's grabbed by Cuellár. Another cross comes straight in from Odriozola and he grabs that one too.
56'   Free sent in and it's headed up into the path of Siovas. He volleys it a mile over the bar into the empty seats behind the goal.
55' Recio fouled by Vazquez and Nacho gets a yellow. He was booked for protesting.
54'   Valverde tries his luck. That's just over the bar. All Real Madrid now.
53'   Speaking of whom. He races clear down the right and crosses to the back post. Cleared by Leganés. They're under pressure here.
53'   Cravajal warming up as Odriozola might be getting a breather.
52'   Long ball down to Braithwaite is too long.
51'   Ramos heads off the post. Free out though as he jumps up on a defender's back.
50'   Odriozola down the right again and he tries to cross. Silva, the sub, jumps in and clips the ball. Corner.
50'   Really bright start from Real Madrid once again. 
47'   Vinicius cuts inside to Ceballos and he drives wide. Probably less harmful than it looked. He mishit it and it goes well wide.
46'   We are back underway. 
45'+1' Change for Leganés. Gumbau is replaced by Jonathan Silva.
45'+1'   They won't have time to take it. Half-time.
45'+1'   One minute until the break. Vazquez in the middle and loses it. Leganés get the throw.
45'   Real Madrid take the lead before the break. Leganés had come back into the game but that might just break them.
43' Ramos took the ball off Benzema and he slides it home.
43'   Benzema to take.
42'   Penalty for Odriozola as Gumbau takes him down. 
42'   Cut out by Leganés and they are let off the hook that time. 
42'   Odriozola with the most selfless play ever and he should have shot. He squares with just the keeper to beat.
41'   Ball out to the left in search of Gumbau but that's way over his head.
39'   Vinicius with a foul. Casemiro won the ball back and it all got very congested in the penalty area as Leganés try to break out. 
38'   Gumbau with the through ball but it's cut out by Real Madrid.
36'   Braithwaite with another header. What a save from Navas! 
36'   Corner for Leganés. 
34'   Braithwaite with the cross and Casemiro slides. Inside and Merino goes down under the challenge from Nacho. He was tripped up. Gil Manzano says no penalty but it is a corner.
33'   Gumbau battling with Odriozola and it's a throw to Real Madrid. Gumbau can't believe it. Vazquez fouled as it's thrown in. 
32'   Reguilón with the run down the left and his cross is blocked.
31'   Another penalty shout as Lucas winds up on the ground and looked to be tripped. Might have been just outside the box but it didn't matter as the referee didn't blow for it. 
30'   Lucas out on the right and another decent cross. It looked to take a nick of a defender as Cuellar rises to grab it with ease.
27'   Game has really opened up now and Leganés have settled in despite a very wobbly start.
26'   Braithwaite with a shot across Navas and it's just wide. Really nice chance for Leganés again.
24'   Odriozola gets the ball from Vazquez and he gets bundled over again. He wants a penalty. Referee says no. Really nice move from Real Madrid though as they swing the ball out to the right from the middle. Sharp.
21'   Gumbau hits the ball like it owed him money! Into the stand it goes.
21'   Leganés throw it around the middle and eventually launch it out to the right. Casemiro with another foul as he takes Merino down outside the box. No yellow for Casemiro.
20'   Real Madrid on the attack again. Fede Valverde with a strike that catches a leg on its way to goal. Cuellar grabs it. 
18'   Lovely corner and Braithwaite heads into Navas' waiting arms. Not bad and much better from Leganés.
17'   So, so close for Leganés. Gumbau sends the ball across low and hard but it's too hard for Braithwaite. Ramos puts it behind for a corner. What a chance that was and probably should have been a goal.
16'   Recio coughs up the ball ina  really dangerous position in the middle. Real Madrid attack and Vazquez plays it to Benzema, who blazes over. He was caught late there too and he isn't comfortable after the challenge.
16'   Fairly handy save in the end as he dived to his left.
16'   Vazquez into the path of Odriozola and he crosses into Benzema. Nice header as he climbs highest but Cuellar saves. 
15'   Leganés have shown very little attacking threat so far.
13'   Real Madrid have started really well here. Odriozola drives down the line and gets bundled over. It's a goal kick though.
12'   Corner is taken short and delivered into Ramos but he can't make it to the ball. 
10'   Ramos tries it and sends it down low. It hits the wall. 
10'   Just outside the penalty area as Ramos lines it up.
10'   Real Madrid forcing the issue now. That's a free for them as Ceballos is cleaned out of it by Tarin. 
9'   Vinicius with a dangerous run into the box. He squares and it bounces out to Ceballos. Shot is curled into Cuellar's hands.
8'   Corner goes all the way to the back post and it's crossed in again as Recio is caught on the back of the head by Ramos.
8'   Decent chance for Leganés. Cross comes in for Braithwaite and Real Madrid give away the corner.
6'   Foul by Casemiro on Recio. He is writhing on pain now on the ground as the Brazilian claims his innocence. Free in any case and Recio is back on his feet. No bother to him.
6'   All Real Madrid so far. 
5'   Foul on Perez by Valverde. He grabs his foot but looks like he is okay to continue.
4'   Lucas Vazquez tries a cross but it's out for a throw. Real Madrid recycle and send it back out to the left.
3'   Looks like it will be more of the same from Real Madrid as they look to attack down the left-hand side with Vinicius hanging out in the area. 
3'   Leganés clear as Ceballos breaks into the penalty area. Not entirely convincing from Leganés but they hoof it clear in the end. 
3'   Braithwaite looking lively early but ball nicked off him this time. Real Madrid with plenty of the ball. 
2'   Long ball down the field by Siovas and that's won back by Real Madrid. Don't think Leganés particularly want the ball as they let Real Madrid play it around at the back.
1'   Vinicius takes off and gets tripped up, legally, and Leganés win it back. 
1'   We are underway at the Santiago Bernabéu. 
    Teams on the field and ready for action.
Just minutes away from kick-off at the Santiago Bernabéu.
    Keylor is planning a summer exit according to reports but he has been given a chance to prove his worth in the next few games due to Courtois' injury.

    Just over 53,000 at the Bernabéu on Sunday night for a LaLiga game. Can't imagine it will get any better tonight. 

    Vinicius is the player with the most shots in the Copa del Rey this season with 15. 
    6 changes for Pellegrino, who says some of his players will have to play tonight and on Saturday against Huesca.
    Juanfran, Rodrigo Tarín, El Zhar, Braithwaite, Merino, Perez and Recio all come into the Leganés side who played against Espanyol and lost. 
    Martin Braithwaite, the Danish attacking midfielder, starts tonight in what is his first game for Leganés. He is on loan from Middlesbrough. 
    Isco has started in just two of the games Solari has managed. He started against Melilla in a meaningless Copa second round tie and against CSKA Moscow in the Champions League, which was also meaningless.
    Isco likes a post saying Solari "would pick himself ahead of Isco even though he's retired for the last 20 years".

    Leganés XI: Cuéllar, Juanfran, Bustinza, Siovas, Rodri, Gumbau, R. Pérez, Recio, El Zhar, Braithwaite, Sabin Merino.
    Still no Isco! Chances for Ceballos, Reguilón, Odriozola and Valverde and rests for Carvajal, Marcelo and Modric.
    Real Madrid XI: Navas, Odriozola, Nacho, Ramos, Reguilón, Casemiro, Valverde, Ceballos, Lucas, Vinicius, Benzema.
    Bale's injury was supposed to offer Isco a chance but he was left on the bench against Real Sociedad. Real Madrid are struggling but with Brahim Díaz in the squad, does it get easier or more difficult for Isco to earn a start. He might be in tonight given Real Madrid's hectic schedule with Betis at the weekend.

Hello and welcome to our live online coverage of Real Madrid versus Leganés in the Copa del Rey last 16 clash at the Santiago Bernabéu on Wednesday January 9 with kick-off at 21:30 CET.
Real Madrid vs Leganés live online: preview
Leganés travel to the Santiago Bernabéu on Wednesday night in an effort to compound Real Madrid's issues after Santiago Solari's side fell to Real Sociedad in the league on Sunday night. Leganés, under Mauricio Pellegrino, have improved recently but suffered defeat at Espanyol in the league at the weekend. It's the knock-out stages of the Copa del Rey with kick-off at 21:30 from the Spanish capital.
Real Madrid are missing six players from their first team squad through injury. Thibaut Courtois was the latest to be added to that list on Wednesday and he joins Gareth Bale, who was fined recently for leaving the stadium early during the Real Sociedad defeat, Marco Asensio, Marcos Llorente, Toni Kroos and Mariano Díaz. Brahim Díaz is in the squad, however, after his paperwork was sorted out ahead of the game having sealed his move from Manchester City on Monday.
Mauricio Pellegrino says he thinks Leganés "have the players to face this elimination tie with confidence" but admits it is difficult to play on Wednesday and again on Saturday when they welcome Huesca to Butarque in the suburbs of Madrid. The Argentine manager led Alavés to the Copa del Rey final, which they lose to Barcelona, but he has a knack for guiding teams into the deeper stages of the competition. He will be hoping to induce that same spirit with Leganés this season with