COPA DEL REY
Levante beat Barça to bring lead to Camp Nou second leg
Goals from Cabaco and Mayoral in the first half saw Levante into a deserved lead before a Denis Suarez-won penalty was converted by Coutinho late on.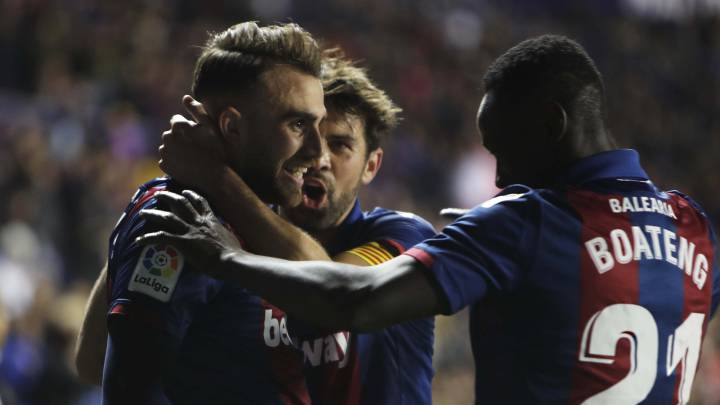 Levante 2-1 Barcelona: match report
Barcelona have it all to do after falling to a spirited Levante side on Thursday night, with the hosts placing their foot on the visitors' throat from the first minute and they didn't remove it for the entirity of the Copa del Rey clash. They squeezed space, closed passing lanes and caused confusion for Valverde's rotated Barcelona side.
After losing 5-0 at this same ground just a couple of weeks ago to the same opposition, Levante wanted to prove to their fans and to themselves that they were better than that result. They got the chance to do so without Lionel Messi, Luis Suarez and more of Ernesto Valverde's first choice eleven but it could not have been more convincing.
With high pressure, they were causing Barcelona problems from the moment they kicked off. And they had the opener after three minutes when their pressure provided them with a free on the left. Ruben Rochina launched it into the middle and it landed on Erick Cabaco's head. Jasper Cillessen had no chance with the unmarked defender picking his spot with his forehead.
Borja Mayoral, who was a Real Madrid player until the last few days of the summer, scored the second after the indefatiguable Emmanuel Boateng put him through on goal after 18 minutes. It was time for Barcelona, now 2-0 down, to mount a comeback. Or not.
It was Levante who looked more likely with a stuttering Barcelona attack, a midfield that couldn't grab a hold of the game and a defense made up of players who looked like they had never played together. Most of them hadn't with Jeison Murillo making his debut and both Chumi and Juan Miranda getting the call from Barca's B side.
Barcelona improved ever so slightly in the second half but they hardly troubled Levante's goal until Denis Suarez came on and saved Barcelona's blushes. He dribbled into the penalty area and Coke caught his heel with a clumsy tackle before Coutinho scored the penalty. The lack of a celebration did not go unnoticed on the same day that reports emerged from the Camo Nou suggesting the Brazilian is disappointed with his role, or lack thereof, in Valverde's plans in recent weeks.
Levante can bask in the glory of a win over the league leaders but the second leg will be a different story. Expect Messi and co. to return but the players who started on Thursday night, many of the academy products, tried and failed to earn Ernesto Valverde's trust. That leaves the Barcelona manager with a dilemma when rotating time comes around again and with a potential treble on the cards.
Levante vs Barcelona live online: match updates and commentary
90'+3' GAME OVER! 
90'+3' Foul on Murillo as Mayoral sees yellow.
90'+3'   Aitor with the throw and he will take his time over this.
90'+2'   Barcelona looking for the equalisers. Dembele and Coutinho combine but lose out. Cleared by Aitor.
90'   Barcelona with the bit between their teeth now. Can they get a winner. Three minutes of added time.
87'   Dembele looking for an equaliser. But he's a little aggressive in his pursuit of that one as Postigo is bundled over.
84' Dembele with an right-footed effort.
84' Coutinho scores. But just about. 
84' PENALTY! Denis Saurez with a run into the box. He's brought down with a clip at his heel by Coke. ​
82'   Corner hits the side netting.
81'   Corner for the home side.
81'   Sent out to the right and it's crossed in Murillo just about gets it away. Mayoral lurking again.
79'   Free for Levante. 
76'   Dembele ruled offside as he races clear. Just not happening for him or Barcelona tonight.
75' Doukoure on for Rochina. That's all three subs for Paco Lopez.
74' Booking for Busquets. Janes races through all of them and that's a bad foul.
73'   Barcelona improving but they might be caught on the break here. Morales drives forward and sends in a weak cross, which Morales controls.
72'   Dembele races through on goal but runs out of room and cuts back. He falls and Aitor grabs it. Looked like he had a case for a penalty. A harsh one but referee says no.
69'   Denis Suarez dribbles into enemy territory and the ball is put out for a throw.
67' Jason on for Chema.
67' Denis Suarez about the be introduced for Barcelona.He replaces Malcom.
67'   Looks like Chema can't continue and he is grabbing the back of his leg. 
66'   Coutinho to Vidal and they're looking for a way through. Coutinho goes on a dribble and hits the ground inside the penalty area. No penalty though. 
64'   Morales with a golden chance. He is put through after Aleña loses the ball. Mayoral with the pass but he misses. Over the bar.
62' Boateng ran himself into the ground. He is replaced by Morales.
61' Lenglet replaces Chumi.
60'   Barcelona still can't get into this. They've been poor in attack.
58'   Coutinho with a strike. It catches a Levante ankle and Aitor misses the catch. Poor from the keeper as he tries to punch it away. Sent back in towards goal and it's over the bar. 
56'   Ball through to Dembele but Aitor races off his line and grabs it.
53'   He gets up quite slowly.
53'   Simon takes a shot and it's saved and parried by Cillessen. Boateng follows through and catches the keeper. 
52'   Coutinho with a curler that goes miles over the bar. 
50'   Boateng fouled by Murillo again. 
49' Miranda replaced by Sergi Roberto at the break.
49' Dembele wins it back and Cabaco booked for a foul on him. Quite cynical.
49'   Ball crossed in from the left. Headed down and Barcelona recover but Levante win it back.
47'   Boateng bundles Murillo over and gives away the free. Boateng no taking a step backwards today and proving a baptism of fire for the Colombian defender.
47'   Shot from Rochina is fairly tame. Cillessen has recovered from his earlier knock and saves.
46'   Can Barcelona mount a comeback?
46'   We are back underway! 
45'+2'   HALF-TIME!
45'+1'   Cillessen and Rochina clash in the penalty area with the ball out of play. 
45'   Corner for Levante to finish the half.
44'   Dembele sends one across the goal. Looked like foul prior to that but Malcom can't reach it anyway. Another good chance.
42'   Free sent in and it's headed down to Mayoral. He drives it wide! So close.
42' Boateng with the tastiest flick you'll see. Chumi pulled him back and gets himself booked.
41' Coke booked now for a foul on Vidal. He did put his elbow into the face of the midfielder.
40'   Chance for Levante and Coke as he strikes from an offside position. Referee rightly whistles it.
40' There's a yellow for Aleña as he catches Campana.
37'   Ball crossed in by Dembélé and Aitor saves and gathers the follow up.
35'   There's a really good chance for Barcelona. It's played to the middle and it's cleared by Levante. They got away with that one. 
34'   Mayoral with a lovely piece piece of skill to evade a lunging Arturo Vidal.
33'   Corner is dropped into the front post but Barcelona get it away before winning a throw.
32'   Semedo and Boateng race down the left and Semedo puts it out for a corner. Great battle going on out there.
30'   Vidal gets the ball and is forced to turn around and go backwards. Levante closing all passing lanes and very little smart movement in their attack.
28'   Vidal with what looked like a foul on Rochina but no. Should have been a yellow too.
26'   Malcom tries to thread one through Levante's defense. Levante win it back and Mayoral is fouled by a combo of Vidal and Malcom.
25'   Or maybe the referee doesn't give a free. Boateng is lifted back to his feet and play will continue with a Levante throw.
24'   There's Busquets with quite a cynical foul. He stands as Boateng runs into him. 
22'  Prcic with a foul on Vidal as the battle in the middle continues.
22' There's a yellow card for Murillo on his debut. He pulls Mayoral down as he streaks away from him. 
22'   End to end! Dembele through not but he loses possession. What a game this is turning into. Or has been from the start.
21'   Malcom one-on-one with Aitor and tries to make a better angle for himself and the keeper saves.
21'  Boateng puts Chumi under serious pressure and wins a throw.
20'   Dembele drives through the middle and into the box. He slams a shot towards Aitor but he saves. Levante win it and clear. Really impressive intensity here.
18' There's number two! Boateng wins it back and he plays it to Mayoral, who shoots a lame enough looking effort into the back of the net. Cillessen left staring at it rolling by him.
18'   Simon crosses and Barcelona recover. 
16'   Coutinho into Malcom but he's well offside.
16'   Barcelona have improved now. They still have threatened Levante's goal though. Vidal to Alena and out to Semedo. Levante sitting back.
14'   Free now for Barcelona. Malcom sends it in and Vidal is close but he was offside despite Barca winning a corner.
12'   Run down the line by Coke and Boateng can't slot it home. So, so close! 
12'   So close to a second! Levante should have made it two. 
11'   Foul by Coutinho on Rochina. He grabs him around the nexk and throws him to the ground. 
10'   Levante's good start continues and they refuse to let the visitors settle on the ball. They've done nothing in attack so far and if anything, Levante look like they're score again here.
8'   Vidal with a foul on Campana and he avoids a yellow. It was on the break but the referee has mercy.
6'   Ball clipped to Malcom and he can't control it with nobody around him. He throws his head into the air and knows he should have done better.
6'   They win it back and Boateng is through. He shifts onto his right foot and shoots but Cillessen is equal to it. That's a poor effort from a nice position but he was adamant that he was shooting it with his right foot.
6'   Levante pressing high up the field. 
5'   What a start for the home side.
4' GOAL! GOAL! Whipped in from the left hand side and Cabaco heads it beyond Cillessen. That's a lovely header. 
3'   Really congested down the right hand side for Barcelona. Levante win themselves a free after Vidal and Aleña get into trouble. Cillessen organising his defense.
2'   Levante win themselves a throw. 
2'   Barcelona deal with the pressure well and work it up the field before being forced back again. They lose it and Levante start their first attack.
1'   We are undereay! Barcelona in their bright yellow shirts kick us off and Levante put them under pressure immediately.
    Teams on the field and exchange handshakes. 
    "Coutinho maybe isn't at the level of last year and Dembele has moved ahead a bit. Hopefully he improves as he is a very important player for us," says Aspiazu, Barcelona's assistant coach ahead of the game.
    Barcelona's 5-4 loss last season was their first loss to Levante since the 03-04 season.
    The last two games between these sides have produced 14 goals. 
    Valverde said he is with the team 100% and they are expecting big things from him. That front three of Coutinho, Dembélé and Malcom could be devastating but it's unclear as to who is starting up front or as a false nine.
    Levante's captain, Jose Luis Morales, is rested and Coke is given the captain's armband while former Real Madrid striker, Borja Mayoral leads the line.
    Coutinho gets a start for Barcelona for the first time in a month. Murillo, who just joined the club on loan, also gets his first minutes for his new club.
    Levante XI: Fernandez, Mayoral, Chema, Simon, Prcic, Coke, Postigo, Rochina, Cabaco, Boateng, Campaña.
    Barcelona XI: Cillessen, Semedo, Murillo, Chumi , Miranda, Busquets, Arturo Vidal, Aleñá, Malcom, Dembelé, Coutinho.
    Hello and welcome to out live online coverage of Levante vs Barcelona in the Copa del Rey last 16 clash from Estadi Ciutat de Valencia with kick-off at 21:30 CET.
Levante vs Barcelona live online: preview
Barcelona travel to Levante in the Copa del Rey last 16 first round tie on Thursday night with kick-off at 21:30 CET. They have rested some of their big hitters and brought plenty of younger players in their squad. Levante are winless in four in the league and have suffered defeat to lowly Rayo and Barcelona during that run. They'll be looking to right the ship on Thursday but Barcelona have their sights set on a potential treble and their youngsters will be keen to prove their worth when they travel to Valencia.
Levante's form at home in recent weeks has been shoddy with a hammering at the hands of Barcelona followed by a come-from-behind draw with Girona most recently. Paco Lopez is likely to rotate his side with Atlético Madrid lying in wait in LaLiga at the weekend with an extra day rest having played out a draw with Girona.
Barcelona have left Piqué, Rakitic, Suárez, Messi, and Jordi Alba out of their squad to rest them for a hectic January and February and an assault on all three competitions they remain in. Munir has been left out too but he seems to have played his last game for the club as Ernesto Valverde says he has made his decision and so has the club. Rafinha, Samper, Umtiti and Vermaelen remain out injured. Barcelona have a shortage of options up front but Valverde says they could turn to Arturo Vidal as an option. His starting eleven will be interesting given the absences through rest and injury with plenty of chances available to the players called up.