Achraf: "Me and Paco Alcácer playing at Real Madrid? We have spoken about it..."
The Borussia Dortmund pair were special guests on radio show El Transistor and chatted about the opportunities they have encountered in the Bundesliga.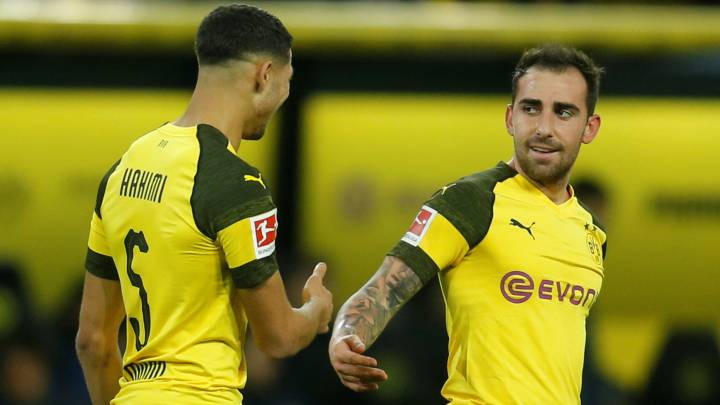 Paco Alcácer and Achraf Hakimi were special guests on Onda Cero's El Transistor programme today. The Borussia Dortmund pair chatted about their time at their respective previous clubs, Barcelona and Real Madrid and the opportunities they have found in the Bundesliga - playing time they were not afforded in Spain. They admitted that they have even imagined the possibility of playing together at the Santiago Bernabéu one day.
Alcácer
9


Trips home: "Coming home to Spain is always a nice feeling, in Germany, everyone's a bit surprised at how much time we get off at Christmas".
Double training sessions: "We were back on the 4th and have been training twice a day since the 5th; we've come here to work, to get back into the rhythm and so it's like a sort of mini pre-season. It requires a different mentality because it's another form of training".
Following Barcelona's matches: "It doesn't bother me to watch Barça's games but I do put the TV on to watch them. I've got friends in the squad, players I really get along well with".
Leo Messi: "I never had any problems with anyone at Barça and even less with Messi. He wrote to me when I left the team".
Confidence is key for forwards: "If a player feels they are important then they are capable of doing practically anything. Confidence is the base in everything. You need confidence from everyone - the coaching staff, team mates, club directors... now I feel like a more complete player, more a footballer. I think I'm a better player and a better person".
Playing for Real Madrid: "Would I like to play for Real Madrid? I'm only focused on where I am right now".
Deciding to go to Germany: "Dortmund was a good option and it's all turning out well".
Aspiring to big things: "At Dortmund, we want this to be a special season for us. Things are goin well for us and the whole squad is united".
Jadon Sancho: "Sancho has incredible self-confidence and unbelievable qualities. He's got everything he needs so reaching the top level is all down to him".
Dreaming of success with Valencia: "When I was a child, my dream and plan was to play for Valencia and I managed to do that. I would have liked to have spent more time there but sometimes you have to take decisions, sometimes they work out and sometimes they don't".
Valencia's poor form in LaLiga: "Valencia always lift themselves back but I don't like seeing them where they are at the moment".
Luis Enrique: "I only have words of thanks to give to Luis Enrique for the year I spent with Barça".
5


Achraf
Training camp: "For us, these kinds of training camps, at the halfway point in the season are a bit strange".
Friends back at Real Madrid: "I speak regularly with a number of Real Madrid players, I watched the game yesterday; I hope the bad run they're in ends soon and they get back to winning ways".
Playing time: "Now, I am getting the kind of continuity which I needed. I feel more mature, more important to the team and more of a player".
The Bundesliga: "The Bundesliga is a tough league and very evenly fought, the teams are all at a similar level".
Odriozola: "Odriozola is a great player who can help Real Madrid a lot; Vinicius is a brilliant playerr".
Returning to Real Madrid: "I have to go back to Madrid in 2020 but a lot of things can happen in two years".
Marcelo under fire: "Sometimes football has a very short memory. Marcelo doesn't deserve the criticism he's received. He's given a lot to Real Madrid".
Playing with Alcácer for Real Madrid one day: "Yes, we have spoken about that".



Bundesliga
*Update 11 de enero de 2019