Madrid and Juventus look at Dybala-Isco swap: Tuttosport
The Serie A club have their eyes on Isco and Florentino Pérez is hoping to take advantage of it with a move for Dybala, according to Italian media.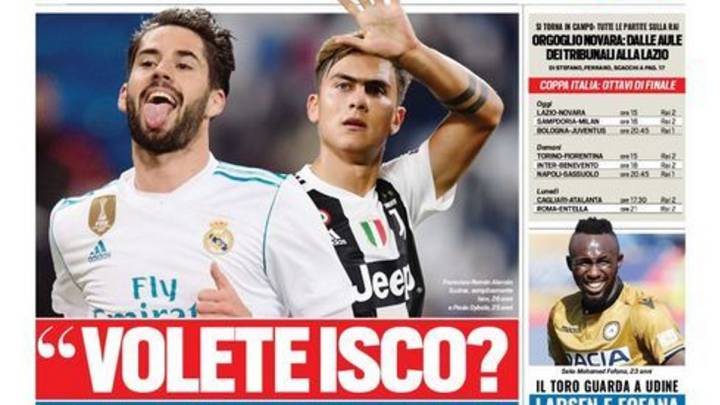 Real Madrid president Florentino Pérez is keen on signing Juventus star Paulo Dybala for next season. However, as other big clubs also vie for position, the Italian giants are holding firm in their stance not to sell the Argentine playmaker, but Pérez is hoping to use another lrick, using Isco as part of a swap deal.
Isco for Dybala?
According to a story published in Tuttosport, the Turin club have their eyes set on Los Blancos' boy from Málaga (not the first time this has been reported), allowing the Spaniards to take advantage of the situation and include him as part of the negotiations. The front page of the Italian paper on Saturday screamed: "You want Isco? Give us Dybala."
As Madrid continue their search for a player, or players, to fill the goalscoring void left by Cristiano Ronaldo, the 25-year old is a potential piece in that jigsaw. There is an awareness, however, that bringing Dybala to the Bernabéu is unlikely to be an easy operation. Juve do not want to let him go and would expect upwards of 100 million euros for the transfer. Other elite clubs, including Bayern Munich and manchester City have already tried to sign him without success.
The delicate situation of Isco
Isco has not managed to secure a place in the Real Madrid starting line-up for a league game since the October defeat in the Camp Nou, Julen Lopetegui's final game in charge. New boss Santiago Solari may be forced to changed this choice due to a severe list of injuries to his midfield, but there are several indications pointing to a possible departure from the Spanish capital in the summer. Despite being out of favour with the current set-up, there is no doubt that his sale would bring in significant funds to the club coffers.