Suárez and Messi on target in routine stroll over Eibar
Barça have never failed to put fewer than three past the Basques at Camp Nou and did so again as they outclassed the visitors on Sunday.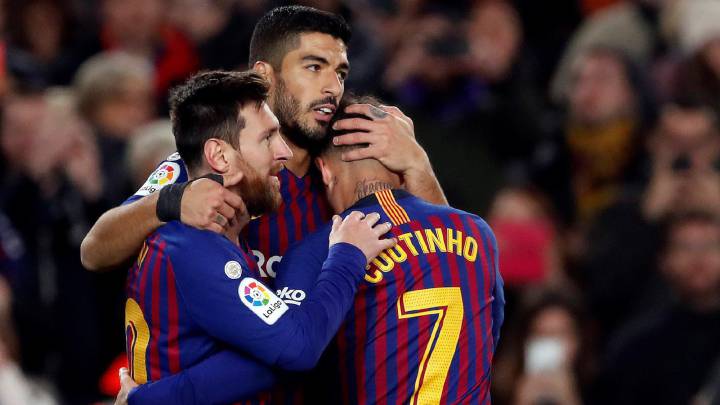 Barcelona vs Eibar live online: as it happened
FT ...that's time at Camp Nou as Gil Manzano draws the action to a close. Valiant performance from Mendilibar's men but ultimately outclassed by a solid Barça side who punished the Basque side.
90'+3'   Suarez in pain it would appear....
90'+2'   Arbilla heads over and that pretty much sums up the evening for the visitors. Barcelona worthy winners here as they earn three vital points and increase their lead at the top of LaLiga to 5 points over Atleti.
90'   3' of time to be added. 
90'   LLast minute as Barça break ... Suarez looking very tired now as he reluctantly chases a loose ball.  
88'   Another high ball from Eibar into the box and another half-chance goes begging for the Basques. Eibar enjoying decent late possession as Barcelona know their job is done here at Camp Nou this evening.
84'   5' left on the clock. The tempo has dropped considerably now as thoughts for Barça turn to the Copa del Rey and their return leg against Levante with a 2-1 score-line to try and turn around. Eibar face Espanyol next at Ipurua on Jan. 21. 
84'   Dembele breaks and cuts the ball back looking for Messi but fails to connect with the Argentine. 
Sergi Roberto off for FCB-Semedo on / Enrich off for Eibar with Marc Cardona his replacement 
75' No wins for Eibar now since the 3-0 win over Real Madrid at home in November. Alarm bells ringing a little for the Basque team as things get compressed at the bottom of the table 
Enrich and Garcia the (2) in a 4-4-2 system for the Basque outfit
Escalante off and Kike Garcia on for Eibar
75'   15' left at Camp Nou. Can Eibar bag a consolation? Can Barça increase their haul?
74'   Eibar almost open their account as De Blasis latches onto a Jose Angel cross to see his effort smothered at the second time by Ter Stegen
Change for Barça: Dembele on-Arthur off
70'   Escalante tries a shot from an acute angle .... Wide.... 
Pique into the book.... Rash challenge on De Blasis
68'   A little dip in the atmosphere after the two quick goals. Damage limitation for the Basque side now .... It was 6-1 here last year in the Catalan capital.   
65'   Enrich goes close for Eibar but nods just wide. The visitors seem to have composed themselves after the two goal Barça blitz  
Vidal on for Barça-Busquets off 
63'   Change for Eibar: Cucurella off and De Blasis on 
62'   Lethal !

  Too easy as the Uruguay striker latches on to a quickly taken throw by Sergi Roberto and side foots the ball past Riesgo. A long, long half an hour football awaits Eibar at Camp Nou.  
Gooooooooooool. Suarez again.... Eibar all over the place at the back.  
57' Delightful build-up play from Coutinho, Suarez and Messi again with the Argentine firing straight at Riesgo. Barcelona on fire now with Eibar rattled.
56' What a flick from Coutinho....delightful stuff from the Brazilian as he forces Riesgo into action. 
55'   Suarez almost makes it 3 as he heads straight at Riesgo after a fine delivery from Jordi Alba. Barça hungry for more and Eibar on the ropes.
Poor defending from Arbilla who gives the ball away ...Barça thread the ball intricately around the edge of the box as Suarez, Coutinho and eventually Messi finish the move. Too easy for the Argentine.
400 !

Messi bags Barça's second on the night and his 400th LaLiga goal
51'   Eibar opting too often for the lofted ball into the box looking for Enrich. He's getting little change tonight from the Barça backline being out-jumped by Pique time and time again.
50'   Eibar break but a poor ball from Ruben Peña sees the move break down.... The final ball for the Basque side is their let-down 
48'   It has to be said that there is a somewhat muted atmosphere at Camp Nou this evening... very flat which possibly mirrors what we're seeing on the field of play.  
47' Early passage of play from Eibar who thread the ball along nicely before Cucurella gives it away. 
No changes at the break and no players warming up at the interval so as you were...
46' We're back in action at Camp Nou....Barça start the action  
The Barcelona XI pose ahead of the league game at Camp Nou 

HT: FC Barcelona 1-0 SD Eibar

45'   No added time at Camp Nou ...Suarez with the only goal of the game with Barça dominating but yet to turn the screw.
Luis Suarez into the book for dissent 
On repeated viewing, the correct decision...
43' Big call for a Barça penalty as Coutinho is tumbled in the box.... Gil Manzano waves play on and the Camp Nou faithful make their displeasure with the decision known.
Enrich first name in the book for protesting  
40' Possession after 40': (57-43 %) for the home side
40'   5' left and Barcelona now playing deeper as Eibar press. Still the 19th minute goal from Suarez the difference between the sides.
39' Dangerous free for the men in white as Sergi Roberti trips Cucurella....Jordan takes and Rakitic clears.... 
37'   Corner for Eibar ....the ball breaks to Orellana and the Chilean finds row T with a wayward effort.
36' Jordan breaks for the visitors and overdwells on the ball .... poor decision making from the Eibar player 
Barcelona Almogavers supporters group in action tonight at Camp Nou  

32'   Eibar now unable to retain possession giving the ball away far too easily... always key tactic at Camp Nou is to try and retain the ball as much as possible.
31' As a game it's still yet to catch fire. The next goal will be decisive ... a goal for the home side and one would feel there will be no way back for the visitors. A goal for the Basques and the match could be very, very interesting ....
30'   The moment Suarez latched onto the ball to open the scoring

27'   Almost 30' on the Camp Nou clock with a one-nil lead to the hosts. Telling stat too: shots on target Barça ...1, shots on target Eibar 0... 100% efficiency from the Catañlan side as Enrich blazes a header just wide with Ter Stegen frozen too. Ruben Peña's delivery from the right flank causing problems for Barcelona.
Creidt too to Coutinho for a delightful assist in the goal. A lovely display of one touch football as only Barça can deliver.
24'   Eibar looking a little subdued now ... the early zest missing from the men in white 
21' Interesting to see Valverde not celebrate the goal but use the time to give instructions to Pique. The Basque coach unhappy at aspects of the Barça defensive make-up
21'   Suarez breaks but flagged for off-side, how will Eibar respond to this setback?
FC Barcelona 1-0 SD Eibar
Suarez opens the scoring .... sweet finish from the Uruguay international sliding home right into the corner with great link-up play  
17' 17'    The traditional 17th minute independence chant rings ou 
17'   Possession stat: After just more than quarter of an hour, the home side dominate play: FCB 60-40 SDE (%) 
Barcelona coach Ernesto Valverde settles down before the match

14' Marca Cucurella (on loan at Eibar from Barcelona) has been most impressive for Eibar in recent games delivering tireless performances for the Basques. Unmissable too with his mop of hair and alice band.   
Eibar starting XI  

12'   Barcelona remaining true to their philosophy of playing the ball out from the back. Facing more pressure tonight though with the high-press from the men in white. The game has yet to find its rhythm with too many stoppages.      
9'   Added pressure from the home side as Eibar struggle to clear the ball. The Basque side now playing at one of the biggest pitches with their Ipurua one of the smallest playing surfaces in LaLiga (along with Rayo's Vallecas ground).
7' Dangerous free for Barça ...Messi takes and Pique flicks the ball just past the post .... Flag was up though .... 
6' Enrich almost latches onto a cross ball from Peña but fails to connect... Bright start from the Basque side so far ....
4'   Eibar have yet to take a single point from Barcelona since their arrival in the Spanish top flight in 2014 and it's the visitors with the early pressure.
3' As always very, very high tempo pressing from Mendilibar's side with Cucurella and Enrich giving the Barça rear-guard no time....  
2' Corner for Barça .... comes to nothing as Riesgo gathers with no pressure
All eyes on Messi tonight too with the No. 10 poised to bag his 400th LaLiga goal...
Off we go at Camp Nou ...Eibar start ....
Here's how the table looks tonight ahead of this FCB-SDE clash. 

Eibar too desperate for points at the other end of the table after wins for Leganes, Rayo and Athletic Bilbao. 
Teams arrive on the pitch. A decent, but not full Camp Nou greets the men in azul-grana. Barça currently two points clear of Atleti at the top of the table after Simeone's men so a win essential for Valverde's side.   
Birds eye view....

Barcelona weather watch .... a mild 14C at Camp Nou this evening... 0% chance of showers ....pretty decent conditions for players and fans alike.

SD Eibar wear their change kit (rather smart too) of all white tonight at Camp Nou

Barcelona wear their classic "azul-grana" shirt and navy shorts

It's top vs. 13th tonight as Barcelona head into two back-to-back Sunday LaLiga games (they face Leganes next sunday night). Eibar too have a doubler header with tonight's game their first in a Catalan double header with Espanyol the next visitors at Ipurua on Monday week. 
Brisk business at one of the various merch. stalls close to the Barça stadium

Camp Nou and the Barcelona skyline offering a spectacular backdrop to this evening's game  

The corresponding fixture at Camp Nou last season ended 6-1 for the Catalan side with Barça winning 0-2 at Ipurua. We've never had a 0-0 between both sides in the Spanish top flight.

Plenty has been said recently about Coutinho's time at Barcelona. The Brazilian gets a starting place at Camp Nou tonight following a solid Copa del Rey performance vs. Levante UD. 

Leo Messi is close to another record. If he finds the Camp Nou net against Eibar, the Argentine star will have his 400th goal in the Spanish top flight.

Hello and welcome to our live coverage from Camp Nou as  FC Barcelona host SD Eibar with a 1830 kick-off in the Catalan capital.