Rodrygo Goes: Santos ask Real Madrid to delay move to Spain
Rodrygo is due to arrive at Real Madrid in the summer, but Santos want the young forward to stay until the end of 2019.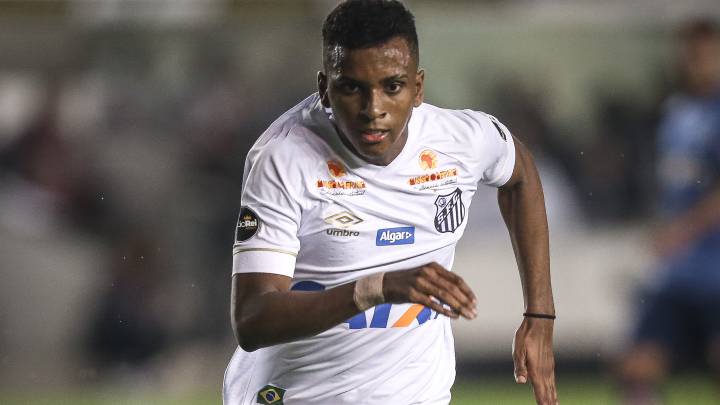 Santos have asked Real Madrid for permission to keep young forward Rodrygo Goes until the end of 2019, the Brazilian club's president has confirmed.
"We've put in the request to Real Madrid and we're waiting for their thoughts," José Carlos Peres told the Brazilian television channel TV Gazeta on Sunday. "It's still a little early, but we did it now to be on the safe side."
Rodrygo signed by Real Madrid last summer
Rodrygo signed for Madrid in a 45m-euro deal last June, but with FIFA rules preventing him from moving to Spain until after his 18th birthday - which was on Wednesday - it was agreed at the time that he would remain at Santos until the summer.
In December, new Santos coach Jorge Sampaoli spoke of his belief that the starlet would be better off staying at the Peixe for longer to continue his development.
"I think that, for the good of his career, it'd be best if Rodrygo spent a couple more years establishing himself here," the Argentine said at his unveiling by the club. "For his good and for mine; it's not up to me, though."
Rodrygo currently on international duty
Rodrygo is yet to link up with Sampaoli as he is currently on Brazil U-20 duty ahead of the South American U-20 Championship, which begins on Thursday.
Before joining up with the Canarinha, he flew to Spain to visit Madrid's facilities and attend River Plate's Copa Libertadores final win over Boca Juniors at the Bernabéu.
---
Follow Leganés v Real Madrid live in the Copa del Rey