Barcelona pay more in salaries than PSG, Manchester City
The Liga champions have seen their wage expenditure rise 42 percent over the last year with new signings and renewals including that of Leo Messi.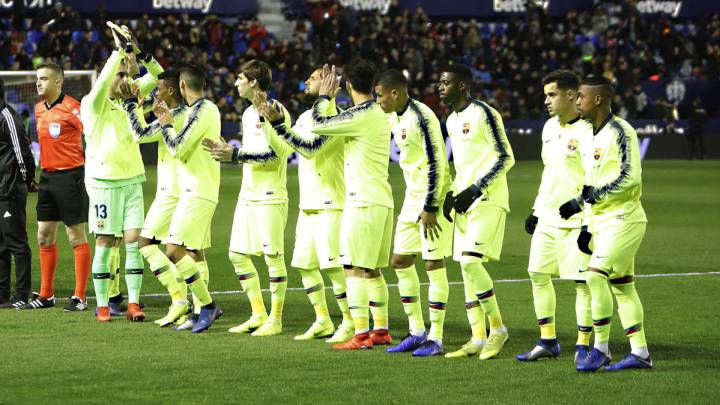 FC Barcelona have become the biggest spenders in world football in terms of annual salaries and are the first club in history to break the 500-million-euro mark in payments to players, a report by auditing giant KPMG has confirmed.
In total, Barça's outlay on wages rose by 42 percent in 2018, to a total of 562 million euros. The Catalan club, who spent 245 million euros on Ousmane Dembélé and Philippe Coutinho over the course of the 2017-18 season, also handed contract extensions to some of their highest-paid players, including Leo Messi, whose annual salary is reported to stand at 565,000 euros a week and who, according to Forbes, pocketed a further 52 million as a signing bonus when he penned his November 2017 deal.
City the only European champions to spend less in 2018
In KPMG's study Football Benchmark, the Dutch analyst totted up the annual salary payments of the 2017-18 champions across Europe's eight most lucrative leagues. Paris Saint-Germain had the second-largest outlay after Barça, shelling out 332 million euros in salaries in 2018, a 20 percent rise on the previous year. All of the teams in the study saw their wage expenditures increase with the exception of Premier League champions Manchester City, whose outlay on salaries fell by five percent over the same period.
However, according to the KPMG report, Pep Guardiola's squad is the most valuable in the world with a value of 1.18 billion euros. The world's most valuable player is Neymar, who cost PSG 222 million euros but whose worth has risen by seven million to 229 million euros, KPMG stated. The Brazilian was followed by Kylian Mbappé (215 million) and Messi (203 million).