Real Madrid consider paying Militão's 50 million euro buy-out
Porto's Brazilian centre-back is on Madrid's wish list for next season and contact has been made with his agents. His transfer fee will rise 50 per cent from June.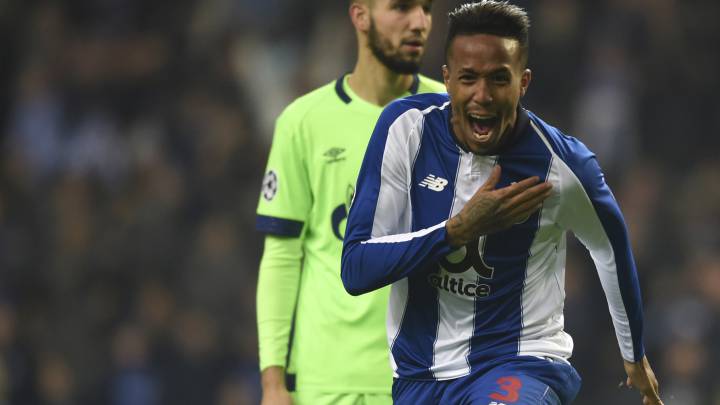 Real Madrid have stepped up their plan to bring Porto defender Éder Militão to the Bernabéu. AS understands from sources close to the operation that Real Madrid are considering whether to pay the Brazilian centre-back's buy-out fee, which is currently at 50 million euros but will rise after 30 June. The club has made contact with the player's agent Giuliano Bertolucci to see whether a deal can be reached at some point in the neat future. Militao's buy-out will rise to 75 million euros at the end of this season although there is no chance that the player could join Real Madrid until next season at the earliest. Porto would not be willing to let him leave during the current transfer window. Juni Calafat, who played a key role in the operations to bring Vinicius and Rodrygo to the club, was the person responsible for recommending Militão.
Premier League interest

Manchester United, Liverpool and Chelsea are also reported to be keen on Militão. Just a few weeks ago, it was expected that a transfer to one of those Premier League clubs would be going through but with Madrid joining the fray, AS sources say, the scenario has changed - in spite of the player's own doubts about what kind of role he would play with the defending European champions. Madrid have spent the last few months putting together an indepth report on Militão and have sent scouts to watch him in action a number of times. He's under contract with Porto until June 2023.
Complete defender

Militão arrived in Portugal last summer after Porto paid São Paulo four million euros for the player - a relatively small fee in relation to his true market value. São Paulo begrudgingly allowed him to go for some kind of fee rather than see him leave six months later on a free. Militão has every quaility you would want in a defender - he's fast, efficient and good at conducting the ball out of the first third. This season he has made 24 appearances, scored two and set up two. Another of his virtues is his attacking skills. He has taken no time at all in adapting to the European game and that is one of the things to have impressed Madrid. He was proclaimed the best defender in the Portuguese league in September, October, November and December. His great versatility, which he showed during his time at São Paulo where he occasionally filled in at right-back is another asset which hasn't gone unnoticed in the Bernabéu back offices.