D-Day for Morata: Atlético, Milan, Juventus, Chelsea, Higuaín
Juventus, AC Milan and Chelsea form the biggest players in Atlético Madrid's move for the Spanish striker.
The Álvaro Morata to Atlético Madrid operation is taking shape. Thursday will see the steps in the move advance although, interestingly, these will not begin in the Spanish capital.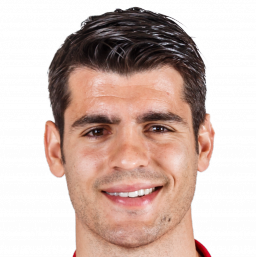 Higuaín then Morata then...
Three of the protagonists in the transfer have nothing directly to do with the rojiblancos. They are instead, Juventus, AC Milan and Chelsea, all seemingly close to aligning the future of Gonzalo Higuaín. The 31-year-old striker in Milan is wanted by Chelsea and already has one foot in Stamford Bridge although Juventus look to have the last word on that deal.
Chelsea's intention to loan Higuain till the end of the season was hit with a condition from the player's Turin-based parent club. As per Gazzetta dello Sport, Juve would agree to this, however, require that there is a compulsory purchase option of 36 million euros included. After Milan's involvement in the Italian Super Cup on Wednesday evening, Sky Sports confirmed that the Argentine had already committed himself to the London club. 
Assuming that move is rubber-stamped (leading to a potential deal between Real Madrid target Krzysztof Piatek and Milan), we proceed to the next phase: that of Atlético, Morata and Chelsea. The desire for the transfer between the footballer and the Spanish side is clear, with the idea being that Morata would initially move on loan to the Wanda Metropolitano, while some of the conditions are still to be finalised.
After that is done, Atleti will take the next step: shedding some of their current squad. The club has received several offers for some of their players, including Gelson and Kalinic, and have started to probe into some of these to see which can work best for both the club and the players. But, of course, those moves are the final phase. Before that, two important steps must be taken and the first one starts on Thursday. Higuain sets course for London...and then Morata to Madrid.