Real Madrid: Solari's Isco stance backed by Florentino Pérez
The Real Madrid manager explained the situation to the Bernabéu board some weeks ago and received their support over the out-of-favour midfielder.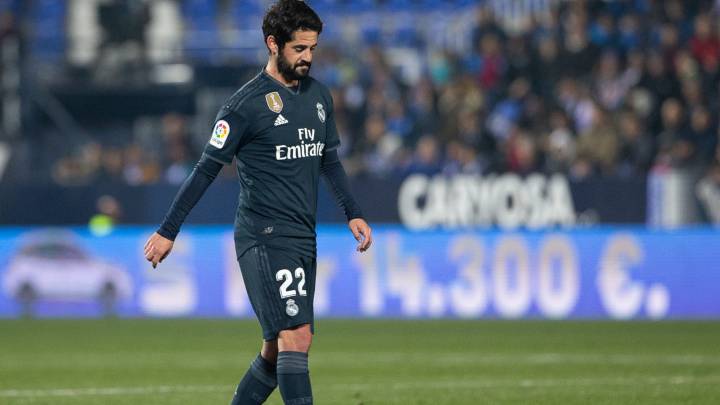 Santiago Solari has received the backing of the Real Madrid hierarchy and club president Florentino Pérez over his decision to relegate Isco to a virtual spectator at the Bernabéu.
The midfielder has started just three of the 18 games Solari has overseen since his promotion from Castilla to the senior squad following the departure of Julen Lopetegui, and none of them were particularly crunch fixtures: the second leg of both Copa del Rey ties against Melilla and Leganés and the dead rubber Champions League match against CSKA.
Despite publicly declaring that Isco is a player he loves watching, Solari has apparently decided that the Spain international does not fit into his tactical system. The Argentinean prefers quick transitions, short periods of possession and a direct approach while Isco is a player more suited to patient build-up play and conducting the tempo of the attack. There has also been speculation that the midfielder has had a falling out with his coach and Solari's staff after words exchanged on the training ground, but Solari has denied there is any personal problem between the two.
Isco on borrowed Bernabéu time under Solari
In any case, Solari presented his case for Isco's exclusion to Pérez some weeks ago and was given the presidential seal of approval over his stance. Isco's decision now is whether to look for a Bernabéu exit or knuckle down to improve his form and fitness and try to adapt to Solari's system.
Whether he pushes for a January departure or not, it seems almost inevitable that Isco is one of several players Madrid will look to move on next summer as Pérez plans an assault on the transfer market in pursuit of Eden Hazard, Christian Eriksen or Harry Kane. As things stand for the 26-year-old, it seems only a managerial change next summer will prolong his Real Madrid career.