Iran into the quarter-finals with solid performance against Oman
Iran recovered from an early penalty scare to take control and bok their place in the quarter finals of the Asian Cup, thanks to goals from Jahanbakhsh and captain Dejagah.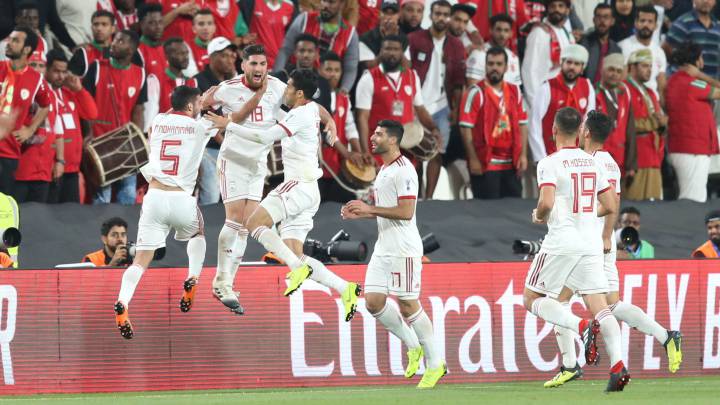 Iran vs Oman: latest news
The China vs Iran quarter-final will be on Thursday 24 January at 17:00 CET.

Iran now play China in the quarter-finals. Oman make the short trip home. Thanks for following and we'll see you for the next match in this tournament which is Japan v Saudi Arabia at 12 noon (CET) tomorrow. Equally, if you want more live text based football, Calum is covering Barcelona vs Leganés.
Iran definitely not at their best tonight, but did what they needed to do to overcome an Oman side who had a couple of chances in the first half (including that saved penalty). In the second half Iran showed their physical presence and decent organisation to ensure Oman didn't have a chance of getting back into it.
Full time! Iran go through fairly easily in the end, despite that first minute penalty scare.
Iran have been solid in this second half, not really letting Oman into the game. If Azmoun had taken his chances the score would have been more comprehensive.
That's the 90 up. Three minutes of time added on.
Mohamed Al Ghassani comes on for his brother for Oman.
Azmoun off. No goal for him. Masoud Shojaei comes on for him.
Oman living dangerously as they still hope to get one, but Iran are physically fitter than them, meaning any Oman attack is very, very dangerous for Pim Verbeek's team.
Azmoun through and he squares to Taremi who gets his shot off, but it's saved!
Lovely move by Iran down the right to set Azmoun up.
Azmoun with another fine chance to grab his goal, but he takes one touch too many at the back post and the opportunity goes.
57- 43 possession in favour of Iran.
Mohsin Al Khaldi comes on for captain Ahmed Mubarak. He goes off looking pretty dejected. He's been pretty dejected since missing that first minute penalty actually.
Al Ghasani brought down out on the right! Free-kick for Oman to swing it in. But the Iran defence stands firm and get it away.
 Saman Ghoddos comes on for Iran captain Dejagah, who scored from the spot to make it 2-0.
Oman's Harib Al Saadi has a long range effort. Looked close but Beiranvand watched it somewhat disdainfully as it flew over his crossbar.
Iran yet to concede a goal in this tournament. Qatar and Korea the other two sides who are yet to ship one.
Captain Dejagah.

17 minutes to go. Iran focused on keeping their concentration.
Iran are also pretty happy to concede possession in the midfield now and just make sure they snuff any danger out as soon as it gets going. Striker Azmoun though would definitely like to get a goal.
Slight lull in the tempo after that change from Iran. Oman are pushing players up, but struggling to create any danger. Al Ghasani's been their most likely to do something, but he's running out of  steam a little.
Iran have had 51 dangerous attacks to Oman's 24.
Opening goal scorer Jahanbakhsh comes off for Cheshmi. Iran planning to hold onto this lead.
Iran keeper Beiranvand goes for a wander with the ball. Fans enjoyed that.
Change for Iran coming up. Defender Roozbeh Cheshmi ready to come on.
Oman's odds of winning this are now out at 300-1 and that's a pretty fair reflection of the challenge facing them.
Vahid Amiri into the book for a nasty challenge.
Azmoun back helping heads clear and then when it's back into the mixer Al Ghasani gets a head to it, but it flashes wide. Chance though.
Oman throw everyone forward...
Oman corner!
Everyone's a bit gutted when Beiranvand opts to kick rather than throw it almost to the other end of the pitch.
Long ball into the Iran box but you have to do a lot more than that to trouble the imposing Beiranvand. He comes confidently to claim.
Hour gone. Oman desperate for a spark.
Azmoun on the charge again. Two Oman defenders on him, but he nearly gets away. Corner for Iran.
Yellow for Al Musalami who cynically brings down Azmoun.
Dejagah with a lovely ball to Mehdi Taremi who controls well and thumps the bouncing ball towards the corner of the goal, only to be denied by keeper Al-Rushaidi. Delightful football all round there.
56 minutes gone. Iran well on top here.
Sub Khalid Al Hajri on the break but he's well tackled. Oman win a corner but it comes to nothing.
Attacks coming thick and fast for Iran here. Oman maybe need to bring someone else on or do something to shake this up.
Azmoun is on a goal a game so far in the tournament and that should have been four in four.
Azmoun at the back post HAS to make it three but he gets over-excited and blasts wide under very little pressure. He's disgusted with himself.
Iran looking very confident here at the start of the second half. Oman want to make something happen, but they just don't have the touch and mobility to bring it about.
Tackle from Mohamed Al Musalami! Absolutely vital as Iran were two on two there.
Saleh has recovered. He's hovering on the touchline desperate to come back on as Iran attack.
Raed Saleh down injured for Oman. He lost the ball and went haring off to try and win it back but only manaaged to do himself a mischief.
That change is Oman looking to try and be more offensive. They're 2-0 down so they don't have much choice.
Peep! Second half underway!
Salaah Al Yahyaei comes off and 24 year old Khalid Al Hajri comes on for the second half.
Wait, spoke too soon. There is a change for Oman.
Teams out as well. No changes as far as we can see.
Officials coming back out at Mohammed Bin Zayed stadium
Here's the moment just before the Oman penalty was saved...

Iran v Oman stats. Possession 64:36. 2 goal attempts each. 2 shots on goal each. 235 passes for Iran to 135 for Oman.
In other football news, Militao has apparently said yes to Real Madrid. Full story here.
Peep! Half-time. Oman will feel very hard done by with that 45 minutes of football. They had a first minute penalty saved extremely well and lost two goals, one to a defensive lapse, the other to a refereeing lapse with a penalty that shouldn't have been. Iran were the slicker side, but 2-0 flatters them.

Should have been three for Iran. But Mehdi Taremi shins over the bar trying to play it too cool after Iran broke through the Oman defence again.
Boom! Some hit from Oman's Al Ghasani! Just tipped over by Beiranvand. That was a beast of an effort.
Oman will be absolutely gutted by that, didn't look like a penalty at all, but the referee has given it and they are 2-0 down.
2-0 Iran! Penalty cooly converted by Dejagah!
Mehdi Taremi goes down in the box after a poor first touch, but that looked like a decent tackle... Penalty given though.
Penalty for Iran!
Al Ghasani gets away down the left for Oman, but his final ball is cut out by Hosseini.
Iran fans giving it an Icelandic-style clap. They're feeling a lot more relaxed right now.
Corner comes to nothing. In fact it almost comes to an Oman break, but their move runs out of steam before they reach the half-way line. Oman players maybe a bit fatigued already which is worrying for them.
Corner for Iran.
Oman have their work cut out now, they've not had much possession and will probably struggle somewhat as they need to take the game to Iran.
Jahanbakhsh takes full advantage to stab home as Mohamed Al Musalami switches off dealing with a hopeful ball through. IRAN 1-0 OMAN. 32 minutes gone.
1-0! Iran punish Oman swtiching off for a second!
Check out those boots from Ramin Rezaeian. He's been doing good work out on the right so far. You have to be doing something special if you've got that kind of footwear.

Dejagah starts a nice move for Iran, but it breaks down when Vahid Amiri gets in a tussle over the ball and ends up fouling.
And there's a shot from Oman! Ball cleared from the Iran box only as far as Al-Busaidi who spanks one, but it's far too high.
Oman haven't had a serious foray into the Iran half for a while now, which is likely worrying coach Pim Verbeek.
Mehdi! Lovely move from Iran and Mehdi, in behind the Oman defence, slices it wide as he falls under pressure. Iran beginning to turn the screw at the moment. 25 minutes gone.
Iran's Ramin continues to moan at Jahanbakhsh. He's in good form so he feels he's every right to do so.
Iran players not happy with Jahanbakhsh who slices a cross into the arms of the Oman keeper when they had good options open.
The pain of missing that penalty...

Iran corner swung in and Azmoun gets well in front of his defender but ends up only getting a shoulder on it. Goal-kick. The hitman probably should have done better there.
Ball whipped in from Iran and goes behind for corner. Scary moment for Oman.
Fast break from Iran and Brighton man Jahanbakhsh is brought down. Dangerous free-kick!
Oman get in again after a long, long ball out to the right gives them a quick throw-in, but Morteza Pouraliganji it looked like managed to get the ball clear.
Iran are beginning to set up camp in the Oman final third, but have to be careful about being hit on the break.
Well in from Oman's Harib to break up another Iran attack.
Oman keeper Al-Rushaidi catches an easy ball in and then falls on it to give his side time to regroup and set themselves up to go on the attack.
10 minutes gone. It's been a highly entertaining opening. Oman are showing no signs of being overawed here by Iran.
Mohsin Al Ghasani the danger man for Oman, he nearly gets through again there.
Short throw on the right for Iran to Ramin Rezaeian who swings one in with his shockingly pink boots, nice enough ball but the Oman defence deal with it easily enough.
Iran fans enjoyed that save...

Oman should take heart from getting in behind Iran the way they did and try not to dwell on the fact they aren't 1-0 up. Tough to do though. These things have a habit of playing on the mind.
Iran head up the other end and get a shot away, but it flies harmlessly past. It was a sluggish opening couple of minutes from them, but having given away a penalty and seen it saved they're looking to stamp their authority onto the match now.
Iran have only conceded 16 shots before tonight, so Oman really needed to take that chance.
Beiranvand flies to his right and tips it onto the post! Oman's hearts are broken by that.
Ahmed Mubarak takes it and it's saved! What a great stop from Beiranvand
Captain Ahmed Mubarak to take it.
Inside the first minute and Hosseini is booked for bringing down Mohsin Al Ghasani in the box.
Penalty for Oman!
Iran straight on the front foot and up looking to get in amongst Oman.
The usual countdown and Iran get us underway.
All set... Iran v Oman!
Iran are really, really firm favourites to go through here. If you put a fiver on them and they come in you'd win just 0.62 (1-8), while Oman are at 5-1, so a fiver would see you win 25.
Iran playing their 4-4-1-1 with Azmoun at the very tip of the arrow, while Oman will be looking to contain them above all, with a 4-3-3.
Oman XI: 18 Faiz Al-Rushaidi, 11 Saad Al Mukhaini, 13 Khalid Al Braiki, 2 Mohamed Al Musalami, 17 Ali Al-Busaidi, 20 Salaah Al Yahyaei, 12 Ahmed Mubarak, 23 Harib Al Saadi, 15 Jameel Al-Yahmadi, 16 Mohsin Al Ghasani, 6 Raed Saleh
Iran XI 1 Beiranvand, 5 Milad Mohammadi, 19 Hosseini, 8 Morteza Pouraliganji, 23 Ramin Rezaeian, 18 Alireza Jahanbakhsh, 9 Omid Ebrahimi, 21 Ashkan Dejagah, 17 Mehdi Taremi, 11 Vahid Amiri, 20 Sardar Azmoun
Iran keeper Alireza Beiranvand starts as expected. He was hitting headlines this week after his rather ridiculous 75-metre throw-out. That's one way to transition from defence to attack...

While we wait for kick-off why not have a gander at what's already happened today in the Asian Cup. Vietnam qualifed for the quarter-finals of the tournament for the first time ever, going through on penalties against Jordan. And in the second game, China came from behind to break Thai hearts, winning 2-1.
It's 19 degrees in Abu Dhabi right now, and there is absolutely zero chance of rain.
Kick-off is at 21:00 local time, 18:00 Central European Time. The action is taking place at the Mohammed Bin Zayed stadium in Abu Dhabi
Good afternoon and welcome to our live coverage of Iran v Oman in the Asian Cup 2019.
Iran vs Oman: preview
Iran play Oman in the last 16 of the Asian Cup, at the Mohammed Bin Zayed stadium in Abu Dhabi, with kick-off at 21:00 local time, 18:00 CET. A quarter-final tie against China awaits the winner of this match.
Ranked 29th in the world, Iran are the clear favourites this evening over Oman, who are back in 82nd position and have made it through to the knock-out phase of the Asian Cup for the very first time. Iran won their group, beating Yemen 5-0, Vietnam 2-0 and drawing 0-0 with rivals Iraq, while Oman scraped through from Group F as one of the best third placed finishers. They were beaten by Uzbekistan and Japan (2-1 and 1-0) and only qualified thanks to their spirit in pushing for a third goal against Turkmenistan deep into stoppage time.
Iran coach Queiroz is confident, but has seen enough grit from Oman to be taking the tie seriously. "The Oman team is a very good team. They have prepared well and have achieved fantastic results over the last year or so. They played 23, 24 matches and only lost two or three. They have a very good coach in Pim Verbeek and we must be careful against them," said Queiroz.
Oman coach Pim Verbeek meanwhile says ranking doesn't even come into it in matches like this. "We will do everything we can to advance to the quarter-finals. My players are excited and confident," said former Sparta Rotterdam player Verbeek, who has a wealth of coaching experience behind him.
Oman captain Ahmed Al Mahaijri meanwhile is excited at the opportunity to play Iran. "Iran are a very strong team but so are we," he said. "We played Japan and Uzbekistan and showed that we can hold our own against teams who are ranked much higher than us. "We have already created history by making the knockout stage but we are not satisfied with just that. We want to create more history" he said.
Oman's defence has been their strong point so far, having only seen 24 shots taken against them. Only Qatar (22), Saudi Arabia (21) and today's opponents Iran (16) more miserly at the back.
Iran: man to watch
Iran have a wealth of talent in attack, but Sardar Azmoun is their main hitman right now, having scored three in three at this tournament. The 24 year old plays in Russia for Rubin Kazan, and having made his debut in 2014 he's now Iran's fifth highest goalscorer. Watch his aerial ability, creativity and an awesome turn of speed when he turns on the turbo.
Oman: man to watch
The Oman captain Ahmed Mubarak Al-Mahaijri is 33 now and leads by example. He's also the most capped player in Oman's history, having turned out 166 times for his country. He scored a stunning free-kick against Turkmenistan and another moment of genius can never be ruled out when he's on the pitch.