Kim Jin-su puts South Korea into the quarter-finals
The defender came off the bench to score his first international goal to see off a valiant Bahrain side and send the Taegeuk Warriors into the quarters.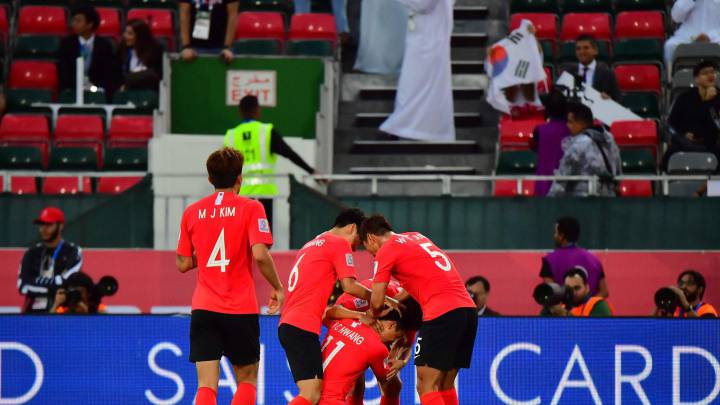 South Korea vs Qatar: Bento calls for clinical quarter-final performance
South Korea vs Bahrain: as it happened
After all the excitement from that game, Iraq and Qatar go head to head to see who will play South Korea in the quarters. You can follow that one live here. 
120' Bahrain were always the underdogs but they really pushed Korea all the way this evening. Credit to them for their ambitious approach against, on paper at least, a more talented side. 
120'   Korea taking their time over the free kick. Bahrain win a free kick, it's belted foward by Fardan but there's not time left! Game over! Korea 2-1 Bahrain! Another cracking game from the Asian Cup! 
119'   Time slipping away now for Bahrain. Korea head for the corner flag. Hwang Ui-jo is clattered to the floor. One minute to be added... 
118'   Ouch! Rashed send Lee Yong into orbit with a challenge in midfield. The Korea defender in no hurry to get to his feet. 
117'   Al Aswad! It's a decent strike from distance but he just gets under it a bit and it sails over the bar. 
117'   Korea just concentrating on keeping possession now, inviting Bahrain to bring the game to them. 
116'   Bahrain are leaving some tempting gaps at the back now as they push for the equaliser, but have Korea got the legs to exploit it? 
115'   Jung makes a vital headed clearance with Al Romaihi lurking. Bahrain are really going for it now! 
114'   Jamal Rashid has a crack and wins a corner for Bahrain... 
113'   Free-kick to Bahrain, taken quickly. A cross is sent in looking for Yusuf but cleared. He's looked lively since he came on. 
112'   Korea aren't quite playing it into the corner yet but not far off... they just desperately want to hang on to the ball and are playing some risk free stuff to keep Bahrain at bay. 
111'   Son goes down on the edge of the area but it was a clean challenge. The Spurs man then buys himself a yard in the area but can't find the killer pass. 
110'   Korea on the break! That could have been it but the final ball is loose and the opportunity goes begging. 
109' And that's Redha's last action as he's taken off to be replaced by Abdulla Yusuf. 
108'   Korea appealed for a handball there on the rebound as well, Sayed Redha appeared to handle on the floor... the ref doesn't give it though. 
107'   Ju Se-jong! Off the post! What an escape for Bahrain! 
106'   Bahrain are out with purpose and look like they're ready to chuck the kitchen sink aty this to take it to penalties. 
106'   We're back underway! 
The ref invites South Korea to hurry up a bit as Bahrain await. 
105'+2' And that's the end of the opening 15. South Korea lead 2-1. Can Bahrain pull it back again? 
105'+2' Kim Jin-su! The sub! His first international goal! What a time to find it! And what a header to beat Fardan, who had no chance there! 
105'+2' Goooooooooooooal! South Korea score! 
105'+1'   Kim Young-gwon! What a chance! The Korea vice captain finds himself in acres of space in the area, rises above the defence, and plants his header wide! It looked easier to score! 
105'   Two minutes added. 
104'   South Korea win a corner on the right. First test for Fardan... 
103'   Al-Safi is furious as he's penalised for a foul in midfield. He considers a word or two with the ref but then checks himself. He's on a yellow already. 
102'   Lee Seung-woo almost tees himself up but his touch is heavy and in the follow-through he takes out his marker for a free kick to Bahrain. 
101'   Fardan gets his first touch as he hoofs the goal kick into play. Korea will be eager to test him as quickly as possible. 
100' And here comes the change...  This will be Fardan's first cap for his country. What a stage to come onto. 
98'   Shubbar is down again, Abdulkarim Fardan getting ready. The ref is having a word about this now as Shubbar holds up the play again. 
97'   Lee Seung-woo! A great chance for the sub, who is teed up by Son but whacks his shot over from close range. 
96'   Ju Se-jong steps up to take the free kick and it's a decent hit but fails to find the target. Shubbar is still not taking the goal kicks and surely South Korea must consider trying to test him in the air at some point. 
95' Kim Jin-su on for Hong Chul. 
95' Sayed Redha goes in the book for a bit of lip after South Korea were awarded a free kick for a fairly innocuous block. 
94'   Lee Seung-woo, who has some of the only fresh legs on the pitch, looks for Son but the captain's heavy touch lets him down again. But he's got enough in the tank to leather it back to his own area to lend a hand in defence as Bahrain threaten to pick a way through. Leading by example there. 
93'   Al-Safi tries his hand at the other end but it's an awful effort from the Bahrain skipper, who drags it about 15 yards wide on the far side. 
92'   Lee Seung-woo! The sub cracks an effort from distance but it's well wide. 
91'   Both sides have cone out like a boxer in the 12th round... Korea are sticking with their patient approach seems to suit Bahrain, who are sitting back and waiting for an opening to break. 
90'   South Korea get us back underway... 
90' Here we go! Extra time is afoot! It looks like Shubbar is ok to continue. That's a headache for Soukup, whose game management will be affected by whether or not his only experienced keeper can carry on. And then there are penalties to consider.... 
Lots of players being stretched out for cramp as we await the first period of extra time. 
Abdulkarim Fardan, the Al-Riffa keeper, is going through his paces as Shubbar continues to be treated... 
It remains to be seen if Shubbar will be able to continue. Both sides have an extra sub available in extra time. 
94' That's it! We go to extra time. 
93'   Korea pushing for the winner but the final ball is lacking and Bahrain clear. 
92'   Hwang Ui-jo! The striker had the chance to end it there, clean through on goal and with just the crocked Shubbar to beat! But the Gamba Osaka man panics and sends his shot wide! What a chance to seal the deal, and what a blazing miss. 
91'   Neither of Bahrain's back-up keepers have ever played a full international before.... Shubbar Alawi hands over goal kick duties and Miroslav Soukup will hope the magic sponge will do the trick if this goes to extra time. 
90'   Son, who has been well off the pace today, hits a tame shot wide. Bahrain keeper Shubbar Alawi is down again, it looked like he may have twanged something taking a goal kick. And it seems he will have to go off! 
89'   Shubbar Alawi is down with cramp as Lee Seung-woo enters the fray in place of Hwang In-beom. 
88'   Korea try to find a telling pass but Al-Shamsan cuts out a ball into the box. 
87'   Ji Dong-won goes on a gallop on the right but loses the ball just as it seemed he had ridden two challenges to break clear. 
85'   Korea's full backs pushing up now as they seek to land a blow but again, Bahrain hold firm. Hwang In-beom unleashes an effort but it's more worrying for the crowd behind the goal than for Shubbar Alawi in it. He's hardly had a save to make this afternoon.  
84'   Kim Min-jae saves the day at the back as he heads behind for a corner under pressure from Al Romaihi. Korea are suddenly looking very dodgy at the back. Al-Husaini picks up the clearance and hammers a shot but he snatches at it and it's well, well wide. 
83'   Son gets the ball facing goal and tries to jink across the edge of the area but again he's nudged off the ball by Bahrain, who have had the measure of Korea's star man all game. 
82'   Korea trying to build another attack now and once again it's sent in high and rebuffed by the excellent Bahrain defence. 
81'   It's all Bahrain now and Korea are finding it hard to hold back the tide of white shirts. Bahrain picking them apart with ease and they look like they fancy finishing this in the 90! 
79'   And what a decision to bring on Al-Humaidan, who was instrumental in the goal and is in the thick of it again with an effort that goes wide. 
79'   You have to say that Bahrain deserved that equaliser, they've been on the front foot for much of the last 15 minutes. 10 minutes left for someone to nick it! 
78' And Hwang is heading off, Augsburg striker Ji Dong-won on to replace him. 
77'   A little bit of controversy as Hwang Hee-chang was down injured during that passage of play. Bahrain elected to play on and it paid off for them! 
76'   Hong Chul cleared the initial shot off the line but Al Romaihi is there to slam the rebound into the net. 1-1! 
76' Gooooooooooooal! Bahrain are level! 
75'   Hong Chul whacks in another low cross and again, Shubbar Alawi is equal to it at his near post. 
74'   Son recieves the ball and tries to pick a way through but he's dispossessed. He hasn't been nearly as effective as he was against China today, the Spurs star. 
73'   Another free for Korea as Hwang Ui-jo is floored. Short again, Korea clearly having noticed that high crosses are proving no problem for Bahrain. 
72'   Free kick to Korea but rather than look for a delivery into the area Son goes short again. The cross goes in from Hong Chul but it's plucked from the air by Shubbar Alawi. 
71'   Bahrain are really throwing everything at South Korea now and look the more likely to find the next goal. 
70' Marhoon off now for Al-Humaidan. 
69'   So close for Bahrain! Kim makes a glorious save from Jamal Rashid to keep Bahrain out! 
68'   Bahrain now getting to the second balls far quicker than Korea and this is a decent spell of pressure. They win a corner as Kim Min-jae nods Sayed Dhiya's cross out. 
67' Change for Korea as Lee Chung-yong goes off for Ju Se-jong. 
65'   Hwang In-beom, who has been excellent this evening, fires in a shot and it almost breaks for Son, who seems to get in the way of Hwang Ui-jo and the chance goes begging. 
63'   Substitute Al-Husaini is looking to get on the ball as often as possible and looks very dangerous. South Korea are having trouble containing the East Riffa forward.  
62'   Al-Shamsan tries his luck but his shot is well over the bar. 
61'   Free kick to Bahrain out on the right, it's swung in and again South Korea are not looking very happy under the high balls. Kim thinks about coming, changes his mind, and leaves it to his defence. 
60'   Marhoon works his magic and sends in a cross but Al Romaihi fails to read it and goes the other way. 
58'   Al Romaihi wins a corner for Bahrain as he gets the better of Kim Min-jae. It's cleared none-too confidently and Bahrain get another crack. Cleared again and Hwang Hee-chan brings the ball out. 
57' Ali Madan off for Sami Al-Husaini. 
56'   Close! Jung goes under the wall and it takes a deflection. Could have gone anywhere but to Bahrain's relief it misses the far post and it's a corner for South Korea. Son pumps it to the far post but again, Bahrain will happily settle for those all day and clear easily. 
55'   Jung Woo-young to take.... 
54'   Marhoon goes on a run and tries a one-two but Kim Min-jae is there to mop up. At the other end Hwang Hee-chan wins a free kick right on the edge of the area. Decent chance this for Korea... 
53'   Son finds himself in space on the edge of the area but his touch lets him down. The Spurs man wins a free kick though and South Korea take it short to build again. 
52'   Hong Chul warms  Shubbar Alawi's gloves with an effort from distance and the Bahrain keeper makes a good save under pressure. 
51'   Great chance for South Korea as they work the ball into the area but Hwang Ui-jo can't get his head on it. They're pushing for a second and have Bahrain on the back foot here. 
50'   Hwang In-beom, who made some wonderful passes in the first half, tries his luck from outside the area but he gets under it and it's a sand wedge into the stands. 
49'   Nice from South Korea as they ping the ball about on the edge of the area to tee up Hwang Ui-jo, who can't find the target. 
47'   Hwang Hee-chan shows his trickery in the area to almost carve himself a shooting chance but Bahrain close ranks and clear the danger. 
46'   And we're off! Bahrain get the second half started. 
Only one shot on target from either side in the opening 45. Korea found the net with theirs and that's all that separates the sides at half time. 
First half possession:  South Korea: 75%, Bahrain: 25%. 
45'+1' And there's the whistle. South Korea go into the break a goal up. Bahrain have shown enough going forward to suggest they can certainly pull that back in the second half. 
45'   There won't be much added on here.  Al Romaihi goes on a run on the right but his final ball is cut out. One minute. 
44'   That is a huge blow to Bahrain, who have been impeccable at the back. 
43'   Son finds Lee Yong on the right, he sends in a cross that finds its way to the winger rather fortuitously but he makes not mistake with a fine finish. 1-0 to South Korea! 
42' Gooooooooooooal! Hwang Hee-chan! 
41'   Hwang Ui-jo twists and turns on the right and goes to ground more in hope than expectation. Nothing given. At the other end Marhoon gets on the end of a cross but turns his shot over the bar. He had been called offside well before making contact anyway. 
40'   The South Korea vice captain is fine though and scrambles back to hook a Bahrain hail mary out of the danger area. Al Romaihi was lurking again. 
38'   Al-Safi concedes a corner from Son's cross. Its out for another corner, and again Son seeks to find Kim Min-jae but Bahrain have obviously done their homework on "the Monster" and he's not able to get anywhere near it. Kim Young-gwon goes up with Shubbar Alawi and comes off worse. 
37'   Marhoon tries to play Al Romaihi away on the left but the ball is overcooked a tad and Kim ushers it out for a goal kick. 
35'   Ali Madan jinks away from a couple of challenges in midfield and sends a ball over the top for Al Romaihi, who protests that he was blocked but gets a talking to from the ref for his troubles instead. 
34'   Hong Chul sends in a corner but once again, Bahrain are not bothered at all and clear with minimum fuss. It's all the way back to Kim in the Korea goal afterwards. 
33'   Hwang Hee-chan! Beautiful play from Korea, who carve the Bahrain back four open for the first time with some intricate passing and the winger dances through the area but has the ball nicked off his boot at the final moment. 
31'   Shubbar Alawi! Great goalkeeping from the Bahrain keeper. Son turns, delivers a glorious ball to Hwang Ui-jo who is almost in but Shubbar comes haring off his line to make the save. 
29'   At the other end, Kim Young-gwon makes a last ditch effort to deny Rashed, who had managed to drift bertween the central defenders. Bahrain are growing in confidence now. 
27'   Patient build-up again for South Korea, who are looking a little short of ideas. Bahrain can take crosses from the flanks all day, which suggests Bento will have to try something else. The current plan of getting it out wide as quickly as possible isn't making a dent. 
26'   South Korea have yet to test Sayed Shubbar Alawi in the Bahrain goal. With almost half an hour on the clock, Miroslav Soukup will file that under "job done." 
25'   After an age, Hwang In-beom finally takes and it's straight into the wall. A decent chance wasted there. 
23' Free-kick to South Korea as Ali Madan goes in the book for a very high challenge. Not intentional, but Son takes one in the smacker and Ali Madan gets his name noted down. 
22'   Marhoon takes.... and it's into Row X. Not the greatest effort from the Al-Riffa man there. 
21'   Chance for Bahrain about 25 yards as Rashed is flattened by Jung Woo-young, who is a yellow away from missing the quarters. 
20'   Al Hayam cuts out a long ball hoiked towards Son. Korea switch it to the right again as they seek to break down this very, very organised Bahrain defence. 
19'   Hwang In-beom raises a hand in apology as his attempt to find Hwang Hee-chan goes out for a goal kick. 
18'   Chance for Korea to send one into the mixer as Lee Chung-yong is clattered in midfield. They take it short though and look to build again. 
17'   Bahrain switching to a back five when not in possession, looking to stifle South Korea. 
16'   Al Romaihi goes down after a Jung Woo-young hand in the face. There wasn't much in it but the Bahrain striker made the most to halt Korea's momentum. 
15'   An awful goal kick from Shubbar Alawi hands the initiative to South Korea, who fly forward but Lee Chung-yong's final ball is poor and Bahrain clear. 
14'   Handball called on Al-Safi, who has a half-hearted grumble.  
13'   Nice tempo to the game and pretty even so far, the ref is happy to let the challenges go in and it's a decent spectacle for the crowd at the Rashid Stadium. 
11'   Son gets a chance to stretch his legs and the crowd are on their feet but Al Safi makes an excellent challenge to concede a corner. Son swings it in but the Bahrain aerial defence gets it clear again. They are very solid under crosses. 
9'   Sayed Redha Isa is caught in two minds on the edge of the area and his cross-shot is bread and butter for Kim. Al Romaihi was bearing down on the keeper and he had to make sure he held on to that one. 
8'   Hwang In-beom tries to find Son in the middle but the Bahrain back four hold firm again. South Korea having plenty of joy on the right hand side though. 
6'   Paulo Bento's side are aiming to get the ball out to the right as often as possible where Lee Yong and Hwang Hee-chan present a very dangerous partnership. This time it's the defender who gets clear and sends in a cross bu there's no red shirt to meet it. 
5'   Decent spell of pressure from Bahrain, who would love an early goal to set the cat among the pigeons. South Korea a little rattled early on. 
3'   Mohamed Marhoon! What a crack from the midfielder, whose shot whistles past Kim's right hand stick! Early warning from Bahrain there, who have a couple of players who can hit them from distance. 
2'   Corner to South Korea as Sayed Isa clips the ball out on the far side. Son takes, aiming for Kim Min-jae, who has scored twice from set pieces this tournament, but Bahrain clear the danger. 
2'   South Korea break down the right through Hwang Hee-chan and Bahrain's first touch is a hacked clearance from the winger's touch. 
1'   And we're off! South Korea in red, Bahrain in white. The Taegeuk Warriors get the ball rolling... 
Ali Madan is one to watch for Bahrain today, the Al-Najma midfielder has a few tricks up his sleeve. 
The teams are making their way out on to pitch and we're about to get underway. The prize on offer for the victors today is a quarter-final against either Qatar ir Iraq, which takes place later on. 
Bahrain are priced at 11/1 to pull off a shock today, with South Korea heavy favourites at 2/7. 
South Korea will be without Newcastle United midfielder Ki Sung-yueng for the remainder of the tournament after he picked up a hamstring injury in the game against China. 
Son may have featured in just one game for South Korea at the Asian Cup, but he leads the way in chances created for his side at the tournament with seven against China. 
Few surprises in the Korean line-up, with the same front four that led China a merry dance last time out given the nod again by Paulo Bento. Kim Min-jae is also one to watch. the 2017 K League Young Player of the Year had a cracking game against China. 
Bahrain will be up against it to breach the South Korea back line today; the Taegeuk Warriors have conceded in only one game over the course of the last two Asian Cups combined, in the final against Australia in 2015, and have three clean sheets to their name this year. 
South Korea, runners-up four years ago in Australia, are heavy favourites to progress to the last eight against Bahrain, who have not been past the group stage since 2004, but there have been a few surprises this year and hosts UAE were given an almighty scare by unfancied Kyrgyzstan yesterday. 
Hello and welcome to AS English's live coverage of the 2019 Asian CUp last 16 fixture bewteen South Korea and Bahrain from the Rashid Stadium in Dubai. Kick-off is at 14:00 CET.