Real Madrid: No James return if Mourinho brought back - ex-chief
"There are many rumours about José Mourinho being re-appointed, and if that happens I don't think James will go back," Ramón Calderón told Bild.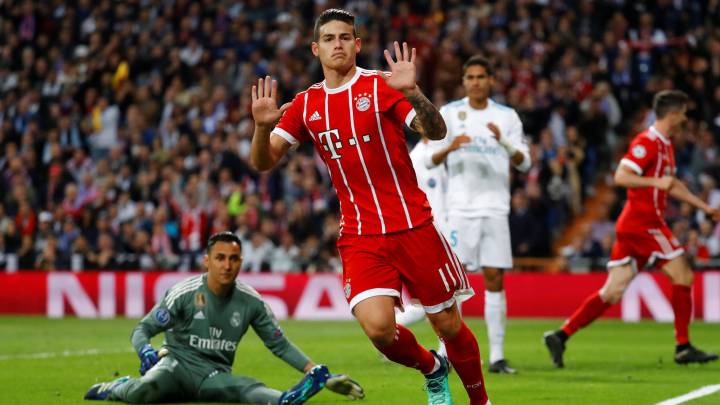 Follow Real Madrid vs Girona in the Copa del Rey live

James Rodríguez's future remains up in the air. After again being left on the bench as Bayern Munich beat Hoffenheim in their first game back after the Christmas break, speculation that the on-loan Colombian international may well return to his parent club, Real Madrid, has again been rife in Germany.
Extra day off fuels talk of James stay at Bayern ending
Following the Hoffenheim match, Bayern coach Niko Kovac gave James one more day off than the rest of the squad, a move that was largely interpreted by the German media as another step towards the summer departure of a player who has slipped down the pecking order since the Croat's apppointment in Munich.
"James off back to Real?" was the headline in Bild, the highest-selling newspaper in Germany, on Thursday. However, having spoken to former Madrid president Ramón Calderón, the publication adds that the possibility of the attacking midfielder returning to the Santiago Bernabéu is hugely dependent on who is in charge of the LaLiga giants next season.
"There'll be a lot of changes [at Madrid] this summer. There are many rumours about José Mourinho being re-appointed, and if that happens I don't think James will go back," Calderón told Bild, who explain that the ex-Manchester United manager's defensive style of play, coupled with his chequered recent history when it comes to dealing with global stars, stands in the way of the player's return.
Bayern have until 15 June to make James loan permanent
For now, the ball is in Bayern's court. The Bundesliga champions have a purchase option on James that they must trigger by 15 June, but club bosses - who are aware of the former Porto and Monaco man's continued obsession with pulling on the white shirt - are not ruling out passing up the chance to make the deal permanent.
"How could I not understand that? Real are the greatest club in the world. They make players stars," Calderón said of James' affection for the European champions. "James is a fantastic player. He has bags of skill, good vision and takes great care of the ball. The Madrid fans love players like him."
Read also: Real Madrid keen to include James in Eriksen deal