Dominant Real Madrid take two goal advantage to Girona
Sergio Ramos scored two, with one from the penalty spot, as Madrid handsomely beat Girona, who scored twice against the run of play.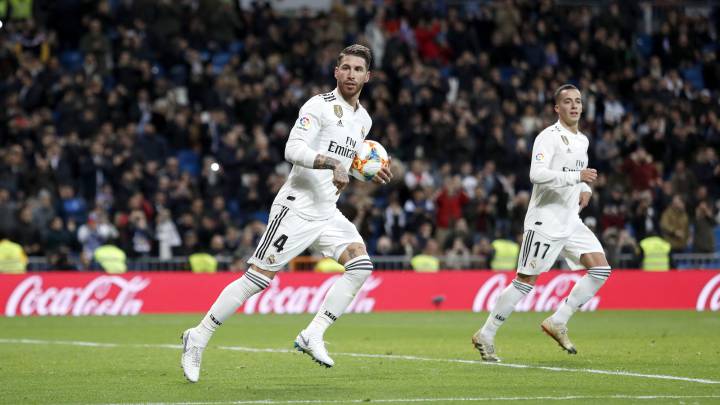 Real Madrid vs Girona: match report
Four goals, an improved fluidity, and a few stand-out performers. Santiago Solari will go away from the Santiago Bernabéu tonight pleased with what can only be seen as another positive step forward in his fledgling project. The final day of January will see Real Madrid travel to Girona with one foot already in the Copa del Rey semi-finals, a place they have failed to reach since 2014.
Before getting carried away with the two-goal victory and dominant performance, there are factors to remember. Several first-team players were missing from both sides, and that impacts on the less-resourced squad more, a team with more than one eye on the league game against Barça on Sunday. Also, despite their control, there were times throughout the game when Madrid's backline looked easily breachable, and the better teams that lie ahead cannot be handed such freedom. Even a much-changed Girona showed how it was done with the opening goal.
Just seven minutes into the game and Garcia swung a lovely cross into a gaping hole in the Madrid defence. Lozano gratefully accepted and doubts about the European champions floated to the surface, again. But, although there were occasional threats to Courtois and his backline, they were few and far between across the match.
An exciting Vinicius looked lively throughout. Benzema had a sharpness and air of confidence about him. Ramos got himself involved in the right way. Kroos was back from injury. All these will help Solari sleep well tonight. The two trips to Catalonia next up, Espanyol in the league and then the second leg, could have a significant bearing on how this season pans out. There are already sensations that Madrid are just starting to hit form as the business end begins...
Real Madrid vs Girona: how it happened
Thank you for joining me from wherever you are in the world, and we hope you can join us again next week to see if Girona can turn this game around in front of their own fans. Until then, buenas noches...
A fun night at the Santiago Bernabéu. It was a fairly open game and one dominated by the home side, with the early Lozano goal sparking Los Blancos into life. Several positives to be taken away for Solari, but he'll know that this is not a result to get carried away with, and there are still a number of areas needing addressed.
Full-time | Real Madrid 4-2 Girona
90'+3' The whistle blows! 
90'+2'   A reminder that the second leg will be played next Thursday, 31 January. And, of course, we'll be bringing you all the action live.
90'   We'll have three extra minutes
88'   Girona want to get something more from this game - a two-goal deficit may be a tough ask to overturn in the second leg - but they are most at risk when they lose possession in the Madrid final third. White shirts stream forward again to outnumber their opposition, and only a Lucas cross being too short prevents a very promising chance.
85'   More claims for a penalty from the home fans (and some players who probably knew better!). Lucas' first-time effort  did hit an arm, but it was never a pen.
83'   The celebrations ended, the ball was won back, and Madrid French striker smelled a second, letting fly from just outside the area, just to the right of the goal. Decent strike, but high and wide.
Real Madrid 4-2 Girona
81' Gooooooaaaaalll!!! Benzema taps home a perfect low cross from left to right from Vinicius. The Frenchman held his run to remain behind the ball, stayed onside, and kept his eye to angle into the net.
79'   Vinicius almost in, but he's offside, just!
Real Madrid 3-2 Girona | Isco's corner is half cleared and then Madrid work the ball out to Vinicius. He shakes a hip or two, creates a yard of space for Marcelo and rolls his compatriot the ball. A first time cross is met perfectly by the run of the captain who makes no mistake, high into the net.
77' Goooaaaaaaaallllllll!!! Sergio Ramos heads home!
76'   It's Kroos, and the ball flies off the head of someone in the wall and out for a corner.
75'   Free-kick to Madrid in a shooting area. Pulling back Benzema by Ramalho. Will Isco, or maybe Kroos go for this?
74'   Isco tries from the edge of the area. Blocked.
73'   Thud! Benzema and Muniesa clash heads in the six-yard area but both should be fine with a quick, hard rub. Nice play from Vinicius on the left to create the cross.
70' Here comes Isco! Ceballos, who's been fairly quiet but with some useful contributions, heads off.
69'   Corner won by Madrid after a ball in from Odriozola but the visitors decide not to blatantly use their arms to defend it and the danger is gone.
Real Madrid 2-2 Girona
67' Gooooaaaallll!! Granell makes sure of the gift.
66'   Penalty! Llorente throws up an arm to seemingly block the cross. What on earth was he doing???
65'   Chance! Just like for their goal, a beautiful cross from the left is met, but not connnected with. Corner for Girona.
64'   More neat play from the home side, this time down the left, sees Marcelo release Lucas. He tries to beat the last man before being in on goal but...fails.
63' Kroos is back! Modric makes way. Crowd show their delight.
62' Captain Sergio Ramos is shown a yellow after blocking the run as Girona looked to break. He pleads his innocence but...
59' Couple of changes here: Casemiro off, Llorente on. Garcia off for Girona, Seung-Ho Paik on.
56'   Foul by Garcia gives Marcelo the chance to swing one into the Girona area once again. It's met by the head of the first defender and away. Vinicius then picks up the slops and tries a give-and-go with Benzema. His 'give' doesn't provide the required space for his teammate's 'go' and it's cleared.
55'   Casemiro then Marcelo provide decent delivery into the opposition box but the red and white shirts do well to get rid. 
52'   Chance! Doumbia, relatively unmarked, has a chance to head home a Garcia cross in front of goal. He can't get enough on it, though, and it bounces harmlessly wide. 
51'   Garcia has a strike from distance, cleanly hit, but smothered at close range. 
49'   Benzema collects and shoots quickly, trying to catch Iraizoz again. The keeper does well to block out for a corner. This second half is following the same pattern as most of the first, at least in these early minutes.
48'   Modric in a decent position head home but his 1.72 metres plus jump are not sufficient to generate the necessary power or accuracy to beat Iraizoz. Nice build up to the move.
47'   The first move of note sees Madrid's right-back area exposed, after Odriozola steps forward. Doumbia beats one, but then bumps into and fouls the covering Ramos.
46' And there was a change for the vistors to start the second half: Bernardo Espinosa on for Alcala.
We're off
What we also must remember, as the teams head out of the Bernabéu tunnel, is that there are strong options for the managers to use off the bench. Let's see...
Solari will be very pleased with his troops. They've not been spectacular, but have controlled much of the opening period, and could be more than just the single goal in front. Vinicius is like a kid in the park (well, I suppose he is just that!), wanting the ball, running into spaces, full of trickery. On the other side, Odriozola is another willing runner, and don't be surprised if more of the hosts' play involves exchanges in the centre of the pitch, followed by a quick release to the full-back on the sprint. It's a great outlet to have.
That was an entertaining enough half of football. Madrid certainly on top, and deserve to be ahead at the break, but I'd suggest Eusebio's team-talk is about crafting ways to get on the ball more. If they can, as they showed on a few occasions - most notably their early goal - they can cause serious problems to the white defence.
45'+3' Peeeeeeep! Half-time | Real Madrid 2-1 Girona
45'+3' We're passed the two minutes allocated but Girona have a chance to draw level.  Nacho is booked for a foul around 30 yards out, and the resultant dead-ball strike deflects away off the wall. That should be that.
45'+1'   Benzema again goes close, he's showing some very nice touches and movement tonight. This time he collects inside the area and tries to place the ball inside the right post almost directly in front of him. It shaves the outside of the upright. Inches.
45'   We'll have an extra couple of minutes here...
44'   Continued pressure in the final third of Girona's half. Marcelo and Modric heavily involved.
42' Gooooaaaaaallll!!! Sergio 'Panenka' Ramos dinks it home as Iraizoz throws himself out of the way. 
41'   PENALTY! This time there's no doubt. Vinicius tripped in the area by the back-tracking Lozano . Ramos about to step up, surely Iraizoz will stand up and catch a Panenka...
39'   Penalty appeal from Madrid as a well worked move, again involving Vinicius, has Modric tumbled over as he advances to strike. Ref, and VAR, say play on.
37'   Cracking effort there from Benzema. Taken a high cross on the chest and then thumping it goalwards on the volley. Straight into a grateful pair of gloves, as the Frenchman gives a knowing smile, 'It's coming!'
36' First card as this game gets a little fiestier. Pedro Alcala's name taken.
34'   Luiz gets stuck in there as Girona chase some sort of foothold in this game. Then Modric slices the defence in two giving the rapid Odriozola a chance to lift over another cross from the byline. Still nothing.
29' It remains a dominant performance from the hosts, but the scoreline will concern them. Benzema swings a boot at a ball in, but his effort flies over.
28'   The young Brazilian is getting plenty of the ball and looking ever more dangerous. Skipping away to his right passed two defenders he attempts to curl it into the top right corner. The ball sails too high, but had Iraizoz diving across in a concerned manner.
26'   After a short delay to play for a knock to Iraizoz, Vincius tries to fashion a shooting opportunity but he's managed well.
23'   Chance! Odriozola again, an almost identical run to that of the goal, and just when it looked as though he'd cut back to Benzema for a truly mirrored move, he tried to dink it home over the sliding Iraizoz. No lift, no goal.
22'   Madrid again try to turn the screw and manage to deliver a couple of testers into the Girona area, both well cleared.
19'   Ramalho does well to get to a deep cross as Girona look to change the flow of this game. He then takes a hit towards goal but he was always unlikely to beat Courtois from out wide.
Real Madrid 1-1 Girona | The pressure has been growing, and as Odriozola saw the green grass ahead of him on the right wing he took off, leaving defenders puffing behind. As he headed towards the near post he cleverly cut the ball back to the supporting Lucas, who tucked home neatly. Well deserved.
17' Gooooaaaaaaaaaallll!!!  Madrid are level, and it's Lucas Vázquez with the finish.
14'   Silky! Vinicius doing what Vinicius loves doing. A lovely nutmeg before breaking into the area and laying off. Modric finally gets a shot away but there are some very hard-working defenders getting in the way. It's all Madrid.
13'   Another shot at Iraizoz, this time from Marcelo, has the keeper only able to block low. As the threat remained he was helped out by his covering defenders.
12'   A couple of half-chances there. First Vinicius gets a tempting cross in, then Casemiro tries his luck from distance but gets under it too much.
10'   Following that shock to the system (actually, this season it doesn't really feel like a shock) Madrid have looked to get right back into this game. Three times they worked it into the left corridor but each time failed to get a decent cross into the area.
Just as Madrid had looked to be building a period of pressure, their guests wasted no time when the opportunity arose to break. Raul Garcia down the left played in a delicious cross and Anthony Lozano slotted it home on the volley, with not a white shirt even close. 
7' Goooooaaaaaaallll!!! Lozano puts Girona ahead early.
4'   More nice play from the hosts, Odriozola and Lucas combining well to allow the latter to dink in a cross. Open start to this game, it's nice to report.
3'   The first chance for the crowd to get excited. Vinicius picks the ball up in the middle of the opposition half and drives towards the area. By the time he crosses the 18-yard line, there are three close observers, and the youngster is unable to create the requisite space for a shot.
2'   Some nice play from the red and whites, getting round the outside of Madrid's right-back. Cover is there though, and any sniffs of danger cleared away.
1'   Immediately the hosts try to get some touches of the ball, working it back through defensive unit from right to left. Marcelo then goes long and Girona get involved.
Real Madrid get us going...
Right, the teams are out, the Madrid anthems have been sung, the VAR officials have a bunch of screens in front of them, and we're almost ready to go...
The third quarter-final first leg ended just a few minutes ago and saw Real Betis score late to earn a valuable draw at Espanyol. Yesterday it seemed as though Barça had gone Messing in Sevilla, while Getafe scored the only goal at home to Valencia.
Since they last lifted the trophy (in 2014) Madrid have incredibly not made it to a semi-final since. And the list of teams that have waved them goodbye may surprise you: Atlético (last 16), Cádiz (last 32, although, Cheryshev was a big player that day!), Celta and Leganés (both quarters). It certainly doesn't appear to be a competition that excites Los Blancos, although this year it could be seen as the only chance of silverware...
If the starters for the visitors can make a decent showing of things, there is certainly a strong bench to call upon later in the game to add further pressure. As well as top striker Stuani, Portu, Bono, Pere Pons and Bernardo will all be eyeing a chance to make a difference late on.
Interesting to see Stuani starting on the bench - we got that prediction wrong - but possibly Eusebio has eyes on Barça at the weekend. It is entirely feasible, after all, that Girona are just a point above the drop zone by Monday night.
Marcelo does indeed return to the squad as we had predicted in the preview below, and he'll be able to hear what the locals want from him as he darts up and down that left wing. Someone else who's been giving advice to the Brazilian is Bernd Schuster, who thinks that the full-back has a bit of a weight problem.
Well, no real surprises there from Solari, certainly based on recent decisions/preferences. He'll hope to see more sparks from young Vinicius, and plenty of running from Lucas Vázquez, to allow space for Benzema to cause problems for the Girona defence.
Team news is in. First up, the home side...
By the way, if you are hoping to complement your live-feed with some listening or viewing pleasure, check out our handy guide.
Tonight's hosts arrived at this point in the competition following comfortable aggregate victories over Melilla and then Leganés. Girona on the other hand came passed Levante, Alavés and then, one of the surprises of the tournament, Atlético Madrid.
Hello and welcome to our live coverage of Real Madrid vs Girona in the Copa del Rey. This quarter-final first leg comes from the Santiago Bernabéu where we'll be bringing you all the latest team news and related information ahead of kick-off at 21:30 CET.
Real Madrid vs Girona: match preview
After the surprise 2-0 loss of the holders Barcelona at the hands of Sevilla last night, all eyes now turn towards the Santiago Bernabéu as Real Madrid welcome Girona for the first leg of their quarter-final tie. It's not been an easy season so far for Los Blancos, with many doubts still hanging over the manager Santiago Solari, but signs of further improvement against a very handy Catalan side could ease the pressure on the Chamartin giants.
Real Madrid
"I have to decide on the line-ups, which is a complicated part of my job, and I have to choose the players that best correspond to each game. Every game is a new game and a different game."
These were the words of Solari ahead of the match as questions surrounded him over whether players of the standing of Marcelo and Isco were part of his plans. The Madrid coach was also keen to point out that the club's motivation for the cup should not be any different to that of other competitions. That said, Los Blancos have only won two of the last 25 domestic cup titles, while Barça have picked up eight, and even lowly Zaragoza have three. Further than that, since lifting the cup in 2014, Madrid have not reached further than the quarter-finals.
Tonight's squad brings with it some much-needed positive news. Toni Kroos and Marcos Llorente look ready to return to the pitch, while Mariano Díaz, Gareth Bale, Marco Asensio, Keylor Navas and Jésus Vallejo are getting close. Karim Benzema, therefore, will not be able to rest, already having played in 31 of the 33 official games this season. The starting XI is likely to see Carvajal rested for Odriozola (who has played every minute of the Copa to date), and Nacho and Valverde will also come in to keep things fresh. The aforementioned Marcelo, who has been absent from the last two league games, will look to get the home fans off their seats in his own special way. Up front, there are not too many options to support the Frenchman, with Lucas and Vinicius most likely. Isco? We'll see.
Girona
For Girona, this tie doesn't come during their hottest moment. Yes, an impressive three goals at the Wanda Metropolitano saw them sneak passed Atlético in this competition on goal diffence. That was, however, followed up loss at Betis. In fact, Eusebio Sacristán hasn't seen his side win for eight games (seven of those in the league where their last victory came at the end of November) and that has seen them drop from fifth to eleventh in the table. Ten points separated them from the relegation zone, and now that is down to just four. Ahead of welcoming LaLiga leaders Barça this weekend (a game that is not taking place in Miami!) the Catalan club will hope to leave the Spanish capital with plenty still to play for in the second leg.
Eusebio has shown plenty of rotation between cup and league line-ups and more is expected tonight. His only 'pure' right-back, Pedro Porro, will be replaced by centre-half, Ramalho, as they begin with five across the line, hoping to push high when space allows.
Despite the changes, Stuani, with 13 goals already this campaign, will lead the line. Madrid have clear weaknesses, and he for one will look to exploit them.