Qatar stun South Korea to reach first Asian Cup semi-final
Hatem's late goal was enough to see Qatar dump South Korea out of the 2019 Asian Cup and progress to the last four for the first time ever.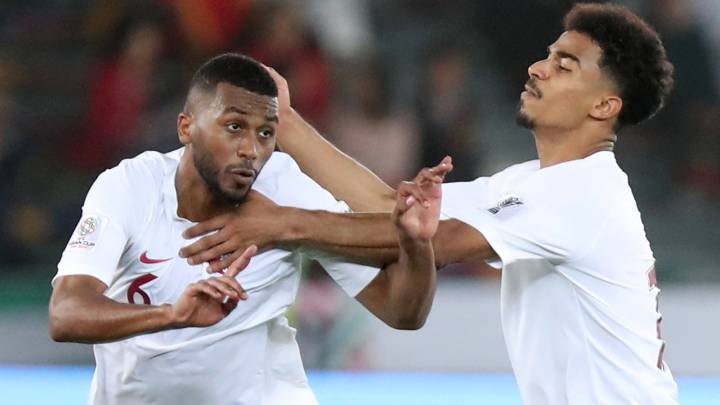 South Korea v Qatar: Asian Cup, as it happened
Thanks for your company today. Stay with us at AS English as we´ll be bringing you the next action from the Emirates as the host nation face Australia.
Far from a classic but Felix Sanchez won't care. He has his side well drilled and solid with huge emphasis on a solid defence and won't fear either the UAE side or Socceroos.
Qatar celebrate as the Korean players and their fans look dejected. UAE or Australia now face Qatar next Tuesday in Abu Dhabi in the second semi-final.  
90'+4'   We're in the final seconds as Qatar make a change. No.19 Ali off as the ref calls time it's a historic win for Qatar. 
90'+3'   The ball is in the Qatar box and Hwang heads goal bound but the whistle had gone.   
90'+2'   Qatar just happy to hoof the ball anywhere as Korea punt balls into the Qatar box. A deserved win ? On the strength of play possibly not ..on the strength of discipline and orgamnisation for Qatar...certainly  
90'+2'   Son corner but the flag is up. Qatar edging closer to a major Asian Cup upset. 
90'   Worry on the face of Korea manager Bento as Korea win a corner

90'   We´ll have 4 minutes of time added on
89'   We're into the final minutes as Al Haydos takes to the ground with a knock....Qatar looking to run down the clock and one senses that Korea simply don't have the creative spark to pick through the Qatari defensive wall.   
87'   Korea now lofting high balls into the Qatar box which pose no threat for the men in white.
84'   Five wins a row should Qatar progress as Korea make a final change ..Anguish on the faces of the Korean fans as they sense time is running out.
82'   So, a major shock on the cards here in Abu Dhabi as Qatar are pushing again and win a corner. History in the making for Felix Sanchez's side if they progress.     
Ju on Ji off for Korea. Striker on for a central player as Korea push  
Offside given and a break for Qatar as they switched off after the goal. Ten left for Korea Rep. to save their tournament  
Korea have the ball in the net but the flag is up .... VAR being consulted 
South Korea 0-1 Qatar
79'   Great strike from Hatem firing the ball past a wall of red shirts .. 
Qatar strike ! 0-1 with 12' to go.... Hatem 
76' Dangerous free won by Lee for South Korea. Son territory maybe after Salman trips on the edge of the box. Six Korea players over the ball and in the end it's Kim with the left boot who just drifts the ball wide. Closest chance on the night!
75'   Errie silence at the stadium as both sides continue to probe but without any finished product.   
Hwang off with Koo Ja-cheol on for South Korea
72'   Son shoots but drills the ball straight at Al Sheeb. A Qatar slip making the space for the Spurs player.
70'   Danger for Qatar as Korea thread a ball through beating the offside but well dealt with by the Qatar defenders.    
70'   Changes a-foot with both managers set to shuffle their respective packs. 
68'   A lull in the action now as Korea Rep. happy to pass the ball around without any probing. Just over 20' to find a breakthrough ....  
64'   A stop-start pattern developing which will suit Qatar down to the ground. Felix Sanchez bellowing instructions to his men on the sideline in a mix of Spanish & English
62'   Shots 8-9 in favour of Qatar 
61'   Possession after the hour mark: Korea Rep. 61-39% Qatar 
59' Sustained possession now for Qatar as South Korea fans find their voice...

56'   The ref. has been rather whistle-happy as Al-Sheeb has to intercept to palm a ball away depriving Korea of a chance.   
54'   Dangerous free awarded to Korea Rep. An acute angle and a wall of white shirted players in the Qatar box... Son to take and forces Al Sheeb to fist away. The Spurs player looking for goal there as Qatar launch a counter and the flag is up for Afif.
52'   Free kick struck by Boualem and drives the ball well over the bar. A shocker for the Al-Saad player it has to be said
50'   Qatar break again but no way through the jungle of red shirts. Brighter start to this half as the ref. cards No.5 for Korea for a tug and Jung will now miss a possible semi-final game.
48'   Al Sheeb forced into action as Korea Rep. break. Decent strike from Joo doing his bit to generate some spark for the Korean fans in the stand.
47'   More agressive start from Qatar in the early stages of this half with Korea Rep. yet to move into the opposition half.    
46'   Korea keeper Kim ushered into action coming deep to clear. Pablo Miguel for Qatar has been one of the brighter aspects in this match so far.  
 The teams take to the pitch again.... Can the next 45' throw up better fayre ? Qatar still yet to concede in 4 and a half games now at this 2019 Asian Cup. Off we go in Abu Dhabi....   
Half time music in Abu Dhabi includes Red Hot Chilli Peppers but a strange remix of their classic "Can't Stop"!!! 
Whistle sounds and we'll have a 15' interval with the score Korea Rep 0-0 Qatar. 
45'   Still plenty of time to go but if every a game was destined to be decided on penalty kicks ..... this has all the hallmarks!
45'   1 minute to be added. 
44'   Edging towards the break. Not a classic in Abu Dhabi so far this afternoon it has to be said. Qatar will be the happier of the two sides but the fact that neither keeper has been tested tells you all you need to know about excitement orv lack of at the Zayed Sports Stadium today.
43'   "Movement, movement" shouts Felix Sanchez from the touch-line. Always a highly animated chacter the Catalan coach during match action. 

41'   Expected more from South Korea today but the Taeguek Warriors have been lacking the final pass to pick the Qatari lock. Felix Sanchez has his side very, very well drilled.

Bassam carded (and will be suspended for a possible semi) as he pulls Hwang back
39'   Long range effort from Chong but once again the ball is high and causes no problem for Al Sheeb in the Qatar goal. 
35'   Qatar probe but the whistle has gone for an infringement. Hatim booked for a foul (late challenge) and will miss the semi should Qatar progress.  

Qatar starting XI ahead of this afternoon's match: 
Korea Republic XI ahead of the game 

33'   Lee to take a dangerous free-kick for South Korea. Qatar with 9 men in the area. Ball breaks to Hwang who shapes back and fires over. Good chance for the side in red.
32'   Qatar strike, Afif hitting from the edge of the box and finding the safe hands of Kim in the South Korea goal....Al-Annabi now starting to ease their way into the game. 
30'   0-0 as we hit the 30' minute mark. Neither goalkeeper called into action so far and very much a game needing a goal ! 
South Korea's Kim Young-Gwon in action with Qatar's Almoez Ali 

28'   Free for Qatar as Pedro is bundled over. Afif cuts the ball back and Al Haidos strikes but the ball hits a man and red and cleared. 
26'   South Korea comfortable with the ball, Qatar comfortable without ....this game so far ! 
22'   The game is certainly lacking a touch of pace as we saw in the first 45' of yesterday's Japan v Vietnam tie which saw an electric first 45'. Very slow and ponderous play from Qatar with Korea Rep. offering a little more velocity. 
20'   Korea Rep. dominate the ball as Qatar are happy to sit deep and absorb the Korean pressure. Qatar find Afif on the break but the No. 11 slips just as he shoots. 
17'    Jung tries his luck from 30 yards but fails to deliver the shot with any accuracy. Korea Rep. on top, but Qatar, as has been the case in the tournament look so solid at the back.
Possesion after 15': Korea Rep 54-46 Qatar (%)
13'   Today's venue is the ground where the final will be staged on Feb. 1st. At present, Japan, Iran and today's quarter finalists (Korea Rep. v Qatar and UAE v Socceroos) are all candidates
12'   Korea Rep. win a corner but the Uzbek ref. blows for a push on a Qatar defender.
10'   South Korea now bossing possession but still looking for the final ball to penetrate the Qatar rear-guard. Neither keeper called into action yet.
9'   Qatar break as the ref brandishes a card for South Korea no. 4 Kim Min Jae for a late challenge
Chants of 'Dae Han Min Guk' ring out from the South Korean fans ... nice off the ball movement from the men in red as they start to zip the ball around now 
5' Expect solid defensive play from both sides today as neither Kore Rep. or Qatar coinceded in the group stage if this 2019 Asian Cup  
4'   No pattern developing in the game so far with Qatar having the bulk of the possession. Cheers ring out from the Korean Rep. fans each time they break forward. 
As commented, plenty of empty seats in the stadium today. Korea Rep. fans making some noise but the calls by players and bench audible with the spartan crowd.   

Off we go in Abu Dhabi ... Korea Rep. in red shirts and black shorts, Qatar in all white ...  
South Korea in all red, Qatar in their away kit of all white .... Minutes to kick-off with a place in the Asian Cup 2019 semi-final on the line.
Ui-jo Hwang and Min-jae Kim are South Korea's top scorers in the tournament with 2 goals a-piece 

Today's match official is Ravshan Irmatov from Uzbekistan

Will AFC Asian Cup top scorer Almoez Ali bring his shooting boots today? 7 goals so far at this tournament despite not hitting the target in the quarter final game against Iraq.  

Qatar are very much one of the outsiders to lift the Asian Cup trophy on Friday week. A win for Felix Sanchez's men paying out at 21/1. Iran remain favourites with South Korea third in the betting after Japan. 
  What kind of crowd will we have in the 45,000 capacity Zayed Sports City stadium today? Very few Qatar fans have made the journey to the Emirates and we'll have to hope that fans of the Taeguek Warriors create some atmosphere today.  

South Korea have won two Asian Cups but one has to go bact to 1956 and 1960 for the last time the Taegeuk Warrios were crowned champions.
Today's encounter will be the fourth meeting between South Korea and Qatar in the Asian Cup but the first time in the knockout stage - South Korea winning two and Qatar winning the other in group-stage meetings.
Both team line-ups courtesy of their respective football federations....
Hello and welcome to our live coverage of South Korea v Qatar. The action gets underway at 1400 CET/1700 UAE
South Korea v Qatar: preview
South Korea-Qatar: Key Opta Facts
- This will be the fourth encounter between South Korea and Qatar in the Asian Cup but the first time in the knockout stage - South Korea winning two and Qatar winning the other in group-stage meetings.
- South Korea are looking to reach the Asian Cup semi-finals for the fourth successive tournament – only three sides have achieved this feat (Iran five – 1972-1988, Japan four – 2000-2011 and Saudi Arabia five – 1984-2000).
- Qatar's 1-0 victory over Iraq in the round of 16 was their first ever knockout-stage win in the Asian Cup – however, they have lost both quarter-final matches, in 2000 against China and 2011 against Japan.
- After just five clean sheets in their first 32 Asian Cup games (nine tournaments), Qatar have kept four clean sheets in their four games in the 2019 Asian Cup.
- South Korea's Son Heung-min has created 10 chances for his team-mates in the 2019 Asian Cup; only Qatar's Akram Hassan Afif (13) has created more.
Players to watch:
South Korea – Kim Min-jae
Nicknamed 'Monster', centre-back and reported Watford target Kim will have his work cut out against the tournament's top-scorer Almoez Ali, who netted seven times in the group stage, including four against North Korea in a 6-0 rout.
Qatar - Saad Al Sheeb
Sanchez's side are yet to concede a goal at the competition and if the Al Sadd keeper can maintain that record against the likes of Spurs star Son, Qatar will have an excellent chance of reaching a first Asian Cup semi-final.
Match preview: what they said
S.Korea (Bento): "I am not concerned that Son hasn't scored, it isn't mandatory that he scores for the national team," said Bento. For us, what is most important is that we score in every game in this competition. I think we should have scored more goals as we created a lot of situations in almost all the games we played. It is not important who scores, what is most important is that we create opportunities and score.
Qatar (Sanchez): "We know we are going to face a very tough game against what many people believe are one of the favourites for the tournament," he said. "Once you reach this far in the competition, it is normal to have injuries or players suspended".