Mabkhout strike sends defending champions home
The Al Jazira forward scored the only goal of the game as hosts UAE booked a semi-final against Qatar at the expense of 2015 winners Australia.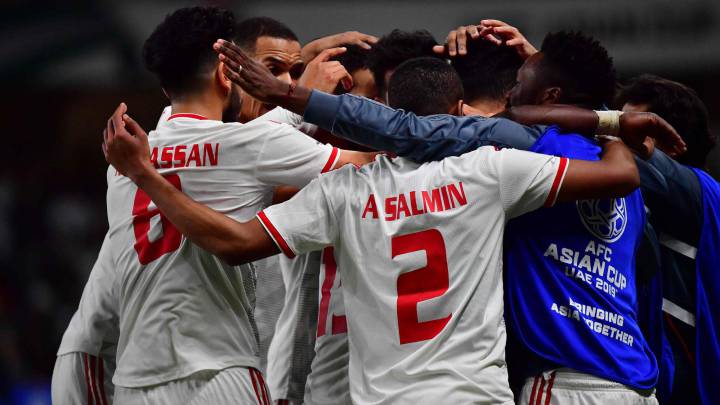 UAE 1-0 Australia: match report
Australia's defence of the Asian Cup ended in disappointment in the quarter-finals on Friday when an Ali Mabkhout goal gave hosts the United Arab Emirates a 1-0 victory.
Mabkhout scored the winner in the 68th minute after an error by defender Milos Degenek put him through on goal. The striker took the ball past goalkeeper Mat Ryan and found the net for the ninth time in two editions of the continental championship.
The UAE, who lost to Australia in the last four in 2015, progress to a potentially politically sensitive semi-final against Qatar after their Arabian Gulf neighbours stunned South Korea 1-0 earlier on Friday.
Saudi Arabia, the UAE, Bahrain and Egypt launched a diplomatic and trade boycott of Qatar in June 2017. The countries accuse Qatar of supporting terrorism, which it denies.
UAE vs Australia live online: updates
90'+9' GAME OVER! The defending champions are out.
90'+9'   Grant sends in the shot. 
90'+9'  How long is left?
90'+9'   Saeed grabs the throw. 
90'+8'   He's down as if he is injured here but he is surely okay.
90'+7'   This is mayhem. Another two players on the ground as Sainsbury tries to header the ball and Saeed punches it away. 
90'+7'   Irvine booked for grabbing a UAE defender off the ground and telling him to get up after a free. A bit of a schmozzle. 
90'+6'   Juma is back on. He doesn't even look like he's right here after being knocked out cold.
90'+5'   Nah. The ball sent in to Leckie and he tries to volley it.
90'+5'   We are back underway! A five minute delay and Australia look to attack. 
90'   Really nasty injury for Juma. He is knocked out cold after clashing with Leckie.
90'   Four minutes added on. 
89'   That's dreadful. Mabil with a strike that goes a mile over the bar. 
86' UAE making another change. Al Hamadi is down and looks like he is cramping. 
86'   Irvine flicks the corner on and Abbas clears. So close. 
85'   He strikes eventually and it hits the wall! Corner. Another corner.
85'   Mabil will take this and he's taking his time here as the ref organises the wall. 
84'   Milligan wins a free after Leckie crosses and it's cleared. 
83'   Leckie caught in two minds as he can't decide whether to dribble it or kick it. He does a little bit of both and loses it.
83'   Yet another wasted cross for Australia. This has shades of China versus Iran yesterday. Once they went behind, they just kept launching the ball into the box. 
81'   Nabbout breaks down the right and gets caught by Juma. He fouls the defender then as he tries to win it back.
79' Giannou is replaced by Nabbout. 
79'   Mabil bends one and it's wide in the end. 
77' Leckie is caught high by Abbas. That's a nasty one and a yellow for the UAE player. Lucky not to be red.
74'   Corner into the middle again and the keeper slips, meaning Leckie has a chance to head it but he headers it over the bar.
74'   He has made an impact straight away. Ball to Mabil and he strikes. It's blocked and out for a corner. 
74' Kruse replaced by Awer Mabil.
73'   Milligan with a pass over the top to Grant.
73'   Graham is warming up a sub here and is ready to make a change.
72'   It's Milligan to take. And he does but it's over everyone and it's really poor in the end.
71'   Free for the Socceroos. It's out to the left and a really good chance now.
69'   I'll just explain what happened. Degenek had the ball and tried to kick it back to the keeper but it was a poor pass and he was under pressure. Mabkhout stole in and rounded the keeper to slot home. Handy goal.
67'   Mabkhout rounds the keeper and it's a goal. The referee says it was fair and we are ready to kick off again. 
67' GOAL! UAE have scored. What just happened there. Australia say there ws a foul and the referee is going to VAR. Australia saying that Degenek was fouled but there's not much in that really. 
64'   Out for a goal kick but a fairly obvious difference there as the attacker had more space than what they had in the first half.
64'   UAE have come back into this and growing in confidence but they are also more open at the back. A couple of nice moves for Australia into their half and the latest leads to a shot from Ikonomidis. 
61'   GOAL! GOAL! Giannou scores. He might be offside though. The referee is going to VAR. It wasn't even Giannou who was off. It was Leckie, who was a shade on the wrong side of the defender and that's a good call. 
61'   A little harsh as the referee says it was a deliberate foul to break up the play. I thought it was just clumsy.
61' Corner sent in and Australia clear. Handball by Al Hamadi as Grant tries to break and he is booked.
61'   Al Hamadi runs through a maze of Australia players and brings it into the box. He so nearly gets a shot away but Sainsbury is forced into a clearance for a corner.
59' Leckie replaces Jamie Maclaren.
59'   Irvine heads that one and it blazes across goal and wide. Not bad but still no goal.
59'   Another corner for the Socceroos. 
56'   UAE defending well as another Australia attack comes to an end. Ball clipped over the top with no other options and it's a goal kick.
54'   Looped in and Kruse hits it. It loops into Saeed's hands.
54'   Free for the Aussies and the ref draws a line with the disappearing spray as UAE defenders try to steal a yard or two. 
53' Abdulrahman comes on for Ismael Matar.
52'   Sainsbury with the header now as he runs to the front post. Very well done as they eventually get a header on one of their set-pieces.
51'   Giannou in the middle as the ball is clipped towards him. Ball in from the right yet again. He is complaining about being mandhandled but it's a corner and no penalty.
49'   Giannou breaks into the box as the ball falls nicely to him a couple of times. He handled it, which explains the kind bounces he got. He strikes and it's blocked as it bounces off his arm. Good chance for Australia and it looks like they're ready to go all out here again for the next 40 minutes. 
48'   Another one of those corners but UAE have been comfortable with them ever since they learned their lesson on the first one.
47'   Throw for Australia and it's into the mixer. Kicked cleared by UAE. Maclaren causing problems in there. 
46'   We are back underway! 
45'   There's the chance for UAE. Free for the Whites out to the right and Mabkhout heads over. That blazes over Ryan and it was such a powerful header that if he hit it on target, it wasn't going to be saved.
44'   Maclaren with a chilena from the corner as it bounces up to him. What a chance but he gets it all wrong.
43'   So dangerous. Grant gets it on the same right hand side and he crosses. Put out for a corner. UAE are just praying for the half-time whistle.
42'   Maclaren gets it on the right and brings it into the box. Nicked off his tow but Australia win it straight back.
42'   UAE really on the ropes now. Ball after ball going into the box. 
41'   Ikonimidis with a nice cross but the keeper grabs it easily. He launches up the field and UAE lose it. Waves of attacks now they're having to deal with.
40'   Really good chance for Australia. Saved by Saeed. 
38'   Al Hamadi, UAE's most dangerous player so far, takes it down the left. He sends it back into the middle after running out of road. UAE give it up fairly tamely in the end. 
36'   Crossed in from the left but Australia's defender and well positioned and kick it away from danger. 
36'   Ball inside and Saeed forced off his line to clean it up. UAE counter. 
35'   Ball whipped in again and UAE deal with it. More pressure though as the Socceroos keep it. 
33'   Foul by Salmin and he gets a talking to by the referee. 
31'   Maclaren chases that one down and another Aussie attack ends. Camera shows Arnold on the sideline and he's not happy with either the referee's decision, hardly, or the ball into Maclaren that had no chance.
29'   Another corner for Australia and they have another chance to show off their set-pieces. Sainsbury starts his run from outside the box again and it lands to Irvine and he ends up on the ground. Referee actually goes to VAR for about three seconds before telling to Socceroos to continue with the throw. 
28'   Could it be a penalty? Maclaren with the ball to Kruse and it took a friendly nick off a UAE defender for the Socceroos. It bounces to Maclaren and he swings a leg at it. No penalty and no VAR. Would have been a harsh call to be fair.
26'   Cleared off the line" Maclaren with an effort that's cleared. Grant with the cross but it is just inches too high for Maclaren. He got the ball but it was a tame effort. Blocked and then Australia whistled for a foul on the right hand side again. Australia with a couple of decent looks so far.
24'   UAE under some pressure here as Ikonomidis with the effort now and it's blocked away. Australia throw and they keep the pressure up. 
23'   Hmmmm. Not sure that's the answer to Australia's 0 on the scoreboard. Degenek with the strike from miles out trying to catch the keeper out. He just sees it off wide. 
21'   Again a counter. UAE attack up the middle and it's played out to the left as Al Hamadi sees a gap and strikes. He toe pokes it towards Maty Ryan and that's saved. It was straight at the keeper. Corner.
20'   Australia want a penalty. Or two? Well, they just want one but there were two incidents. Two potential handballs.
18' UAE are going to have to make a change. Mubarak replaced Mohamed Ahmad. Like for like change as the injrued Ahmad is stretchered off. Not exactly clear as to what is wrong with him but the stretcher is never a good sign. Although he is sitting up and explaining his issue to the medics.
16'   That counter attack again. UAE are up the field before you can say Sons of Zayed and the cross is nearly met by Mabkhout. Kruse breaks now for Australia.
15'   Irvine arrives to strike the corner as it lands. Miles over the bar and the long-haired midfielder is upset with that effort. So are we.
14'   Maclaren bundled over. He tries to bring the ball down the endline but Al-Saadi launched himself into the tackle. That's a corner but replays show the defender was a bit careless with his studs. 
13'   Short corner by Ausatrlia and the cross eventually arrives in. Looks like another move from the training ground as Degenek arrives late at the back post but it's over his head. 
12'   Diagonal ball to Al Hamadi and Sainsbury has made it back in time to clear that. 
11'   Decent attack from Australia and they win a corner. It's Ikonomidis to take. It's a carbon copy of the run by Sainsbury and he nearly gets a noggin to it. Blocked by a couple of UAE jerseys. UAE counter.
9'   The UAE with the ball for the last couple of minutes now which has given us a chance to look at Australia's formation. Two up front and two in the middle with everyone else around them moving about. Basically a 4-4-2.
8'   Not entirely sure what that was. Salmin with a shot that goes up into the stands.
7'   Long ball clipped forward to Mabkhout and he takes it down but it catches an Australian hand. Out for a throw.
5'   Quite an open game but Australia have had the better of it. UAE not bad though and have had a number of moves forward. 
4'   Sainsbury heads it over. He was wide open in the penalty area. Good contact but he mistimed the jump and didn't get over the ball.
4'   Corner now for Australia.
3'   UAE attack and that shot is straight o Maty Ryan and a nice warm-up save for him.
2'   Australia with a good attack but it comes to nothing. Jackson Irvine was in there if he was played through. 
1'   We are underway in Abu Dhabi!
    UAE XI: Bilal Saeed, Ahmad, Al-Saadi, Ahmed, Abbas, Hassan, Salmin, Mohammed, Ismael Matar, Al Hamadi, Mabkhout.
    Arnold does indeed partner MacLaren with Giannou up front as he switched things up due to Rogic's absence. That should make them more potent in attack but also slightly mroe fragile in the middle.
    Australia XI: Ryan, Grant, Degenek, Sainsbury, Behich, Milligan, Irvine, Kruse, Ikonomidis, Giannou, Maclaren.
    Is Graham Arnold planning a reshuffle given Tom Rogic's suspension?

    Hello and welcome to our live online coverage of UAE versus Australia in the Asian Cup 2019 quarter-final from Hazza Bin Zayed stadium in Abu Dhabi.
UAE vs Australia live online: preview
The final quarter-final in the Asian Cup takes place at Hazza Bin Zayed stadium in Abu Dhabi on Friday, January 25 with kick-off at 17:00 CET. Australia, after overcoming Uzbekistan on penalties in the last 16, are considered the favourites having won it in 2015 and finishing second in 2011. UAE finished third in the most recent edition of the tournament when they fell to Australia, 2-0, in the last four. They have a chance on Friday to exact revenge for that loss. That was their best finish since 1996 when they finished second after losing to Saudi Arabia on penalties.
UAE are unbeaten in the competition so far and have drawn two along with two wins. They had to beat Kyrgyzstan on penalties in the last 16 in front of almost 18,000 people on Monday. Omar Abdulrahman, the lively attacker, was ruled out of the tournament after rupturing his cruciate knee ligament. Aside from that, United Arab Emirates have no injury concerns and should be raring to go against the reigning champions, who have failed to truly impress so far.
Australia might reshuffle everything due to Tom Rogic's suspension and the manager says he will break with tradition by not naming his team before the game, which means we might be in for a surprise. The absence of the midfielder means Apostolos Giannou could partner Jamie Maclaren up front in a change of tack for . The reigning champions haven't been quite as convincing as they might like so far, losing to Jordan 1-0 in the first game of the tournament. The UAE also have homefield advantage and have a loyal crowd supporting them in every game so far. 43,000 watching their game against India. The Hazza Bin Zayed fits 24,000 and you can imagine a large chunk of that support will be for the home side. Matthew Leckie is fit again and Graham Arnold has some decision to make ahead of the clash.