Spurs chairman in "fit of rage" over Madrid's Eriksen interest
The Danish midfielder is a top target for Real Madrid next summer, but Florentino Pérez can expect tough talks with the notoriously hard negotiator, Daniel Levy.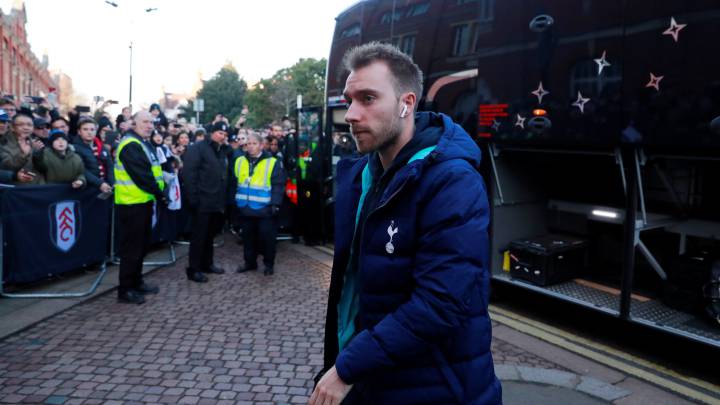 Rewind to October... Madrid were looking for options to replace Lopetegui on the bench and choose Solari as best of all the interim options. Some of Real Madrid's leadership had begun the search for a replacement for Luka Modric. The midfielder became the focus of conflict at the start of the season, when, after being chosen as the World Cup's player of the tournament and reaching the final with Croatia, he asked for an wage increase, taking advantage of the fact that Inter Milan were lurking.
Madrid agreed to his demands but with the Croatian now 33 years old, the club seemed to have decided that Tottenham's Christian Eriksen would be his long-time successor. And it was at the end of October when, according to a reliable AS source, the news reached Spurs chairman Daniel Levy that Madrid were eyeing one his franchise players
And according to that source (a well-known figure internationally who has a close friendship with Levy and was visiting London at time), Levy "went into a fit of rage" after hearing the news. In fact, the London club are feeling threatened by Madrid, who, in addition to Eriksen, also have an interest in coach Mauricio Pochettino and striker Harry Kane.
Past experiences indicate that Levy has always been a hard cookie to crack for Florentino Pérez. Modric signed for Madrid on the last day of the transfer market with Levy demanding 35 million euros for the Croatian (although in hindsight, that price was a bargain), and it was likewise with Bale, from whose sale the Spurs chairman earned the club 101 million euros.
With no marquee signings following Cristiano Ronaldo's exit last summer, Madrid have been weakened, and as such, are planning a deep restructuring of the squad next summer. Eriksen will be high on their priority list. At 27, he is at the right age -- youthful but showing great signs of maturity.
But considering Levy's reaction to Madrid's interest in the Danish midfielder, Perez can again expect tough talks with Spurs chairman, who, according to AS' source, "gets angry when they (Madrid) steal any of his players."