Full house at San Mamés, testament to growth of women's game
Athletic Club have confirmed that no tickets are available for tonight's Copa del la Reina clash against Atletico Madrid at the 53,000 capacity San Mames.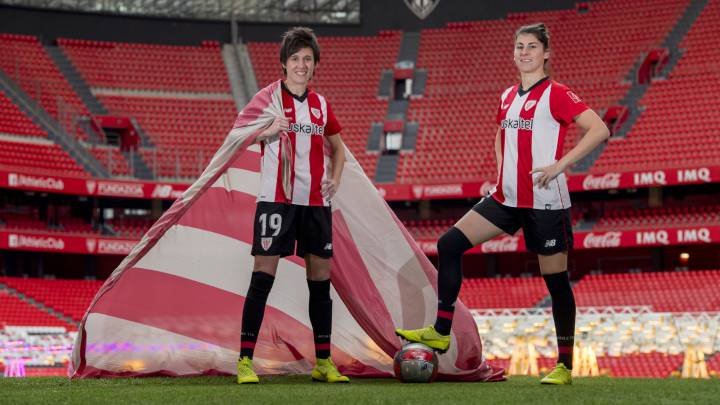 A bumper crowd at the 53.000 capacity San Mamés is anticipated tonight after Athletic Club confirmed that no more match tickets are available for the tie is testament to the growth of women's football in Spain. "Las Leonas" face current Liga Iberdrola holders Atletico Madrid in a one-off cup match with a place in the semi-final on the line.
The reaction in the region to the game being played at "La Catedral" as San Mames is widely known has been hugely positive with many schools and regional clubs making the trip to Bilbao for the game. Basque government lehendakari (president) Iñigo Urkullu president will watch the game with 100 women who represent a diverse section of leading figures in the area and include former players and representatives from local football clubs in the area.
The club have also appealed for supporters to arrive to the stadium early to avoid congestion with season ticket holders having free access to the game.
The reaction to the game being staged at San Mames is another shot in the arm for the women's game with the 2019 World Cup in France looming in June. 9,182 fans recently showed up at Alicante's Estadio José Rico Pérez to watch Spain face the US in a friendly game on a cold January night making it the highest attendance for the national team to date.
Domestic league

growth
The domestic Liga Iberdrola is also witnessing a positive upturn as match-day attendances are increase, the standard is getting better and the infrastructure around the game is also improving. Television support is another important ingredient in visibility with open to air Gol TV showing up to three games a weekend.
As the game grows, records continue to tumble, testament to this is the television audience of 287.000 who tuned into the 2017/18 league game between Atletico and Barça and it's now commonplace for the club's stadium to open their doors for higher profile matches as was the case laste season when games were staged at the Wanda Metropolitano, Anoeta or at Betis' Villamarín.