Real Madrid: All roads lead to Eden Hazard signing
Chelsea boss Maurizio Sarri has opened the exit door for the Belgian, who will be the focus of Real Madrid's efforts in the summer transfer window.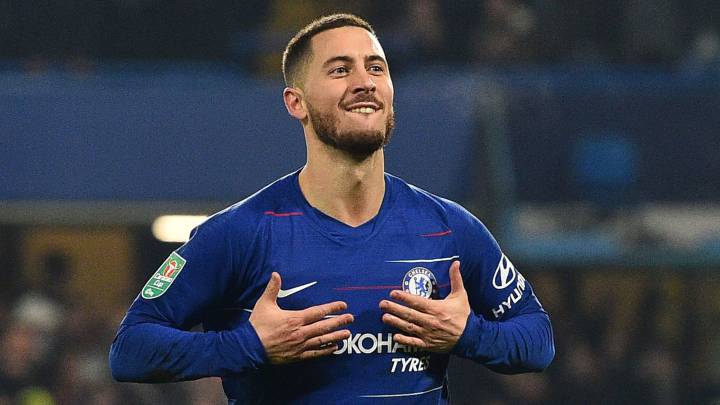 Real Madrid have set their sights on signing Luka Jovic to strengthen their striking options, but it is Eden Hazard who they want to re-build their team around. Having ended their interest Christian Eriksen, Los Blancos will focus all their efforts on snaring Hazard this summer. The club are yet to make a formal offer for the Belgium international, who was one of the stand-out performers at the World Cup and who, at 28, is in his peak years as a player. However, the process of making the deal happen is already underway.
Hazard's public flirtations with Real Madrid
Hazard has long since ticked a box of prime importance to Madrid: publicly expressing his desire to play for the European champions. Indeed, he is engaged in an almost constant flirtation with the club, rarely shying away from links with the Bernabéu when talking to the media. "I feel admiration for Madrid," he said on 23 November 2017. On 18 June 2018, he then took things a step further, commenting: "Real Madrid could be interesting for me as everyone knows. They know what they have to do if they want me."
Since then, flirtation has developed into outright declarations of love. "You already know my favourite destination," he said on 14 July, while last week, on 21 January, he added: "Even without [Zinedine] Zidane, Madrid are still Madrid..." The player could hardly have made his feelings clearer.
Out of contract at Chelsea in 2020
Hazard is out of contract at Chelsea in 2020, and has no plans to renew. Both Chelsea director Marina Granovskaia and Blues owner Roman Abramovich have been made aware that the former Lille man's decision not to extend his terms at Stamford Bridge is final. First he stalled over accepting offers of a new deal, then he turned them down - and, against this backdrop, Madrid president Florentino Pérez and his general manager, José Ángel Sánchez, are ready to get themselves a good price for the attacking midfielder.
This summer, Hazard will be 12 months away from being able to leave Chelsea for free, leaving the Premier League club with little option but to negotiate with Los Merengues. Indeed, they have reportedly already named their price: 112 million euros, a fee that would make Hazard Madrid's record signing, surpassing the 101 million the LaLiga giants paid for Gareth Bale in 2013.
Maurizio Sarri
When Maurizio Sarri was appointed Chelsea manager last summer, he was well aware of the situation with Hazard, who had just enjoyed a fantastic World Cup and whose name was once more being linked with Real Madrid. A concerned Sarri was swift to urge the club to sort out a renewal that has not materialised. "I think we have to solve the problem," the Italian said in December.
The "problem" has not been resolved and, fresh from his recent criticism of the Belgian ("He's more an individual player than a leader") and the star's response ("I don't care"), Sarri had no hesitation in opening the Stamford Bridge exit door for Hazard this Tuesday, telling reporters: "Eden is 28 so, if he wants to go, I think he has to..."
Thibaut Courtois
One of Hazard's best friends in football, Thibaut Courtois, is already at the Bernabéu. An international team-mate and former Chelsea colleague, the goalkeeper had sent a clear message shortly before his move to Madrid last year, declaring: "Wherever I go, Hazard must come along. We will not let each other go..." Hazard had taken him under his wing when he arrived at Chelsea in 2014. Now, with all the signs pointing to the pair being reunited in Spain, he wants to repay the favour...