Holders Barcelona thump Sevilla to reach Copa del Rey semis
Barcelona wiped out a 2-0 first-leg deficit in the first half at the Camp Nou, before finally winning the tie handsomely in the second 45.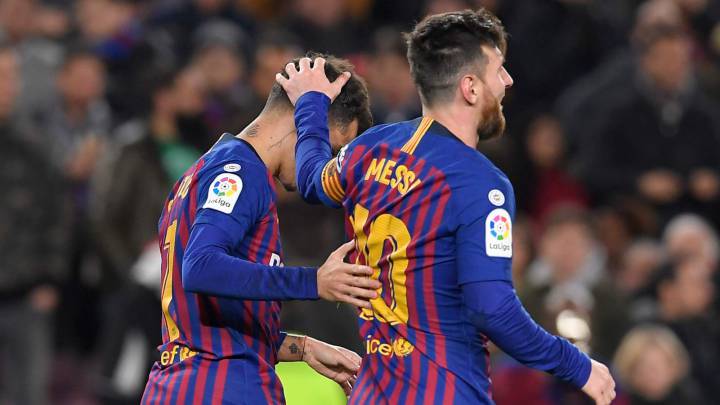 Barcelona 6-1 Sevilla (6-3 on agg): as it happened
  Peep peep peeep! And that's that! Barcelona overturn a 2-0 first-leg deficit in the Copa del Rey for the first time in 34 years, and their bid to win the tournament for a record fifth straight year remains very much alive and kicking! What a frenetic night of football at the Camp Nou. After Éver Banega had missed a golden opportunity from the spot with Sevilla 1-0 down to Philippe Coutinho's early opener, goals by Ivan Rakitic and Sergi Roberto, either side of a second for Coutinho, looked to have put Barça out of sight. However, Guilherme Arana's fine 67th-minute finish then brought Sevilla back to within a goal of progressing and set up a frantic finale - one that remained unresolved right until the death, when Luis Suárez and Lionel Messi killed off the visitors' challenge and sealed a 6-3 aggregate win for the holders. They now march on into their ninth successive Copa semi-final, joining Valencia, Real Betis and Girona/Real Madrid in Friday's last-four draw. Unless you're a Sevilla fan, of course, that was a whole load of fun. Thanks for reading!
Suárez plays a one-two with Piqué, advances into the box and cuts it back, where Alba lets it run to Messi. The Argentine collects, takes a touch to compose himself, and thumps in from almost on the goalline.
92' Six!
91' There will be three minutes of time added on at the Camp Nou, which begin with a Sevilla free-kick in a very promising position... but Sarabia's delivery into the box is cleared.
90' Carles Aleñá is on for Arthur.
Alba crosses low to the far post, where Suárez turns it into the net past Messi, and Barça lead 5-3 on aggregate with the clock about to reach the 90-minute mark!
88' And Barcelona go straight up the other end to seal the tie!
87'   Sevilla force a corner. Three minutes plus stoppage time to go... But it's a rank delivery.
84'   Sevilla make their final substitution, replacing Guilherme Arana with 17-year-old winger Bryan Gil, who looks to be quite a prospect. Sarabia will step into Arana's shoes at left wing-back.
83'   Again Barcelona go close, and again Messi is involved as he slips Roberto in behind the Sevilla defence with a deft through ball - but the right-back pops a looping effort over the bar, and the chance is lost.
81' Barcelona make another change, taking off Coutinho for Nelson Semedo.
80'   ...but it's Barça who almost score, as Messi receives Coutinho's pass, gets the ball out of his feet and curls a left-foot shot towards Soriano's right-hand post, but sends his strike just wide!  
79'   Just over 10 minutes to go at the Camp Nou. One goal for Sevilla sends the Andalusians through.
76'   Barcelona make their first change of the night, Arturo Vidal replacing Ivan Rakitic. Moments later, Roque Mesa and Éver Banega come off for Franco Vázquez and Wissam Ben Yedder for Sevilla.
73'   Unbelievable! How does Messi not score there? A long ball has Suárez scuttling in behind the Sevilla defence, and when he squares it to Messi, the captain looks for all the world like he's going to pretty much dribble it into the net - but, with much of the goal gaping, Soriano somehow gets his legs in the way to block his point-blank-range effort! 
72'   ...indeed he does, but it's a foot or so over the crossbar.
71' Barça youth product Sergi Gómez is the fourth man into the book after bringing down Messi 30 yards or so from goal, and Barcelona have a free-kick from which the Argentine looks like he's going to have a crack...
67'   Goooal! After Cillessen loses it, Banega cuts it back for Arana on the edge of the box and the Sevilla left-back pumps a fine strike past the Barça goalkeeper and into the corner! Tie back on! There's a brief delay as we check that handball shout against Carriço moments before the goal... but it stands, and we're all set for a grandstand last 20 minutes at the Camp Nou!
65'   Arana tries his luck from all of 30 yards or so, but his effort flies well over. Moments later, Barcelona are back on the attack and Coutinho is appealing for a handball in the box by Carriço, but the referee is unmoved.
64'   Messi slips Suárez in behind the Sevilla defence, and the Uruguyuan cuts the ball back into the box... but the flag is up!
61'   That's a very good chance for André Silva, and he should do better! Banega releases Sarabia on the left wing, and the Real Madrid youth product whips in a very inviting cross right onto Silva's head... but he glances well wide. Sevilla need to get themselves on the scoresheet right now, or they could quickly find themselves further behind.
57'   Fiv.... no! The flag is up. Arthur plays Coutinho in on goal and the Brazilian pummels it past Soriano and into the net, only to be correctly ruled offside. Sevilla are shellshocked.
It's lovely from Messi, to be fair. He cuts in from the right and slips a beautiful little ball into Sergi Roberto's run into the box, whereupon the right-back powers an unerring finish across Soriano and into the left-hand corner! Blimey.
54' And another! 4-0 to Barcelona! Sevilla have utterly fallen apart.
  Suárez crosses from the right for Coutinho, whose header is decently enough directed, I guess, but Soriano does rather throw his cap on it - and the net bulges! 3-0 to Barcelona on the night, 3-2 on aggregate!
52' Goooal to Barcelona! Soriano can't keep this one out!
51'   Rakitic shoots low, but Soriano is down well to palm it away.
48'   Here's a decent free-kick chance for Sevilla. Coutinho is penalised for a foul on Banega, who stands over the ball alongside Sarabia. The Argentine delivers... but the visitors are adjudged to have fouled Clément Lenglet when it came in, and it's Barça's ball. The hosts then win a similar dead-ball situation up the other end, but it also comes to nought.
46'   No changes for either side at half time. Wissam Ben Yedder is warming up for Sevilla on the Camp Nou touchline, though.
Peeeeep! Back underway at the Camp Nou.
Incidentally, Real Betis have joined Valencia in the last-four pot this evening after seeing off Espanyol in extra time.
  Peep peep peeeeeep! That was rather fun, wasn't it? Barcelona have got themselves back on terms in this tie, courtesy of Philippe Coutinho and Ivan Rakitic goals that came either side of a penalty save by Jasper Cillessen whose importance cannot be overstated. If Éver Banega had converted from the spot for Sevilla, after all, he would have left Barça needing four. More of the same in the second half, por favor!
45'   One minute of time added on.
43'   Suárez thuds in a cross from the left, which Kjaer hacks behind. And from the resulting corner, Piqué heads downwards and towards the far corner, but sends his effort just wide! You can't take your eyes off this game.
41'   Messi runs at the Sevilla backline before exchanging passes with Alba... and being run off it. The visitors quickly break forward into the Barça half, where Sarabia and Silva combine neatly to get the former into a great crossing position - but the flag is up. Offside.
39'   Barcelona win a free-kick on the right, which Messi will deliver. He goes straight for goal... but sends his effort too high. 
36'   Coutinho looks to combine with Suárez on the edge of the box, but Sevilla work out it from the back nicely and launch a counter-attack, which ends up with Piqué trying a trick on his own byline, getting himself in a muddle and giving away a corner. One corner becomes two, but the hosts hold firm and, with the clock ticking towards the break, are back level in what is proving an enthralling quarter-final.
33' Carriço is the third man into the book for a somewhat agricultural challenge on Messi. "Someone's definitely getting sent off tonight," observes a colleague in the AS newsroom.
Arthur pops a lovely ball through to Rakitic, leaving the Croat one on one with Soriano. He's stretching for it and gets only the slightest of touches, but it's enough to take it past the Sevilla keeper and into the net! It wasn't immediately clear whether it went straight in off Arthur's boot or not. Rakitic holds his hands up in apology to his former employers.
31' Gooooal! 2-0 to Barcelona! What a strange goal.
29' Ooh, it's a yellow card each for Mesa and Suárez after a spot of handbags.
27'   And having survived that Sevilla penalty, Barcelona twice have chances to double their lead on the night and level the tie! First, Messi nicks the ball off Kjaer's toes, jinks into the box and draws a smart save from Soriano, before Suárez mishits his effort when the loose ball falls right to the Uruguayan!
24'   ...and Cillessen saves! Cue bedlam in the Camp Nou. What an opportunity missed for Sevilla.
23'   Penalty to Sevilla! Having almost equalised, Mesa is felled in the box and, after a  quick VAR check to see whether the mdifielder was offside or not, Éver Banega has the chance to put the visitors level on the night - and leave Barça needing three to progess! He steps up...
22'   They promptly do get themselves a bit of ball time... and very nearly equalise! Promes beats Alba on the right wing with a neat trick, and powers towards the box, before delivering a low cross that Silva flicks towards goal - but Cillessen pushes it onto the post! So close!
21'   Sevilla are barely getting a sniff. They badly need a spell back on the ball.
19'   Suárez receives, turns and pings a through-ball for Coutinho, who has peeled off into a few yards of space in the left-hand channel... but the striker's pass is overhit! He gives himself a stern telling-off.
17'   Double chance for Barcelona! Coutinho's lovely little ball sets Alba pacing into the box,. where he cuts back to Suárez - but the Uruguayan's shot from 18 yards is blocked. The ball then bounces to Messi, who cuts inside and strikes... but Soriano saves, via a deflection off Kjaer's outstretched leg!  
14'   Suárez is released in the right-hand channel and advances into the Sevilla box, but is run out of it and the ball rolls over the byline and out for a goal-kick. From the point of view of the neutral, that Barcelona early goal is just what the doctor ordered. 
12'   Gooooal! Coutinho bangs it right into the corner! I was convinced he was gonna miss. Game on!
11'   Penalty to Barcelona! Promes is adjudged to have brought down Messi! Coutinho to take...
8'   One corner becomes two, then three... but Sevilla survive each time. Moments later, Luis Suárez almost wriggles in behind Simon Kjaer, but the Dane gets a toe to it just before the striker can scuttle in on Soriano. 
6'   The hosts carve out their first moment of real danger, and it's with a major helping hand from Sevilla keeper Juan Soriano. Lionel Messi slips a ball into Arthur's run into the box, but it's slightly ahead of the midfielder and should be meat and drink for Soriano. However, he makes something of a hash of it, and succeeds only in allowing Arthur to cut it back to Messi... whose shot is deflected wide. Corner to Barça.
2'   Ooh, that's a shame for Sevilla. It's all Barcelona possession for the first 90 seconds or so, before Roque Mesa picks the ball up and scuttles towards a Blaugrana defence that is suddenly opening up in front of him. He plays it to Pablo Sarabia in space on the edge of the box, but it's slightly behind the winger and he can only dig out a tame shot. No problem for Jasper Cillessen in the Barça goal.
Peeeeep! We're underway at the Camp Nou. Can Barcelona avoid a first Copa del Rey exit in nearly five years? Can Sevilla make their first-leg advantage count and knock out the holders? We'll find out.
Tonight's referee is José María Sánchez Martínez, by the way.

  Tonight's victors will be joined in Friday's last-four draw by Valencia, who knocked out Getafe in a dramatic, highly-charged affair last night, and the winners of the Real Betis-Espanyol and Girona-Real Madrid ties. Betis and Espanyol are into extra time as we speak, while Madrid visit Girona tomorrow night with a 4-2 lead from an entertaining first leg. The teams are out at the Camp Nou, and kick-off is imminent.
  Not only that, but six of the Andalusians' last nine results at the ground - most recently a 4-2 LaLiga defeat in October - would still be enough to take them eliminate the holders and take their place in the semi-finals.
  After all, the last time they failed to go through to the next round after going 2-0 up in the first leg of a Copa del Rey tie was back in 1996/7, when they went out to Deportivo La Coruña on penalties.
But despite having gone almost a decade without winning away at Barcelona, Sevilla have plenty of cause for optimism as they seek to reach the last four at their hosts' expense, and go some way to avenging last season's painful, 5-0 final defeat... 
Quincy Promes looks to be the man who'll fill in at right wing-back for Jesús Navas - who, by the way, was in the last Sevilla team to win a game in any competition at the Camp Nou: a 2-1 Copa del Rey victory back in 2010, courtesy of goals by Diego Capel and Álvaro Negredo (pictured below).

Sevilla now have added incentive to march on to this year's final, by the way: it was this week announced that the 2018/19 showpiece will be held at the Estadio Benito Villamarín, the home of their city rivals Real Betis.

Incidentally, should you still be scratching your head as to how you can tune into live moving pictures of tonight's clash, you might wish to avail yourself of our useful guide on how and where to watch.
  Meanwhile, there are four changes to the Sevilla side from the first leg a week ago, with Daniel Carriço, Guilherme Arana, Roque Mesa and André Silva coming in for Gabi Mercado and Wissam Ben Yedder, who are on the bench tonight, and Sergio Escudero and Jesús Navas, who are both injured.
  Having been left out of the line-up for last week's 2-0 first-leg defeat in Seville, key quartet Lionel Messi, Jordi Alba, Sergio Busquets and Luis Suárez all return to a Barça team bidding to win the Copa del Rey for a record fifth successive year. The inclusion of Philippe Coutinho is the fifth of five changes to the XI from the Sánchez-Pizjuán.
Sevilla bench: Vaclik, Ben Yedder, Rog, Vázquez, Mercado, Javi Vázquez, Bryan.
Barcelona bench: Ter Stegen, Semedo, Vermaelen, Boateng, Arturo Vidal, Aleñá and Malcom.  
 Sevilla XI: Soriano; Gómez, Kjaer, Carriço; Promes, Amadou, Roque Mesa, Banega, Arana; Sarabia, Silva
  Both teams are in, with the Barcelona XI as follows: Cillessen; Roberto, Piqué, Lenglet, Alba; Busquets, Rakitic, Arthur; Messi, Suárez, Coutinho
Indeeed, it is 34 years since Barça last won a Copa tie after going down 2-0 in the first leg - and on that occasion it was against lowly Lleida of the third tier. Against top-flight opposition, it is a feat that the Blaugrana have not managed since seeing off Real Mallorca way back in 1966.
Ernesto Valverde's men managed to overturn a 2-1 first-leg deficit against Levante in the previous round, but, it's fair to say, Copa del Rey history is altogether less on the holders' side when it comes to being 2-0 down from the opener....
Tonight promises to be a riveting night's cup action: after all, back-to-back-to-back-to-back winners Barça host Sevilla 2-0 down from last week's first leg in Andalusia, and in serious danger of being knocked out of the competition for the first time since THAT Gareth Bale wonder goal in the 2014 final.

  Good evening and welcome to our live coverage of Barcelona and Sevilla's Copa del Rey quarter-final second leg at the Camp Nou tonight! Kick-off is just over an hour away, and team news should be in shortly.
Barcelona vs Sevilla: preview
Barcelona, winners of the Copa del Rey in each of the last four seasons, face a battle to stay in this year's competition when they host Sevilla in the Catalan capital tonight (21:30 CET).
Holders out to avoid first Copa exit since 2014
The Blaugrana go into the sides' quarter-final second leg trailing 2-0 from last week's opener at the Ramón Sánchez-Pizjuán, and are in grave danger of suffering their first Copa elimination since losing the final to Real Madrid in April 2014.
Coach Ernesto Valverde left key figures Jordi Alba, Sergio Busquets, Lionel Messi and Luis Suárez out of his team in Seville, and the quartet are in line to return this evening as Barça bid to reach the semi-finals of the Copa for the ninth successive season.
Barcelona must end 53-year hoodoo to progress
Meanwhile, Sevilla go to Catalonia without a win at the Camp Nou since knocking Barça out of the cup in 2010, but can take heart from the fact that six of their last nine results at the ground - most recently a 4-2 LaLiga defeat in October - would still be enough to send them through.
What's more, only once in their history - against Real Mallorca way back in 1966 - have Barcelona recovered from a 2-0 first-leg deficit against a fellow Primera División side and qualified for the next round of the domestic cup.
The winners of this tie will join Valencia, Real Betis/Espanyol and Girona/Real Madrid in the draw for the last four, which is to take place on Friday at 13:30 CET.