Giuseppe Rossi back training with United: "I'd love the opportunity to play in the Premier League again"
The former Italy international is training with his old club Manchester United with a view to making a comeback after five serious knee injuries.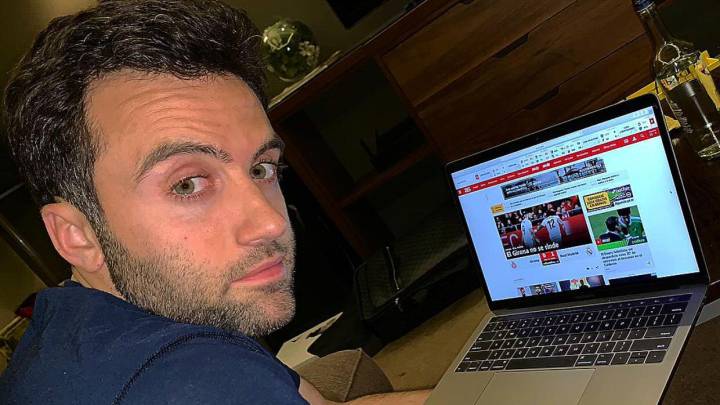 Former Italy international Giuseppe Rossi is back training with his old club Manchester United with a view to making a comeback after five serious knee injuries. The 31-year-old, who spent a number of seasons in LaLiga - notably with Villarreal, chatted to AS about his career, overcoming setbacks, his gratitude to United for helping him get back to full fitness and coming close to joining Pep Guardiola's Barcelona.
Getting back into the routine
First, let me ask how you are physically. Do you feel ready to compete at the highest level again?
Physically I'm in great shape. I've been training hard with teams who are competitive in their leagues. And now I'm training with United at the highest level. I feel in form, I'm waiting for an opportunity to find a team and to feel like a footballer again.
All injuries are tough, but knee injuries perhaps more than any because it's so hard to recover fully from them. You've had five serious ones. How do you approach the injury and how do you overcome the fear of a relapse?
Yeah, they are very tough. The ones that I have suffered are the worst for a football player, but I love this sport. I've been through a lot and I've sacrificed a lot to get to this level and it never occurred to me to throw in the towel. I feel I still have a lot to contribute to football. That's what I'm fighting for every day, to get back to the highest level and to enjoy my football again.
Great to be back at United
Right now you're toning up at United. You have fond memories of the club; has much changed?
United have given me the opportunity to train at the club for a few weeks. Some things have changed but this club feels like a family and that will never change. It's been 11 years since the last time I was here and I'm still seeing the same people around the place. They all remember me and that's a nice feeling. When I'm wandering around the corridors at Carrington I feel as though I'm at home.
You shared the dressing room with Ole Gunnar Solskjaer during your time at Old Trafford. What memories do you have and what did he say to you when arrived?
Solskjaer was my teammate and a great player. I remember clearly that when a game was running down to the final minutes on the clock he was always involved in the goals, either scoring or assisting. That was his great quality. He has a really strong mentality because to be watching the game for 70 minutes and then becoming the main man for the last 20 deserves a lot of credit. He understands and analyses games very well. What he did as a player, dissecting the opposition, he is now doing as a manager and it's going really well for him.
Solskjaer has completely changed the feeling in the dressing room…
Ole coming in has really helped the atmosphere at United. Mourinho did a great job here and we all know he is one of the best coaches in the world, but the change has restored calm by putting faith in someone who has made history at the club. That has been one of the keys to what he has achieved over the last month.
Have United given you any indication that you might be able to stay?
I'd love the opportunity to play in the Premier League again, where I started my career. It's an incredible league, with fantastic infrastructure and fantastic people. I don't think many clubs would have given me the opportunity to train with them like United have. It's something I'll always remember. It's a really unique gesture.
Returning to the States
Some great players like Zlatan Ibrahimovic have gone to the US and done well. You were born there, would you be interested in giving MLS a go?
Of course I'd like to play in the US one day. I have a lot of respect for MLS, it's growing at a phenomenal pace. I has the opportunity to train with the New York Red Bulls a while back. I've seen the level, the games, the atmosphere.., it's something I have in mind for the future.
Maybe they need you more at your former clubs Villarreal or Vigo… both sides are in the relegation zone. How do you see the situation?
I think the position that Villarreal and Celta find themselves in is very surprising for many football fans because they're never down there but they know what they need to do to get themselves out of it. I really hope from the heart that Villarreal and Celta turn it around.
For your part, which league do you think would be the perfect fit for you at this point of your career?
Because of my style of football, I definitely think LaLiga is where I would play my best. I've played in Serie A and the Premier League and the most important thing is to be happy and to have that enthusiasm to go and train every day. And I can find that in any league.
Is it true that you were on the verge of signing for Barcelona once?
Yeah, Barça wanted me when Pep Guardiola was there. It was after a great season when Villarreal qualified for the Champions League. I scored 35 goals and it was nice to hear about Barcelona's interest. Football's like that though. I didn't go, I stayed at Villarreal and now it's history. It's a nice story because [Barça] are the biggest club in the world. It was an honour to be close to joining Barça.