Benzema matching Cristiano's strike rate... with fewer shots
Both players are on 17 goals this season but the Frenchman has requiered 47 fewer shots and hasn't been handed penalty-taking duties at Real Madrid.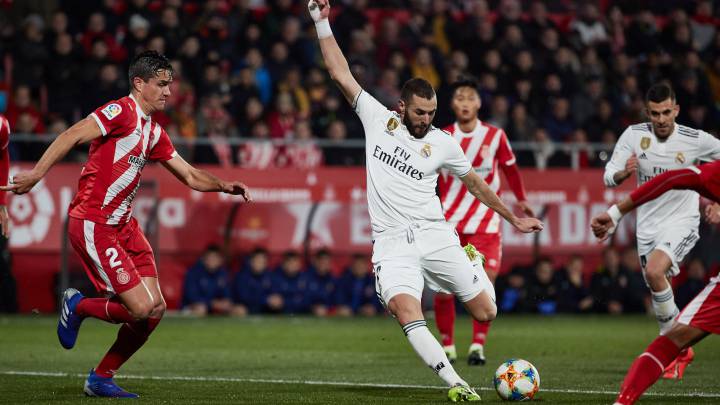 Karim Benzema is in his element - he's probably in the best moment of form since he joined Real Madrid back in 2009. So much so, he's already posting the same kind of figures as Cristiano Ronaldo after both went their separate ways. Both are on 17 goals so far this season, but the Madrid striker has needed 47 shots less (72 shots compared to Cristiano's 119) - and without taking any penalties: five of Cristiano's 17 goals during the current campaign have come from the spot.
"I'm sorry for those who only discovered Benzema last week", Solari told reporters last night after Karim had netted a brace in Montilivi, "But there's still time to turn on the telly or come to one of our games to watch him... Karim is Karim". Those words were echoed by Butragueño: "Karim's in an exceptional moment of form". It's true that Benzema is a million miles away from the player he was last season when he ended on just 12 goals. He's already five ahead of that figure - having played 14 games less.
He who dares, wins
At Montilivi, he gave a football masterclass. It's clear he's come out of his shell and lost his inhibitions in front of the rival goal. He's already had more attempts on goal (72) than last season (71). He's reaffirmed his leadership within the side and increased his involvement. During his 58 minutes on the pitch in Girona, he completed 30 passes, above his average per game figure (28).
"An excellent Benzema", ran the headline on L'Équipe's match report. Since the New Year started, he's registering better figures than Cristiano is at Juventus. Benzema has five goals to his name so far in 2019 while the Portuguese forward has two. At last, Benzema is coming into his own.