Impressive Qatar stun Japan to lift 2019 Asian Cup
The Maroons went into the game as underdogs against the Samurai Blue but goals from Almoez Ali, Abdulaziz Hatem and Akram Afif did the job.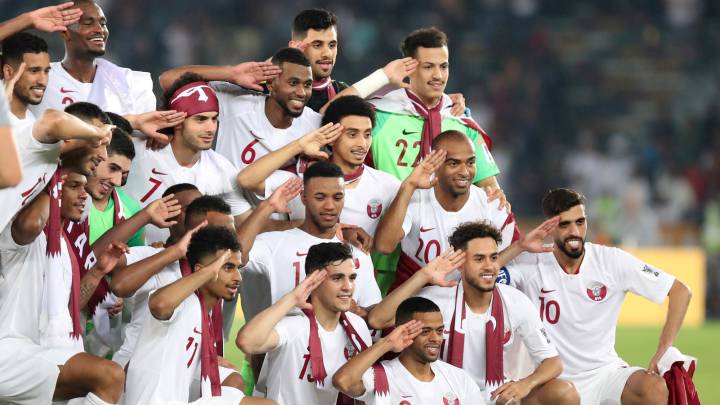 With an overall tournament record of 19 goals scored and just one conceded, few can argue that Qatar are worthy winners of the 2019 Asian Cup as today they pulled off a major shock at the Zayed Sports City Stadium in Abu Dhabi to claim their first ever major footballing honour.
Almoez Ali opened the scoring after 12 minutes and in doing so took his overall tally to nine for the competition, writing his own page of history in the annals of Asian Cup football as highest ever top scorer at a tournament. It didn't end there, 15 minutes later Hatem broke free and was un-checked by the Samurai Blue rear-guard curling a delightful shot into the corner away from the grasp of Gonda to secure an unlikely two goal margin for Al-Annabi at the interval.
Japan emerged from the break with a different proposition and forced the Qatari side to play deeper but lacked the guile and creativity to unlock the solid defence that Felix Sanchez has perfected in his time overseeing the gulf nation. After concerted pressure, Minamino weaved his way into the box and dinked past Al-Sheen for the first time in the competition to offer a degree of hope for Moriyasu's men.
As the clock ticked down, Japan pressed and in a rare foray into the Japan, the impressive Afif won a corner for his side. The ball struck a Japanese arm and after a VAR consultation, official Irmatov awarded a spot kick for Al-Annabi. Harsh on the men in blue as Afif tapped home to secure a famous win for the gulf nation who are set to host the 2022 FIFA World Cup.
Japan 1-3 Qatar: Asian Cup final as it happened
Many thanks for your company this afternoon as the curtain comes down in the 2019 Asian Cup.  
A major shock here in Abu Dhabi as favourites Japan were stunned by two fine first half goals. Commiserations to Samurai Blue as they go down 1-3.  
History for the gulf nation under the guidance of Felix Sanchez. Congratulations Al-Annabi!
Qatar are the 2019 Asian Cup winners 
90'+5' That's it 
Change (Qatar) Almoez Ali off and Ahmed Alaaeldin on
90'+3' Another solid defensive display from Felix Sanchez's men as Qatar are caught offside
Both these teams will be in action at the 2019 Copa America as Japan win a corner. Al-Sheeb punches away but Japan still press.
90'+3' Pedro carded for time wasting
 Qatar's Akram Afif celebrates scoring their third goal 

90'+1'   What a boost for the hosts of the 2022 World Cup !
90'   5 minutes of time to be added. 
89'   We're in the final minute of normal time. Qatar will be the 9th different winners of the Asian Cup if they can hang on. 
89'   Yoshida heads over when it appeared easier to hit the net. What a chance spurned for Japan. 
Minamino off and Inui off for Japan
88' Felix Sanchez bellowing instructions to his side as Japan press. Samurai Blue need something now and urgently
87'   Tears in the crowd from Japan fans. Qatar edge closer to being crowned 2019 Asian Cup champions 
86'   Sub Sakai carded for a late tackle
85'   19 goals for Qatar in 7 Asian Cup 2019 games is testament to this Al-Annabi side! 
Qatar are on ths cusp of making history ! 
Afif carded for his celebration 
Cool and calm finish from the Al-Saad man
Japan 1-3 Qatar
82'   Afif to take and scores ....1-3
Tough on Japan.... 
Penalty awarded, Yoshida carded ..Drama in Abu Dhabi
80'   Shout for a penalty for Qatar as the match official talks to his VAR team. The ball appeared to hit Yoshida on the arm but it appeared accidental.
79'   More pressure and anxious faces on the Qatar bench. Just 12' to go for Qatar as they break and Hatem forces a corner.  
77' Qatar looking very tired now as Japan continue to create wave after wave in the search for a goal. Japan win corner 12 of the half.  
76'   Takumi Minamino celebrates scoring Japan's first goal

75'   Japan win yet another corner. The game is perfectly balanced now with Qatar looking to protect their lead and Japan desperate for another goal that would mean extra time. 
73' Al Haidos off with Boudiaf on for Qatar.
72'   It's all Japan now as they look to have the bit between their teeth spurred on by the Minamino goal. 
First goal conceded by Qatar in the competition....20' left ...what can Japan offer? Can Qatar keep this pressure at bay ? The men in white have been sitting too deep perhaps as they look to protect their lead. 
Japan 1-2 Qatar
Gooooal. Japan get one back .... Minamo dinks the ball past Al-Sheeb
68'   Just over 20' remaining and Japan still yet to force Al-Sheeb into action. Plenty of central possession from the men in blue but yet to find that creative spark that can unlock the Qatar defensive lock. 
67' Possession: Japan 58-42 Qatar (%)
Header from Japan, Yoshida flicks a corner but fails to get the ball on target.   
65' Japan apply more pressure and win a free-kick. Gaku to take ... Final ball came off a Japan head and Qatar win a goal kick. Wave after wave of Japan attack now but determined defending from Qatar....
64'   Mix-up between Japan strikers as Doan and Muto both go for the same ball and drifts wide
Haraguchi the player who made way for the Newcastle man 
61'   Newcastle United player Yoshinori Mutō comes on for Japan to bolster attacking options
60' Al Hajri is the replacement for the injured Khoukhi
Qatar will make a change to replace the injured Khoukhi. The Qatar medical team are still on the pitch as the head injury does appear quite serious. 
58'   Sad sight as the defender is stretchered from the pitch.
57'   Another corner for Japan (5th/6th?) of this half and all have been won by the side in white. Play held up as Khoukhi has taken a nasty fall and needs medical attention.
56'   Qatar miss as Afif assists and Ali rifles over the bar from short range. Poor from the striker with Afif once again causing havoc for the Japan defenders.  
54'   Felix Sanchez barking instructions in Spanish and English to his men. "We go again, we go again" barks the Catalan. 
52' Japan fans still making plenty of noise trying to rally their side. It has to be said that after over 50 minutes, Al Sheeb in the Qatar goal has yet to be called into action despite an improvement from Japan.
52'   Yet another Japan corner and once again headed away by the side in white. 
51'   Qatar look nervous. Will their inexperience of playing in major finals tell? The bulk of this Japan side do have World Cup experience.
49' Abdelkarim Hassan makes a fine tackle and denies Japan from a corner.  Header from Yoshida but mis-directed and over the bar. Brighter from Japan as Samurai Blue emerge with a far more positive attitude in this half. 
48'   Japan with early possession as the match official calls a free from Qatar when it  appeared the call would go Japan's way.
Off we go in Abu Dhabi. Japan have to up their game and really need an early goal to regain a foot-hold back in this game.   
  Superb pic from AFP of the moment Hatem's shot fizzed past Gonda in the Japan goal to make it 0-2 

The moment when Al-Haidos rifles the ball onto the Japan post which almost made it 0-3

Japan coach Hajime Moriyasu with plenty of work to do at the break as his side trail 0-2

45'   Who  would have thought ....Qatar defy the experts leading 0-2 and are now just 45' away from a historical Asian Cup win. 
We'll have 1 minute of time added on.
44'   Qatar celebrate the second goal  

43'   Osako steals behind the Qatar rear-guard and is just inches away from latching on to a crisp assist. Better now from Samurai Blue as we head towards the interval.
40'   Into the final five we go as Japan finally get to string some passes together with cohesion and start to force the men in white back in their area. Great intervention from Khoukhi as Japan attack.
38'   A great bulk of the fans at the ground tonight seem to be cheering for Qatar. A drastic change to previous games when al-Annabi were booed soundly as they played at most of the games at this competition in the Emirates.
35' My word, Qatar almost make it 3 as Al Haidos strikes the post from an acute angle. Japan on the back foot here as Qatar able to cut through the blue shirts with poise and precision. 
Al-Sheeb yet to make a save in just under 35' of action.
Who would have anticipated this start? Qatar leading 2-0 ! Enough credit can't be given to Felix Sanchez and his staff for what they've given this team .... players deserve credit too for executing the tactics.  
30'   Possession: Japan 47-53 Qatar (%)
29'   Japan win a dangerous free on the edge of the Qatar box. What can they produce from the dead ball? Gaku and Doan over the ball.... Doan strikes and the wall does its job. 
Qatar AFC 2019: Goals for 18-goals against 0
Japan 0-2 Qatar
Great strike from Hatem who leaves Gonda with no chance as the ball is tucked sweetly into the corner  
Goooooooooool Qatar make it 2
25' AFC Asian Cup Australia 2015, qatar lose all three group games...fast forward 2019 and Al annabi are 2-0 up  
24' Poor from Japan since the goal. The Samurai Blue have yet to create any danger with Al-Sheeb yet to be forced into action. 
23'   Almoez Ali celebrates the opener

First card of the night for Getafe's Gaku. Late challenge on Afif.
19' Afif's energy levels are incredible, the Al-Saad player is everywhere!
This is what it's all about as the Asian Cup trophy shines on the touchline at the Zayed Sports City Stadium (Abu Dhabi)

16'   What a shot of confidence the goal has given has given Qatar as they now dominate proceedings. Japan reeling ...
14' Qatar break again and this time Gonda saves well as Ali looks to make it 2 for Qatar .....What a start to this game. Credit too to Afif for his assit in the goal.
What a strike from Almoez Ali. A spectacular overhead effort from the striker, Gonda just inches away from the ball
Japan 0-1 Qatar
11'   Gooooooool Qatar take the lead ...his 9th of the competition ! 
11'   Possession after 11': Japan 55-45 Qatar (%)
9'   Free for Qatar as Yoshida trips Al Haidos. Long way out. Afif takes but his kick lacks quality.
8'   Qatar settling now with the men in white looking more composed with Akram Afif  at the heart of all Qatari creativity.  
5'   FIFA President Gianni Infantino present at the Zayed Sports City Stadium today

5'   Japan XI 

3' A nervy start from Qatar...."the biggest game ever in their footballing history" was how Felix Sanchez described the match in yesteday's press conference.
Moriyasu posied to be the first ever indvidual to win an Asian Cup final as both player and coach.

2'   Japan enjoying the bulk of early possession
  Off we go in Abu Dhabi
In the betting stakes, Japan start as with a win for Moriyasu's men paying at 2/1. A debut cup win for the Maroons would secure 4/1. 
Qatar have impressed at this Asian Cup and Felix Sanchez has built a well disciplined side with solid decfence. Testament to this being their goals for-against tally at the Asian Cup (16-0). 
Today's match official is Uzbekistan ref. Ravshan Irmatov who holds the record for officiating the most FIFA World Cup matches

The noisy and faithful "Ultras Nippon" are present in Abu Dhabi today to inspire Samurai Blue

Japan in line to claim their fifth Asian cup triumph today with Qatar making their debut in the final.

Despite high political tension between host nation UAE and Qatar resulting in few few fans supporting Al-Annabi during the tournament, there seems to be far more Qatar flag waving supporters present at the Zayed Sports City Stadium in Abu Dhabi today.

Qatar will sport their away kit today of all white.

As "home' team today, Japan will wear their classic all blue kit.

There is a strong influence in Qatar's football development via their Aspire Academy. Read about the men from the Iberian peninsula pushing the game forward in the gulf state.

On the day of the final, the UAE protest at eligibility of Qatari players was dismissed by AFC

Fans continue to make their way into the ground with just under an hour to kick-off. 

Hello and welcome to our live coverage of the 2019 Asian Cup final as four-times-winners Japan face the surprise package of the tournament in Felix Sanchez's Qatar. The action gets underway in Abu Dhabi at 1500 CET/0900 EST/ 1800 UAE.    
Japan vs Qatar: preview
Maya Yoshida believes winning a fifth Asian Cup on Friday would be a major step forward for Japanese football and a young team still finding its feet on the international stage, the Japan captain said on Thursday.
The Southampton defender is the experienced heart of a youthful side that coach Hajime Moriyasu has put together since he took over in the wake of Japan's round of 16 exit from last year's World Cup.
The success of the campaign in Russia combined with a victory over Qatar at Zayed Sports City would give the Samurai Blue a major profile boost back home, the 30-year-old Yoshida told reporters.
Qatar coach Felix Sanchez said his team would not be distracted from the "most important match in the country's football history" by a protest over the eligibility of two of their best players at the Asian Cup.
The National newspaper reported on Thursday, the eve of the Asian Cup final between Qatar and Japan, that the United Arab Emirates had formally questioned the eligibility of 22-year-old Almoez Ali and Iraqi-born defender Bassam Al Rawi, 21.
Players to watch:
Japan - Yuya Osako
The Werder Bremen forward got off to a flyer with a brace in Japan's tournament opener against Turkmenistan. Muscular problems kept him sidelined for the next three matches but, following a substitute cameo against Vietnam in the quarter-finals, his double left Iran with a task they were ill-equipped to tackle.
Qatar – Almoez Ali
The only player to have more goals than Osako in the tournament is Qatar striker Almoez, who has plundered his way to double that haul. His wonderfully worked strike in the rout of UAE took him to eight from nine shots. In doing so he equalled the competition record of Iran great Ali Daei, who scored eight times in the 1996 edition.
Key Opta facts
- Japan are making their fifth final appearance - only Saudi Arabia have made the final on more occasions - and won each of the previous four.
- Qatar are the 10th different nation to appear in an Asian Cup final – four of the previous nine sides making their first appearance in the final went onto win.
- Qatar have scored 16 goals and conceded none in their six games at the 2019 Asian Cup; currently the best-ever goal difference by a team at a single Asian Cup tournament.
- Japan have scored in all 16 Asian Cup games they've participated in since the start of the 2011 tournament, netting a total of 33 goals.
- Qatar have as many wins and more clean sheets in the 2019 Asian Cup they had in their previous 32 games and nine tournaments combined.
- Qatar's Akram Hassan Afif has eight assists - four more than any other player - and has created a tournament-best 20 goal-scoring chances.