Valencia grab a deserved point in Camp Nou
The visitors surrendered a two-goal lead against the league leaders but had their chances to claim all three points in an entertaining clash.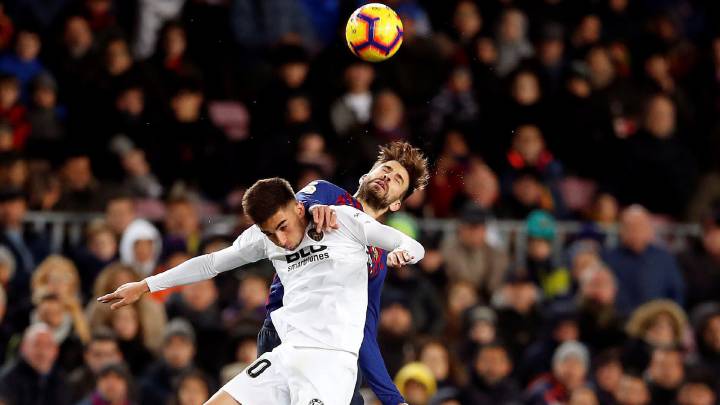 Valencia brought Barcelona's eight-game winning run to a halt in Camp Nou and could have inflicted even more damage on the league leaders after taking a two-goal first half lead.
Kevin Gameiro opened the scoring after a lightning break and Dani Parejo doubled Valencia's advantage from the spot before Leo Messi also struck from 12 yards to reduce the deficit before half time.
After the break Barça pushed for an equaliser that eventually came from the boot of Messi, the Argentinean bending a glorious effort past Neto.
Both sides went hammer and tongs to find a winner and Rodrigo had the best of Valencia's chances but it was not the Spain international's evening.
As it was Barça were forced to settle for a point that temporarily extended their advantage at the top of the table to six points, with Atlético having the opportunity to close the gap to three when they travel to Seville to take on Betis on Sunday.
Barcelona vs Valencia live online: as it happened
Dropped points or a point gained? Valencia certainly had their chances to win the game, Rodrigo perhaps guilty of the worst miss of the night from about two yards out.  
90'+2' A loose ball from Messi allows Wass to break and there goes the whistle! 2-2 it ends and Barça's eight-game winning streak comes to an end. 
90'+1'   Valencia lob a ball in towards Mina but it's more hopeful than anything and Ter Stegen gathers. Last chance for Barça as the Germany keeper bops it up the pitch. 
90'   Two minutes added. 
89'   Suárez is unamused as he is called offside. He looked on in fairness. 
88'   Alba! The left back is played in by a glorious Messi ball but his first touch eludes him. Malcom snaps up the rebound but hammers a shot wide. 
87'   Messi plays Malcom in but it's a little overcooked and the winger does well to even get to it, let alone turn it back in, but Neto si there to gather. 
86'   Malcom, who has been lively since coming on, wins a corner after some deft footwork in the area. 
85'   Five minutes of normal time remaining, Barcelona cranking it up now and Valencia are not lying down either. Both sides fancy a winner here. 
84'   Barça stroking it about looking for an opening. It falls to Suárez and he bangs a shot goalwards but Garay swings a foot at it and it's out for a corner. 
83' Coutinho off for Malcom. Piqué apparently ok to continue. 
82'   Wass aims for the far post but it's a poor delivery and Barça clear. 
81'   Valencia rather waste the free kick but still have the ball and are really throwing the kitchen sink at Barça now. Another free, conceded by Vidal, out on the right and this will be slung into the proverbial by Wass. 
80'   Blimey, Piqué's head wound has opened up again and blood is pouring down the Barça man's face. It's his birthday as well. 
80'   Much more positive from Valencia now and they win a free kick on the edge of the area as Vermaelen floors Mina. 
79'   Mina has an immediate chance to grab the headlines but sends a shit straight into Ter Stegen's paws. 
78' And that's the Spain striker's final contribution as he is replaced by Santi Mina. 
77'   Rodrigo has a pop but it's not got enough welly to bother Ter Stegen. 
75'   Valencia manage to break from a corner but Wass can't find the telling ball and knocks it back. Kondogbia in the thick of things since coming on and he was instrumental in that move. 
74'   The game has really opened up now with both sides swapping possession in midfield. Valencia are much more spread out now in respinse to Alba's introduction after playing a very narrow defence in the first half. 
72'   Coutinho takes, and it's a decent hit but flies wide of Neto's upright. 
71' Kondogbia on, Coquelin off. 
70'   Free kick to Barça, Coutinho eyeing this one up. Messi trots back on to huge applause. 
69'   Barça temporarily down to 10 men as Messi continues to be magic sponged on the sidelines. Marcelino preparing a change and it looks like Big Geoff will be coming on. 
68'   Ooooohh, Messi is down. The Barça captain is off the pitch and receiving treatment. 
67'   Valencia are now attempting to push up and keep hold of the ball, a wiser move than just inviting Messi to keep peppering your keeper. Eight shots for the Argentinean today, five on target. 
66'   The indefatigable Luis Suárez appears to be running out of steam as he charges down a blind alley and is ushered off the ball by the Valencia back four. 
65' Aleñá off to a huge ovation, Arthur on in his place. 
64'   Vidal nicks the ball on the edge of the area and tees up Messi, who pulls out his seven-iron of a left foot and strokes a curler past Neto! 2-2! 
64' Goooooooooooooool! Messi! Out of nowhere! 
63'   Rodrigo! The Valencia striker has an open goal after Cheryshev's wicked cross but skies his effort! 
62'   There's something you don't see every day, Messi outjumping Wass to plant a header just wide. 
61'   Gabriel Paulista seems to be in a spot of bother and Valencia will be forced into a second change here... 
59'   Valencia break and they had the third at their mercy there! Parejo pickpockets Messi and Rodrigo bursts upfield, Ter Stegen comes out to deny the Valencia striker and the ball falls kindly for Wass, whose shot is deflected out by Jordi Alba!  
58'   Valencia are really clinging on here and only the final touch seems to be eluding Barça, who have now moved to 75 percent possession over the course of the game. Messi it is this time who's first touch lets Valencia clear. 
56'   A brief respite as Valencia manage to get the ball out of their half but it's back to business as usual swiftly as Barça come again. Kondogbia and Soler limbering up on the touchline for the visitors.  
54'   Valencia's entire XI are in their own half and have been for most of the last 10 minutes. If Marcelino's plan is to try and defend a single goal lead for an entire half we're not convinced it'll work. 
53'   Woodwork! Sergi Roberto! The Barça defender hits a cross and it's deflected onto the post. Lucky escape for Valencia there. 
52'   Aleñá! Barça's long possession comes to an end with the canterano fancying his chances from fully 30 yards out. And Neto is forced to make yet another save from the effort, which was hit low and hard and on target. 
49'   Alba! What a howler! His right foot isn't his strongest it has to be noted, but the Spain international's shot goes out for a throw on the far side. 
48'   Messi dances through the defence and feeds Coutinho, who has a pop that's deflected, Luis Suárez has a second bite of the cherry and bangs it into a defender. Barça hammering on the door but Valencia not at home to Mr Defensive Cock-Up. 
47'   Barcelona with all the ball at the moment, Valencia back in numbers. 
46'   Messi! The Argentinean pulls the trigger from about 20 yards out and Neto is forced to make a flying save. 
46'   And we're underway again! Luis Suárez gets the second half started. 
Jordi Alba is on for the second half, Nelson Semedo the man to make way. 
Valencia had just 30 percent of possession during the first half. 
  Looking at Valencia's bench, we're wondering if it might be time to bring on Big Geoff Kondogbia to add a little extra drive to the midfield and take some of the onus off Wass to go on driving runs forward. Carlos Soler is also available, as is 17-year-old attacking midfielder Lee Kang-in. 
Valencia's plan to soak up the Barça pressure and hit on the break working pretty well so far. Wass looked absolutely knackered at the end of the half. Jordi Alba was seen nipping down the tunnel just before the whistle so it seems he'll be on after the break to give Barça a bit more width. 
45'+3' And that's the half! Decent entertainment so far. Valencia lead Barça 2-1 at the break. 
45'+2'   This time it's Valencia who try to do each other a nasty, Wass and Cheryshev colliding in the Barça area with the Russia international coming off worse. 
45'+2' Rakitic goes into the book for a break-denying challenge on Parejo. 
45'+1'   Odd from Arturo Vidal, who nearly knocks Coutinho out with his backside after clattering into his teammate. 
45'   Three minutes added. 
44'   Messi! A ball over the top lands plum on the Argentinean's boot but he can't keep his shot down. 
43'   Woodwork! Sergi Roberto with a cracking effort that beats Neto but not the upright! What a game, and what a reaction from Barça to going two goals down. 
42'   Valencia with a long period of possession, looking to cool things down after the penalty. Barça win it back and knock it about a bit until Suárez decides to try and break through, winning a corner. 
40' Gameiro is off, Ferrán Torres comes on for the Frenchman. 
39' Gooooooooooooool! Messi cool as a cucumber, slots it to Neto's left, sending the keeper in the opposite direction. Barça 1, Valencia 2. 
38'   Penalty. Messi steps up.... 
37'   Penalty! Goal! Penalty! Which is it?? Semedo goes down in the area and the ref points to the spot. Coutinho then batters the ball into the net but the ref had already blown. Penalty it is. We think... 
35'   Gameiro is gesturing to the bench that he won't be able to continue. It looks like he may have a touch of concussion after that tangle with Piqué. 
34'   It's probably a good moment to note that Sevilla had a two-goal advantage at Camp Nou a few days ago... 
33'   Well, well. Marcelino can barely contain his glee after that and we imagine if Diego Simeone is watching he's rather enjoying this as well. 
32' Gooooooooooooooool! Parejo hammers it to Ter Stegen's right and the Barça keeper is getting nowhere near that. A perfect penalty and it's now Valencia 2, Barcelona 0. 
31' Pretty hard to argue with that, although Roberto does anyway.  And he's in the book. Parejo readying to take... 
30'   Penalty! Sergi Roberto floors Wass and the ref has no hesitation! 
29'   Piqué injury looks pretty nasty and Gameiro has a huge bump on the side of his face. 
27'   Suárez almost drives his way through but Valencia manage to bundle him off the ball. Gameiro and Piqué are both dowen at the other end after seeming to clash heads in an aerial challenge. The Barça defender is bleeding and will require treatement on that. 
25'   Neto! What a save! Messi cuts the ball back and it clips a defender and is heading in until the Valencia keeper prevents it with a glorious reflex save. 
23'   Parejo wins the ball at the back and Valencia break at lightning speed, Rodrigo charging upfield and feeding his strike partner, who made no mistake from just inside the area. What a fantastic strike and now we have a game! 
  Gooooooooooool! What a cracking goal! Gameiro! Valencia take the lead! 
21'   Valencia's two perfect lines of four holding firm so far. Messi tries to play Vidal in but the Chilean trips over his own feet. 
20'   Gameiro almost gets his first sniff of the ball in the danger area but it's touched back to Ter Stegen, who wallops it upfield. None of that fancy playing it out from the back from the German there. 
18'   It's all Barça at the moment, even Vermaelen fancies it and tries, we think at least, a shot from about 40 yards out with predictable results. 
16'   Neto! What a fine intervention! Sergi Roberto was looking for Suárez at the far post and the Valencia keeper read it like a Mr Men book, touching the ball over the bar to deny Barça. 
15'   Suárez! The Uruguayan almost catches Neto out with a deft lob but it's hoofed clear off the line. 
14'   Coutinho! What a crack! Equally decent save from Neto, who managed to parry it to safety. 
13'   Aleñá plays Semedo in but this time the full back miscontrols and Valencia clear. The visitors are sitting very deep at the moment, looking for an opoprtunity to break. Barça enjoying most of the ball. 
11'   Messi's honing his sights and has a go from the edge of the area but it's wide of Neto's far post. 
10'   Nope, nada. It's a corner. There was a suspicion it had hit Gabriel's arm but the ref says no dice. 
9'   Semedo! The full back skips into the area and unleashes a shot that's deflected out by Gabriel. VAR getting involved.... 
8'   Goodness... Dani Parejo won't want to watch that one on the highlights reel. Daniel Wass does brilliantly to nick the ball from Sergi Roberto and tees up his skipper, but Parejo puts it into the third tier. 
7'   Messi takes, it's on target but there's not much fizz on it and Neto gets across to make a comfortable save. 
6'   Free kick to Barça in Messi range after Aleñá is chopped down by Cheryshev. 
5'   A frantic start to the game but Barça are settling into possession now, Valencia happy enough to sit back and let them try it on. 
4'   Barça break immediately after the post saves the day but Messi, unusually, gets the ball tangled up in his feet and Valencia are able to hound him off the ball. 
3'   Off the woodwork! Valencia rattle the post! Parejo again has a go and Ter Stegen can only parry it into the path of Cheryshev, who cracks a shot against the foot of Ter Stegen's far stick. 
2'   Early pressure from Valencia, Piqué tries to clear but it ricochets into the area and eventually falls for Parejo, who has a pop but it's no problem for Ter Stegen. 
1'   And we're off! Valencia get the ball rolling. 
Valencia lining up in a good old 4-4-2 with the pace of Lato and Cheryshev on the left something Barça will need to keep an eye on. 
The players are in the tunnel and we're about to get underway... 
Valencia, meanwhile, have moved up to eighth in the table (after Sociedad's win earlier today) after winning their last two against Celta and Villarreal. That has steadied the ship somewhat after Marcelino's job was reportedly briefly on the line but it's worth noting both those sides are in the relegation zone. A result today would certainly be tonic for the diminutive schemer. Barça have lost twice this season, to Leganés and Betis, so there is a chink in the claret and blue armour.  
That eight-game sequence of victories includes a 5-0 and a 4-0, and the league leaders have only conceded twice since the last time they dropped points in the 1-1 draw with Atlético. 
Valencia's defence will be up against it today... Barça have scored two or more goals in each of their last eight Liga fixtures. 
Barcelona will be seeking to extend their advantage over Atlético at the top of the table with Diego Simeone's men in action on Sunday while Marcelino will be hoping his side can continue their recent upturn in form with a first win at Camp Nou in three years. 
Hello and welcome to AS English's live coverage of Barcelona vs Valencia from Camp Nou. Kick-off is at 18:30 CET.