Juventus 3-3 Parma: Gervinho grabs late equaliser in Turin
A brace from Cristiano Ronaldo was not enough to help the league leaders to another three points but the unbeaten run remains intact.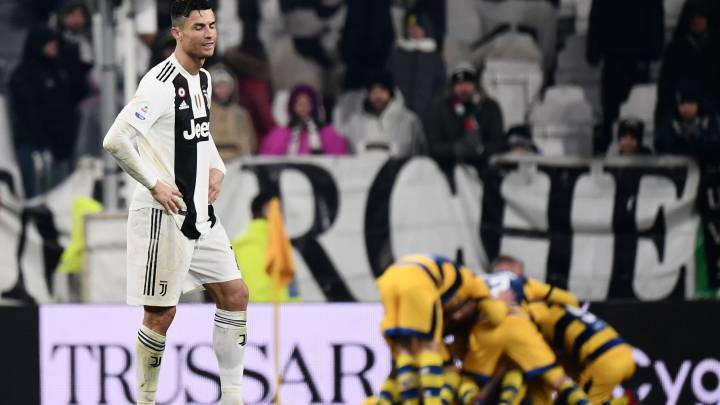 Juventus vs Parma: how it happened
FT: Juventus 3-3 Parma | A stunning end to the game and both teams leave the park with another point in the bag. Juve will be disappointed to have conceded so late but maintain their unbeaten season run. Parma celebrate like it was a win.
90'+4' Peep, peep, peeeeeeeeep! The final whistle blows.
90'+4'   One final chance as Parma give the ball away in their own half, it's played into the feet of Ronaldo, who shifts it onto his left peg and strikes goalwards. Well wide. That should be that.
Juventus 3-3 Parma | Gervinho is alone in the penalty box and puts his foot through the cutback from Inglese. Perin gets a hand to it but can't keep it out. Wow!
90'+3' Gooooooaaaaaaaaallll!!! Gervinho
90'+1'   The ball is hit long towards Cristiano on the left side of the area. His first-time control is sumptuous and then he lays off to Pjanic with a no-look pass. I suppose you can do that in added time, no?
90'   We'll be having another 4 minutes here. Can Parma nick an equaliser?
89'   Dangerous corner from Pjanic (he's fed them into the area well today) causes some discomfort for Parma's defence but as the ball is knocked high into the air Sepe comes and gathers.
87' Emre Can on now, Bernardeschi trotts of ...
86' Sprocati is brought on to replace Kucka 
84'   Gervinho tries to create something down the left, then it is worked back inside. The second Parma wave finds Inglese inside the Juve area and his smart shot is wide of the near post.
82'   A clumsy foul gives Juve a free-kick that someone in particular may fancy a wild swing at. In the end the home side knock it short and work down the clock a little more.
81'   Juve starting to stretch the play, trying to see out as much of the remaining time in possession.
79' Bentancur is the chosen one for Allegri with surprisingly active goal-threat Khedira making way.
76' Stulac on for Scozzarella as Parma chase an equaliser.
Juventus 3-2 Parma | The Ivorian makes the run to the front post and neatly flicks home the low cross from a very effective new signing Kucka. Game on!
74'   Goooaaaaaallll!! Gervinho
73'   Bernardeschi down for a couple of minutes getting treatment but we're back underway again.
70'   CLOSE! First Kucka has a run at goal and then Inglese gets on the end of a move and fires a shot just wide of Perin's far post. Open game, you could say.
Juventus 3-1 Parma | Cristiano is not wanting this game being at risk so sprints into the Parma area and finishes off a Mandzukic cross sweetly.
66' WTF? Another gooooaaaaaalll!! Cristiano
Juventus 2-1 Parma | A beautiful cross from Kucka is met by the run of Barilla who guides it past Perin into the corner. That's how to head a ball.
65'   Goooooaaaaaaaaallll!!! Parma are immediately back in this. Barilla with the finish.
 Juventus 2-0 Parma | The defender is forward for the corner and as the secondary play develops, the ball is lifted to the back post. Ronaldo knocks it down and Rugani fires home on the volley. Is that that?
Goooooaaaaaalll!! Rugani
60'   SAVE!! Khedira is getting the most chances in this game. This time the ball is rolled to him just outside the Parma area and he places a firm right foot through it. Sepe does really well to dive to his left and push the ball to safety.
58'   CLANG!! Khedira again hits the upright. Good build up from Matuidi works the ball out to Cristiano on the left. His chip to the back post is met perfectly by his former Madrid teammate. So close!
57' Change here for Parma: Siligardi on for Biabiany
55'   Scozzarella takes a short corner and then Juve sort things out. This could be an important spell for Parma.
54'   A little pressure here from the visitors and Gervinho tries to dance his way through a crowd of players on the byline. He was never going to make it through but emerges with a corner.
53'   Bruno Alves tries his luck from distance and it's a fine effort, but just over the bar.
50'   Another shot from the edge of the area from Cristiano but it flies high over the bar.
48'   Chance there for Parma as Gervinho runs into space on the left but his teammate can't pick him out. He may blame the conditions, or possibly admit to be a rubbish effort given his only job is to be able to do at least the simply things in a game of football. Gervinho does manage to recover the ball and then is closed down by black and white shirts.
46'   First chance falls to Juve's number seven. Just as he's about to pull the trigger and he's dispossessed.
A pink shirted man blows his whistle and the second half commences.
Interestingly, as some of the Juve lads trott out, Ronaldo is having some serious words. "Get the ball to me at every opportunity," he may have demanded.
Right, oranges sucked, manager pep talks complete, and the players are heading back out onto the field.
So, Cristiano has some people questioning his value to the team (although that's more about the Champions League) and he opens the scoring. Real Madrid fans will have seen that situation play out before.
HT: Juventus 1-0 Parma | The visitors will be pleased to get in for their oranges just a goal down. Juve have had enough chances to have made the second 45 much more comfortable, and they could have kept that late penalty award, but the conditions could be blamed for a lack of creativity from the Old Lady.
45'+2' Half-time whistle blows.
45'+2'   CLOSE! Final chance of the half falls to Cristiano but his shot skids just a couple of inches wide of the far post.
NO PEN! The ref wisely corrects his original decision after seeing the replay. How VAR is meant to help the game.
45'   PENALTY!! Iacoponi is judged to have pulled down the Juve man. But we're going to VAR...
44'   Corner to Juve swung in by Pjanic from the left. Danger cleared. Another corner coming.
42'   More danger for Sepe. Mandzukic controlling and controls and gets a tidy strike away which is well saved by the Parma stopper.
39'   Juve smell blood. Sepe has to gather from a shot from distance and then Costa whips in a useful looking cross from the right which had to be dealt with. Could be a tough five minutes for the visitors before the break.
Juventus 1-0 Parma | The Portuguese forward takes possession of the ball once again in the inside left channel, cuts inside to create space and while slipping gets a shot away. It takes a handy deflection off the closest defender's foot and nestles in the far side of Sepe's net.
34'   CLANG!!! Khedira's shooting getting better. He collects a pass from the right inside the Parma area, shift the ball onto his left foot and tries to pick his spot. Sepe relieved to see it come back out off the inside of the post.
32'   Twice Ronaldo gets into a position deep on the left and chips a ball across goal. Parma defenders doing really well to get their heads to it first.
29'   It's Pjanic with a chance from the free-kick just outside the area (you could say in 'Cristiano territory') and...the Bosnian hits it into the wall. No comparisons being made by this live feeder!
28' Scozzarella now into the book. It looked like a rather firm block from the midfielder, and an easy decision for Piero Giacomelli.
27'   After some attention for Khedira the play returns and Cancelo plays a dangerous ball across the Parma goal. A couple of chances fall to Juve players but the visitors are working hard to get the blocks in and eventually clear their lines. 
25' OUCHIE! Khedira gets a late set of studs embossed onto his ankle.  Barilla goes into the book.
23'   A flick on at the front post lifts the ball high to the back where it is cleared away. Parma at least getting a little more play away from their own goal.
21'   The corner is met by Gagliolo under pressure from Mandzukic. The ref spots a nick off the Croatian and it's another corner.
20'   SAVE! Kucka again tries his luck from distance (not the worst idea in the rain!) and Perin punches it away for a corner. Cracking strike and well dealt with.
18'   It's been a period of control from the league leaders, with Parma defending deep and hoping to hit on the break. The play around the edge of their area hasn't been too creative as yet.
14'  SAVE! Sepe has to deal with a cleanly hit shot from Cristiano, who cut in from the left. The wet conditions made up the mind of the keeper who chooses to push it away. 
14'   Khedira overlapping gets himself into the penalty area and Cancelo dinks a delicious chip into his path. The first-time volley seemed the best option but the German international chose to control it, allowing the defender to close down the space and block.
12'   Cancelo always looking busy and creates space for himself on the right to deliver a cross. It's well cleared.
10'   Nice play from Costa opens up space inside the area for Khedira. He can cross to a teammate, or shoot towards Sepe, or, ahem, do that. The less said about it the better, as his effort flies wide.
9'   Juventus have had a few opportunities to do something from wide of the Parma penalty box and instead of trying inventiveness have floated a hopeful ball into the danger area. None yet have looked to cause much of that percieved danger.
6'   The corner is swung in by Scozzarella but Iacoponi can't make enough of the header. Positive start from Parma.
5'   Great break from Parma gets the away fans excited. Gervinho skips passed two Juve players inside his own half and scampers forward at pace. Inglese makes a useful run in front of him but the former Arsenal man chooses to go alone and gets snuffed out on the edge of the area. The ball does break to Scozzarella who hits it from distance and the deflection means we'll have a corner.
3'   The first shot comes from the visitors. New boy Kucka strikes from outside the area through a crowd of bodies but it's not much of a challenge for Perin who gathers with ease.
2'   Juve immediately go long, hitting the left wing and hoping to get Cristiano on the ball early doors. Parma do well to cut any danger and move forward down their right.
The hosts get us underway, shooting from left to right from our vantage point.
Juventus will be in their striking white and black with Parma in their yellow and blue number. Both have been completely outdone in the clothing stakes by the officials, who have gone with bright pink. Ouch!
The teams are out on the pitch now and the Serie A tune about to blast out in the rain.
In reference to the famed Juventus backline of Bonucci, Barzagli and Chiellini - the BBC - this is incredibly the first game since March 2012 where not one of them will be playing. 
A couple of interesting picks from Allegri. Perin comes in to replace Szczesny in goal (live feeders the world over breath a sigh of relief!) and Khedira, Mandzukic and Pjanic all return to the starting line-up after injury. The manager will be conscious that Parma have a good away record but also that there should be plenty of opportunities for goals.
Well, we can now confirm the starting line-ups. First up, the hosts...
Parma turn up with a relatively impressive first half of the season already under their belt. Sitting in mid-table but knowing that a run of wins could push them to challenge for a Europa League place, they are unlikely to sit back tonight, especially given what happened on Wednesday night.
La Vecchia Signora appear to be romping their way to yet another Italian title and at home boast an unbeaten record of ten wins and one draw. They will look to keep the run going, ensuring they keep their comfort zone at the top of the table, potentially allowing Allegri to rest stars around Champions League games.
Hello and welcome to our live Serie A action as Juventus welcome Parma to their Turin fortress. All the build up, team news and latest mutterings coming right up...
Juventus vs Parma: match preview
Another home game in Serie A for Massimiliano Allegri's side. That will be another three points in the bag then to add to their tally as they stroll to retaining their title once again. Well, that's certainly what most people are thinking. Could visitors Parma have a shock lined up for us? Those that want them to cause an upset in Turin can look to Atalanta's performance in the Coppa Italia. They may also cling to the fact that talisman Cristiano Ronaldo is being questioned for the first time since joining his new club. It should be fun to watch how it all transpires on the pitch.
Juventus team news
Forget the question marks that have been raised recently about Cristiano's home scoring form, Massimiliano Allegri will likely be more concerned about his defensive situation. Andrea Barzagli, Giorgio Chiellini and Leonardo Bonucci are all injured and there is no Medhi Benatia to call upon, after he left for Al-Duhail in the recently closed transfer window. Positive news, however, comes in the form of those returning from injury. Khedira, Mandzukic and Pjanic were substitutes in the Coppa loss and should be in line for pitchtime at some point. Martin Caceres, who came in on loan from Lazio in January, will be ready to take his place.
Juventus predicted XI: Szczesny; Cancelo, Rugani, Caceres, Sandro; Can, Bentancur, Matuidi; Dybala, Cristiano, Costa
Parma team news
Roberto D'Aversa should have the pick of his squad for tonight's huge test, although both Grassi and Rigoni are doubtful due to knocks. The new boy from Trabzonspor, Juraj Kucka, should get another start while Roberto Inglese will aim to add to his two goals against SPAL last time out.
Parma predicted XI: Sepe; Iacoponi, Alves, Bastoni, Gagliolo; Barilla, Scozzarella, Kucka; Gervinho, Inglese, Biabiany