Real Madrid missing Marco Asensio the goalscorer
The Mallorcan has a chance to silence his critics and refind his scoring form that had everyone singing his praises, as Madrid enter a frenzied February.
Marco Asensio returns to the scene just when he could be most needed. Real Madrid face a February that includes big challenges on all fronts: LaLiga, the Champions League, and the Copa del Rey. Santiago Solari will have to draw upon all his players, including the Mallorcan, who on Thursday against Girona enjoyed his first minutes following eight games out.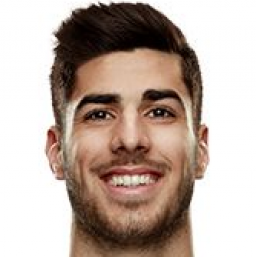 Rediscovering Asensio
Asensio was hit with an injury in the penultimate game of 2018, against Kashima in the semi-final of the Club World Cup, and he has therefore not been part of this reinvigorated Madrid side that has found its best performances of the season in January. Now he must rediscover himself and unleash the attacking threat that lit up his first season with Los Blancos. At the Santiago Bernabéu they see him like a new signing.
This campaign, already his third with Madrid, was expected to be the one where Asensio shone. Cristiano Ronaldo had gone and the stage was set for a new protagonist. But, so far at least, it hasn't worked out that way. The 23-year old began the season as an indisputable starter for then-manager Julen Lopetegui. He played an hour of the European Super cup and then played in the first seven league games. It was in that run that he scored his only important goal to date, giving his side all three points against Espanyol. That, though, was the day that he seemed to lose his goalscoring sense. His other three goals were of lesser merit, against Melilla, in the Copa del Rey Round of 32. Under new manager Santiago Solari he has been counted on less, a large part of this due to the injury, seeing only 30% of the minutes played, compared to the 63% for Lopetegui.
Asensio departs the treatment room with Madrid in their best form of the season. And, while it is always good to be part of a winning team, there is a downside. It is harder to get your place back in the XI. Vinicius, the great revelation, and Lucas Vázquez, the player with the fourth most minutes in the Solari era, are ahead of him. As is Gareth Bale, a non-negotiable since his 2014 arrival. And then, of course, there is Karim Benzema, the player getting a lot of the plaudits over recent weeks.
Despite the competition for these attacking positions, however, Madrid's current situation should open the door for Asensio to prove his own value to the side. With seven games in February there will be minutes handed out to the entire supporting cast. Marco knows that he has to rediscover that scintillating form that had many experts in the game tauting him as a superstar in the making, and that must include goals.
Reversing the trend
Scoring goals is clearly not the principle role for Asensio at Madrid, but his dwindling numbers this season have pointed to an area that he needs to improve on. This campaign he has scored 4 goals in 26 games across all competitions, which averages out at 0.15 per game, a gap of 376 minutes between goals. Last season, 2017/18, his scoring rate was 0.20 per game (260 minutes required), and the year before, his best in terms of numbers, saw him need only 191 minutes to make his mark.
That year, saw important goals come his way too. The Spanish Super Cup, LaLiga, Champions League and Copa del Rey all had his name etched in them. He scored against Bayern Munich in the quarter-finals and Juventus in the final, helping Madrid to their twelfth European glory. The Clásico matches against Barcelona could throw up more headline-grabbing opportunities.
Now it's time to reverse the scoring trend. Asensio has time to get back to his best, and then move way beyond it. His talent has never been questioned, and if the goals - spectacular or not - can be found once more, the Bernabéu will be chanting his name once again.