Clásico: Real Madrid's Vinicius watched by Brazil in Copa tie
With a first call-up in the offing, Brazil coach Tite sent Sylvinho to the Camp Nou to run the rule over the 18-year-old, who had a decent first Clásico.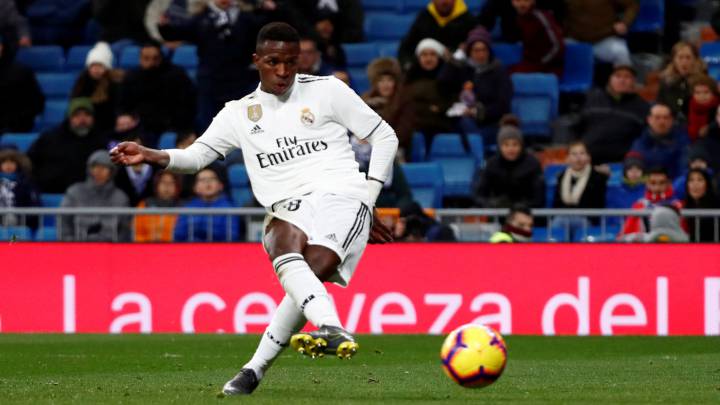 Real Madrid's Vinicius had two sources of pressure on him in tonight's Copa del Rey clash against Barcelona: not only did the Brazilian face the challenge of playing in his first Clásico, but he took to the field in the knowledge that a representative of his national team - reportedly assistant coach Sylvinho - was watching on from the stands at the Camp Nou.
Vinicius among stars Brazil staff are in Europe to watch
Sylvinho is part of a four-man team Brazil boss Tite has sent on a fact-finding mission to Europe to run the rule over several current or potential internationals, including Vinicius. It was the first time that a member of the Seleção's coaching staff has travelled to see the 18-year-old in action for Madrid since his summer move to the Spanish capital.
In the wake of Vinicius' impressive form for Madrid since breaking into the side under Santiago Solari, Tite has made no secret of his interest in calling up the forward as Brazil prepare to host the Copa América this summer. "It is a time of transition and opportunity as well," he told reporters two weeks ago, adding: "Vinicius is among those who may have an opportunity."
Vinicius had a decent game, constantly causing problems for Barcelona down the left and looking to create danger. The one downside for him was some poor decision-making, coupled with several poor final balls, when Madrid were in good positions.
Friendly in Czech Republic up next for Brazilians
Brazil's next game is a friendly against the Czech Republic in Prague on 26 March, and it is shaping up as a trip that could well see Vinicius - who has so far won four caps at under-20 level - join Madrid team-mates Marcelo and Casemiro in the seniors.



Copa del Rey
*Update 6 de febrero de 2019