Juventus: several issues to resolve before Atlético clash
Coach Massimiliano Allegri has a number of issues to iron out after Juventus' worst week of their season and with just two weeks until they meet Atlético in the Champions League.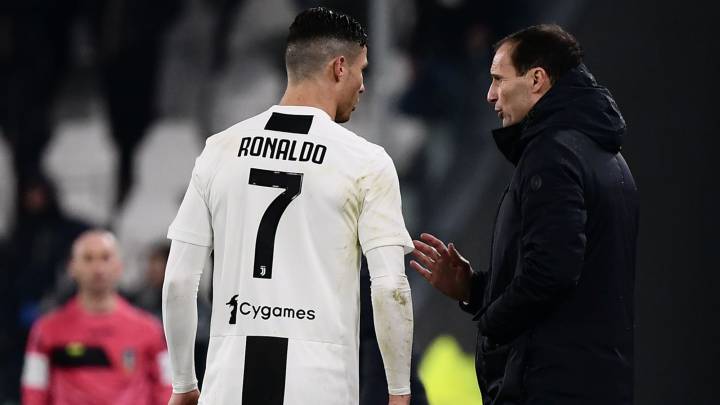 Following their 3-0 loss to Atlanta in the Coppa Italia and 3-3 home draw to Parma, it is safe to say that Juventus have had the most difficult week of their season, following a stellar run of results up until then. And coach Massimiliano Allegri has been left with several issues to resolve before his side travel to Atlético Madrid for the crucial last 16 tie of the Champions League in just two weeks' time.
The first issue is at the back, where his two pillars in central defence, Leonardo Bonucci and Giorgio Chiellini are currently side-lined through injury. Bonucci injured his ankle against Lazio on 27 January, while Chiellini has been out of action since 31 January.
The return of these stalwarts will be crucial for the clash with Atlético, particularly considering that another of Allegri's centre backs, Andrea Barzagli, has also been unavailable since the start of December and whose return date is still unknown.
Currently the Juve coach has only two fit central defenders in his squad: 24-year-old Daniele Rugani, who has played just 10 games so far this season, and Uruguayan Martín Cáceres, who was brought in in January from Lazio to cover the departure of Medhi Benatia for Qatari club Al Duhail. Both Rugani and Cáceres played in in the 3-3 draw with Parma last weekend, and Juve's lacklustre concession of three goals clearly indicated how much they need Chiellini and Bonucci to be fit for the clash with Griezmann and Co.
According to Italian daily Corriere dello Sport, Juve are satisfied with the recovery of both players and are optimistic that they will be available for the trip to Madrid in two weeks.
Dybala
While the arrival of Cristiano Ronaldo to the Juventus Stadium has no doubt been a major boost for The Old Lady, it has also prompted a redefining of roles for other players, who have had to share out game time between them to accommodate the Portuguese talisman. And one of those mainly affected by Ronaldo's arrival has been Paulo Dybala.
The Argentine striker is not enjoying his best moments at the Turin club and even less still with coach Allegri. In the last game against Parma, Dybala was assigned to the bench. And once he knew we would not be used as one of Allegri's three substitutes in the game, he stormed off to the dressing room before the match had ended – a gesture not appreciated by the club or Allegri and which made clear the Argentine's discontent.
While the Italian press have been toying with the idea of James Rodriguez as a replacement for Dybala, Allegri must decide who will partner Ronaldo for the Champions League tie. The Argentine has a good record in Europe this season with five goals in five games, but he has been off colour in Serie A, scoring just two goals in 19 matches.
The midfield: a key battle where Allegri has few options
Control of the midfield will be key in the Atlético-Juve clash and, as such, Diego Simeone is not ruling out starting with four pure central midfielders.
With Juventus having few alternatives, Allegri is not expected to change from his 4-3-3 and it seems that he will depend on physicality, with Matudi, Khedira and Pjanic in the centre.
Matudi and Khedira will try to be physically imposing in the middle, while Pjanic will be tasked with offering creativity. There is also the possibility of Allegri using Rodrigo Betancur, who has gained prominence in the starting eleven in recent weeks due to injuries.
In attack, everything depends on the position of Ronaldo, who could be joined by Mandzukic or Dybala in the centre or by natural wide players like Douglas Costa or Bernardeschi.
Before Atlético Madrid, Juventus have two relatively comfortable Serie A fixtures against Sassuolo (10 February 10) and Frosinone (15 February), giving them a chance to put things right after the worst week of their season, which saw them eliminated from the Coppa by Atlanta and tie by three goals with Parma at home. Allegri has two crucial weeks to do his homework.