Real Madrid raid the Wanda
Madrid moved ahead of Atlético after winning five in a row for the first time in 18 months while condemning the hosts to a second straight defeat.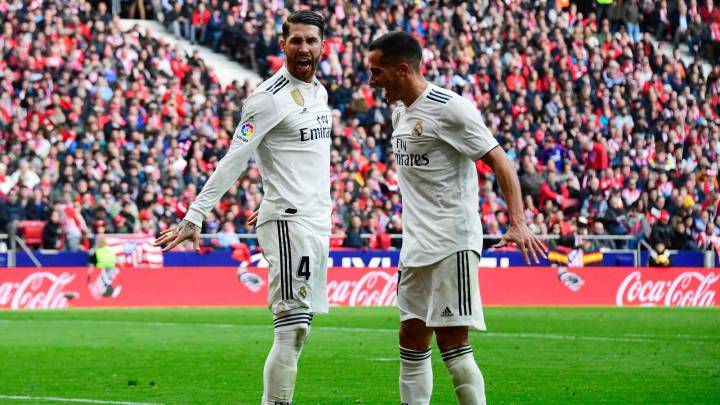 Real Madrid beat city rivals Atlético 3-1 on Saturday to move up to second in LaLiga and within five points of leaders Barcelona in a game marked by VAR interventions and a paucity of accuracy by both sides.
A total of six shots on target tells one half of the story, with Atlético's 28 tackles and Real's 20 turnovers providing the rest. A scrappy affair eventually, and overall deservedly, went Madrid's way but the television dissection over the next few days will centre on Real's second when Vinicius appeared to be felled outside the area before Sergio Ramos hammered in a penalty to make it 2-1.
Casemiro opened the scoring with an overhead from Toni Kroos' corner, Atlético's defence drawn to Ramos like so many moths to a flame. Antoine Griezmann then equalised, Real contesting the goal on the grounds that Ángel Correa had committed a foul in the build-up, but VAR favoured the home side.
VAR has a busy day in the Metropolitano
Twice the eye in the sky would make decisive calls, first for the Vinicius penalty and then denying Álvaro Morata a second equaliser when the former Real forward broke from midfield and expertly chipped Thibaut Courtois. Whether the Spain striker was offside or not will be the game's second main point of contention.
What cannot be denied is Real's supremacy from that point on. Santiago Solari's substitutions served to improve his side while Diego Simeone's seemed to disjoint his, the attacking verve of Correa being sacrificed for an attempt to wrest control of the midfield.
Gareth Bale, on for Vinicius, completed the smash-and-grab with a trademark goal towards the end, running onto a Luka Modric pass and threading a shot between the outstretched glove of Oblak and the far post.
That completed a fifth consecutive Liga victory for Madrid – the first time in 18 months such rude form has been achieved and enough to take Real from fifth to second – and condemned Atlético to a second straight defeat for the first time since November 2016: not a seismic shift in capital city ascendancy, but a potentially fateful blow to Simeone's chances of lifting the title this season.
Atlético Madrid vs Real Madrid: as it happened
90'+3' And that's that! Atlético beaten 3-1, two consecutive defeats meaning they surrender second place in LaLiga to Real Madrid. 
90'+2'   Mariano fancies getting in on the act but he's knocked off the ball as he tries to break through. 
90'+2'   We enter the last minute in the Metropolitano. Real oléing Atleti like a wounded bull. It's been a deserved victory overall, but there will be planty of debate about that Vinicius penalty. 
90'+1'   Real playing to run the clock down now. Atlético have more or less given up the ghost. 
90'   Three minutes added. 
88' Benzema off, Mariano on. 
87'   Bale again! A back pass to Oblak goes horribly wrong and the Welshman turns on the after burners to get to the ball on the byline before Atlético can react. He then... shoots? Crosses? It looked like he was trying to curl it in with the outside of his boot but he then gestures to Modric that he was aiming for his run. Jury out. Ball out.  
86'   Bale! What a chance! Real have a three-on-one and Benzema sends a perfect cross the Welshman's way but he heads just over the bar with only Oblak to beat! 
85'   Saúl's cross rather sums up the mood in the Metropolitano... straight out on the far side. 
84'   Vitolo! It's a half chance, but the Spain international snaps at a shot in the area, unmarked and under no pressure, and sends it into the stands. 
83' Kroos heading off now, Dani Ceballos on for the final few moments. Real have a Champions League game against Ajax next week of course. 
82'   Chelsea, Sevilla, Espanyol, Real Madrid.... if the score remains the same today, that is a complete and exhaustive list of sides to have won in the Metropolitano. 
81'   Plenty of Atlético fans streaming out now. Real in more or less complete control. 
79' Thomas is off! The Ghana midfielder gets his marching orders for hacking Kroos! Atlético down to 10 men, 3-1 down, 10 minutes left....
76'   Rodri! Griezmann takes and the Spain international meets it with a thumping header but it's over the bar. 
76'   Corner to Atlético.... 
75'   It's a long way back for Atlético now... 
74'   Out of nowhere really, Real pick Atlético apart with three passes and Bale hammers a left-footer past Oblak. Benzema pulled the defence out of the way there and Bale took full advantage. 
73' Gooooooooooooooool! Bale! 
72'   Carvajal manages to ping a cross in after good work from Lucas but Benzema can't keep his header down. 
71' The ref might as well just keep his yellow in his hand... Saúl into the naughty book now for a foul on, who else? Reguilón, who in one afternoon has probably become the most-fouled player in LaLiga this season. 
70' Atlético have creeped ahead of Madrid in the shots stakes now, but remain a goal behind. 20 minutes for Atlético to find an equaliser.  Morata goes off to a fair biut of applause and Kalinic comes on. 
68' Morata goes in the book for shoving Sergio Ramos into the hoardings and the crowd cheer the former Real man's name. 
67'   Not given! Morata did make a bit of a meal out of it, there was barely any contact. 
66'   Atlético appeal for a penalty! Morata goes down under a challenge from Casemiro and it's gone to VAR... 
65' Yet another yellow, this time for Modric as he trips Giménez on the break. It's just one foul after another now. 
64' Rodrigo on for Atlético, Correa off. 
63'   And Reguilón joins the party as he gets his name checked for tripping Griezmann. All a bit scrappy at the moment. 
61' Thomas in the book for taking out Reguilón in mid-air. 
61'   Sergio Ramos fouls. Sergio Ramos denies foul. The world continues on its axis. 
59'   Giménez! The Uruguay defender really caught that one and Courtois makes an excellent save. That was a real stinger. 
58' Lemar going off for Atlético, Vitolo coming on. 
58'   It's dinked in by the German and Morata clears. 
57' Hernández in the book for a chop on Carvajal. Free kick to Madrid on the edge of the area on the right. Kroos over it. 
56' Gareth Bale coming on, Vinicius heading off to some jeers after that penalty decision. Decent game from the youngster though, who saunters off to a chorus of abuse. 
54'   2-1 to Madrid it remains. It was a very, very close call. 
54'   Ruled out! Morata offside, says the eye in the sky. 
53'   And inevitably, here comes the VAR.... hold your horses. 
53'   Giménez releases the former Real man and he lifts a delightful chip over Courtois! 
53' Gooooooooooooool! Morata! 
51'   Griezmann! Correa and Morata combine to tee up the France striker and his shot flashes just wide of Courtois' post. 
50'   Correa fouls Reguilón again as he stops the Real full back from breaking forward. 
49'   Corner to Madrid as Arias slides in to deny Vinicius a crossing chance. Lucas gets on the end of it but sends it into orbit. 
48'   Reguilón is a real handful today and Correa can only stop the Madrid canterano's advance by fouling him. 
47'   And that statement remains intact despite Morata attempting a shot from Griezmann's through-ball. It's skewed into the stands behind the goal. Not the Spain striker's finest effort, that. 
46'   Morata gets a talking to for a clumsy challenge on Carvajal. About the first noteworthy thing the former Real striker has done. 
46'   We're back underway! No changes at half time. 
This is the first time since Atlético moved to the Metropolitano in the summer of 2017 that Simeone's side have conceded two first half goals. 
There have now been more goals in the opening 45 minutes of today's derby than there were in the previous two Liga meetings between the sides put together. 
Only three shots on goal in the first half, and three goals as a result. 
45'+2' And that's it! Half time in the Metropolitano and Real lead 2-1. 
45'+1'   Kroos swings in a free kick and Arias does extremely well to nick it off Benzema's head and guide it out for a throw. 
45'   Two minutes added. 
44'   Atlético's turn to appeal now as Correa goes down under a challenge from Lucas but the winger basically just tripped over the ball there.  
43'   That's taken the wind out of Atlético's sails. There will be controversy - when is there not - as it seemed that Giménez's contact was initiated outside the area, but it's Atlético 1-2 Madrid nonetheless. 
42'   The Real captain hammers the ball to Oblak's right, the keeper goes the right way but can't get a hand on it. 
42'   Gooooooooooooooool! Sergio Ramos! 
42'   It's given! VAR says penalty! 
41'   Looked like it may, just, have been outside the area... VAR getting involved. 
40'   Vinicius is hauled down by Giménez and the ref points to the spot! 
40'   Penalty! Penalty to Madrid! 
40'   Atleti looking to take the tempo out of the game now in the final five minutes, stroking it about and looking to run the clock down towards the half. 
38'   The two Thomases in evidence there. The Ghana midfielder loses the flight of the ball and gifts it to Kroos, then charges across the pitch to nick it back off Vinicius. Fine play from the academy graduate. 
37'   Kroos! The German hits a trademark pass-into-the-net shot, on the bloomin' volley no less, and Oblak is forced into a decent save. 
36'   Hernández does wll to cut out a ball destined for Modric after decent work from carvajal on the right. 
34'   Giménez tries to release Lemar on the left but the Frenchman would have needed Wile E. Coyote style boosters in his boots to get to that. Atlético looking a bit more comfortable on the ball after equalising. 
33'   Reguilón goes on a run and is clattered to the floor in full flight. He can shift a bit, the young full back. 
32'   45 percent possession for Atleti so far. 
32'   It's swung in and Griezmann connects but it's a wild effort and into the second tier. 
31'   Corner to Atletico as Casemiro turns a Correa cross out. The Argentinean has been growing into the game and is Atleti's most dangerous player at the moment. 
30'   Vinicius goes down in the area and there are half-hearted appeals for a penalty but the ref is waving his arms in the "not a chance son" gesture before the Brazilian has even fully turned his head to ask the question. 
29'   Correa! The Argentinean has a crack but blasts it high and none too handsome. Atlético gradually wresting control of the game back from the visitors now.  
28'   Casemiro and Griezmann get into another tangle and the free goes the Frenchman's way. The Metropolitano is bouncing now. 
26'   Griezmann broke from midfield and slipped the ball between Courtois' legs, to the delight of fans behind the Belgian's goal, and there was a suspicion of offside, or the foul by Correa, and that's what the VAR got involved for. 
25' Goooooooooooool! It stands! 1-1
25'   It's gone to VAR.... 
24'   Or maybe not... there appears to have been a foul by Correa on Vinicius in the build-up.... we await the ref's decision. 
24' Goooooooooooooool! Griezmann! 
23'   Four fouls from either side so far and it has been a pretty ill-tempered affair. 
23' Griezmann goes in the book for tripping Casemiro after the Brazilian had beaten him to a 50-50 ball. 
22'   Free kick to Madrid, but it's a long way out and Kroos and Modric have a word. It's taken short and comes to nothing. 
21' And Lucas finds his way into the book now for blocking Hernández as he cleared after a Real break. Excellent work again from Vincius to carve out that chance. The Brazilian is a real thorn in the side for Atleti today. 
20'   Simeone gets a talking to from the ref for his animated touchline complaints. He feels his side are being hard done by here. 
19'   Lucas! Real hit on the break and Vinicius plays an absolute beauty to the Galician with the outside of his boot. Lucas hits it on the volley but it's into Row X. 
18'   Casemiro involved again as he shoves Correa to the floor but the ref's cards stay in his pocket. 
17'   Simeone will not be happy to have conceded at a set piece, that's for sure. The Atleti back four were all shadowing Ramos in the area and Casemiro was unmarked at the back peg. 
16'   That was the first goal Atleti have conceded at home since Barcelona's visit last November. 
16'   Silence descends on the Metropolitano. 
15'   Kroos takes the corner and it finds its way to the Brazilian from a Benzema flick on and Casemiro hits it on the overhead and beats Oblak at his near post! 
15' Goooooooooooooooool! Casemiro! 
14'   Kroos delivers, but it's a bit flat and Atleti clear without too much fuss. Another corner for Madrid, taken short to Modric, and then Kroos, who took the corner, is told to do it again as the ball wasn't on the line. 
13'   Corner to Madrid as Carvajal and Lemar clatter into each other. Fair play to both for getting up again after that, it was a full pelt wallop. 
12'   Correa goes down in agony after a challenge with Vinicius but it really didn't look like the Brazilian did much there. Correa makes bacon and eggs out of it thought and the ref swallows it whole. 
10'   Real have their first sniff of goal and Modric places a lovely header across goal, looking to beat Oblak with guile rather than guns, but it's side of the Slovenian's far stick. Good effort though. 
9'   Thomas! The midfielder drives into the area and hammers a shot wide! Horrible mistake from Vinicius to allow Atleti in there but the Ghana international skewed his effort. 
8'   Real finally manage to get the ball out of their half but Atleti are on it quickly and look to release Morata, who is greeted by the lino's flag flapping in the breeze. 
6'   Atleti are pressing like mad and Carvajal is having real trouble to get out of his right back slot, like a boxer against the ropes. Casemiro wins a thumping challenge in midfield and the Brazilian allow shimself a little smile. He's made for these games really. 
5' Arias goes in the book for a nasty challenge on Reguilón and the Madrid academy graduate has to hobble off temporarily. 
4'   José Giménez is pushing up on the left with Thomas Lemar and Griezmann drifting to that side and Real have no answer to the tactic at the moment. 
3'   Atlético come again and the home side are making all the early running. Casemiro makes a nuisance of himself to the annoyance of Griezmann. The Brazilian pulls his "what, me?" face and the ref waves the Frenchman's protests away again. 
2'   Griezmann pulls the trigger on the first shot of the game, it's wide and the Frenchman claims it hit Kroos and should be a corner. The ref says no dice though and signals a goal kick. 
1'   A dangerous early attack from Atlético and Sergio Reguilón is across sharply to sort it out.  
1' And we're off! 
Well, a minute's applause really, impeccably observed by both sets of fans. 
A minute's silence for former Atleti player Calleja. 
The players are coming out of the tunnel now, the handshakes are underway and we're about to get started! 
Just five minutes to go until kick-off now and the stadium is full to bursting. It's a complete sell-out today and the Atleti fans have unfurled a huge banner across the stands, flags are being waved furiously and the sun is shining. It's a perfect day for a spot of football. 
And Atlético's: Adán, Filipe Luis, Juanfran, Rodrigo, Vitolo, Kalinic, Mollejo. 
Here's Madrid's bench for this afternoon's game: Keylor Navas, Nacho, Mariano, Bale, Marcelo, Asensio, Ceballos.
The flag-waving contingent behind the Atletico goal are already in full flow, plenty of noise and atmosphere already in the Metropolitano. 
Álvaro Morata has yet to score in a Madrid derby. What odds on the former Real forward breaking his duck against his old teammates? 

Benzema stat: the Frenchman has scored three times against Atlético in the league, and all of them have come away from home. 
Other than the usual bragging rights, there is something more tangible on offer this afternoon: second place in LaLiga. Atleti's loss at Betis last weekend has given Madrid the opportunity to get right back in the title mix this afternoon, with Solari's side having been in ninth not long ago. 
Plenty of jeers around the Metropolitano (impressive enough volume considering there are about 16 people in the gournd at the moment) as Real Madrid come out to warm up. 
Pending official confirmation, this is Real's starting line-up: Courtois, Carvajal, Varane, Ramos, Reguilón; Casemiro, Modric, Kroos; Lucas Vázquez, Vinicius, Benzema.
Santiago Solari, of course, is no stranger to the red and white half of the city, but he probably won't be looking forward to a warm reception on his return to his former club after scarpering when Atleti were relegated in 1999-00. His destination? Real Madrid. 

If Atlético win today Simeone will overtake Luis Aragonés as the Atleti coach with the most wins over Real Madrid. If you want all the stats and info then check out Mr Chip's article covering the derby in fine-grained detail.

Four games, four draws, the scorelines: 1-1, 0-0, 1-1, 0-0. Let's hope both sides are in the mood for putting on a bit more of a show this afternoon. 
There's not much between the two sides in the table, with Atlético in second, six points behind leaders Barcelona, and two ahead of Real Madrid. (The full table's here)

Good afternoon from a crisp but brilliantly sunny Madrid, where Atlético Madrid host their city rivals Real Madrid in LaLiga, with kick-off at 16:15.