ATLÉTICO MADRID
Atlético cancel meeting with referee chief over VAR indignation
Atlético Madrid believe they have been let down by VAR on a number of occasions this season and have cancelled a meeting with Velasco Carballo on Tuesday.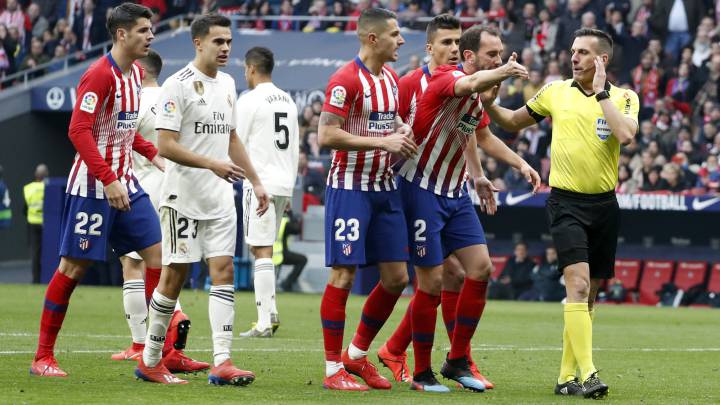 Atlético Madrid's anger over what happened at the Wanda Metropolitano on Saturday during their game against Real Madrid has not subsided. The club believe there were several controversial calls missed by referee Estrada Fernández and Martínez Munuera in the VAR booth.
For this reason, Atlético have cancelled a meeting with Velasco Carballo this Tuesday as they believe it is better to let things cool down before meeting LaLiga's head of referees.
Their discontent comes from earlier in the year during the LaLiga game against Real Madrid at the Santiago Bernabéu. Atlético felt some of the challenges Casemiro was involved in which the referee never even consulted VAR for deserved to be punished. Also, Sergio Ramos was involved in some actions that Atlético feel deemed worthy of a look by VAR. They issued a statement at the time requesting clarification on the use of VAR and Saturday's derby did not help ease their ire.
Atlético's discontent with referee's handling of their games
They even published three photos of controversial moments in the game on Saturday to their Twitter account without comment. The first being Jose Gimenez' penalty on Vinicius, which looked outside the box. The second came when Morata was ruled offside after scoring a leveller in the second half and the third when Morata was hauled down by Casemiro but whislted for a hand ball in the penalty area.
Against Betis, the referee Medié did not consult VAR after Morata was taken down by Feddal and they feel that a meeting with Carballo at this moment is not a very good idea.