10 factors that are making the Solari method a success
The Argentine has dealt with Isco, Marcelo, Bale, Vinicius, Lucas Vazquez and Antonio Pintus perfectly and Real Madrid are responding to his methods.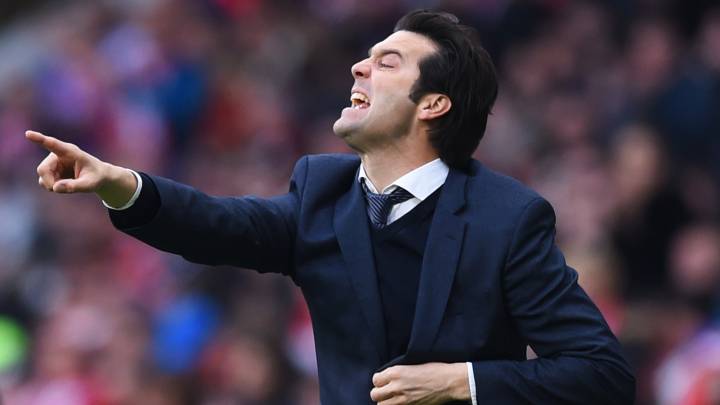 Solari has designed a Real Madrid with its very own stamp on it in the three months he has been in charge. He has won the confidence of the boardroom and the dressing room in his short time at the helm with some difficult decisions being made including turning to Vinicius, dropping Marcelo and Isco. His method is more similar to that of Zinedine Zidane than Julen Lopetegui. Here are 10 points of note regarding Solari and his version of Real Madrid.
Similarity with Zidane
Solari, just like Zidane, landed on the bench from Real Madrid Castilla during a difficult time for the club. Zidane replaced Rafa Benítez and straightened things out while Solari was tasked with filling Lopetegui's shoes. He has been in charge for 25 games with 19 wins, two draws and four defeats while Zidane had 20 wins, three draws and two defeats at the same stage of his spell in charge.

He is not giving up on LaLiga
Real Madrid were ninth when Solari took over and currently reside in second place. He has earned 31 points from 13 games in the league and has the most points per game amongst managers with 2.38. Even Ernesto Valverde can't match that number (2.21) with the league leaders.
The Vinicius Effect
The Brazilian was skipped over by Lopetegui and he only played 12 minutes with the first team along with a number of appearances for Real Madrid Castilla. He is undisputed in Solari's side now and is the 9th most used player by the Argentine. He has accumulated 1,208 minutes under the new manager which is 54% of the total minutes available. With eight goals and 11 assists, it's plain to see why and he was the main man at the Camp Nou and at the Wanda within the space of four days.

Lucas Vázquez
The confidence he has placed in Lucas Vazquez is a message to the dressing room: those who work, will play. The galician took advantage of injuries to Gareth Bale and Marco Asensio and is a starter now on the right of midfield. He only played 33% of the available minutes under Lopetegui but is used 72% of the time under Solari. He is the third most used player in the side since the change of manager.
Plan B
Another similarity between Solari and Zidane is his ability to keep the entire squad plugged in. There have been important players out injured and players who were barely noticed by Lopetegui have been given chances such as Sergio Reguilón and Álvaro Odriozola. That is especially true with Marcos Llorente, who is currently battling the previously ever-present Casemiro for a spot in the starting XI.
Marcelo
The decision to give Reguilón the starting role and to send Marcelo to the bench was not easy. But it worked and it gave Solari a small victory in the dressing room too. It sent a message to the senior members of the squad that if you aren't fit and ready to play, you won't start. Solari, of course, is trying to get Marcelo back to his best because he knows his importance when he is 100% but it failed at the Camp Nou with Malcom putting in a very lively performance. Reguilón returned to the starting line-up for the derby and Marcelo was demoted once again.
Antonio Pintus
Both the dressing room and the board pointed to Oscar Caro, Lopetegui's appointment as the physical trainer, as one of those responsible for the failure of the previous manager. With Solari's arrival, Pintus was put back in charge of physical preperation and Toni Kroos acknowledged Pintus' lack of influence under Lopetegui. "We will fly into February like planes," Real Madrid were assured of their players. The club and players have complete confidence in Pintus, who was key to Zidane's success, and it's not surprise they are regaining their physical form since he took control.
Bale
Vinicius and Lucas Vazquez' fine form have given Solari the luxury of easing Bale back into action and potentially seeing him as a super sub rather than a starter. It's working fine without him so far and he was brought on against Atlético Madrid in the second half, scoring the goal that broke their spirit. It's another decision that has given Solari further weight in the dressing room.
Isco
The attitude of Isco has not been great since Solari arrived. There had been clashes since the first training sessions and the Argentine responded with a heavy hand. He dropped him completely for a Champions League clash and only Vallejo, Mariano and Brahim have played less than the 26-year-old. (Vallejo and Brahim have suffered injury and missed significant time while Brahim just arrived from Manchester City).