"Karim Benzema is the best nine in the world" - Florentino Pérez
The president of Real Madrid spoke about the current team, the youth purchase policy, Ballon d'Or winners, PSG progress and his French striker.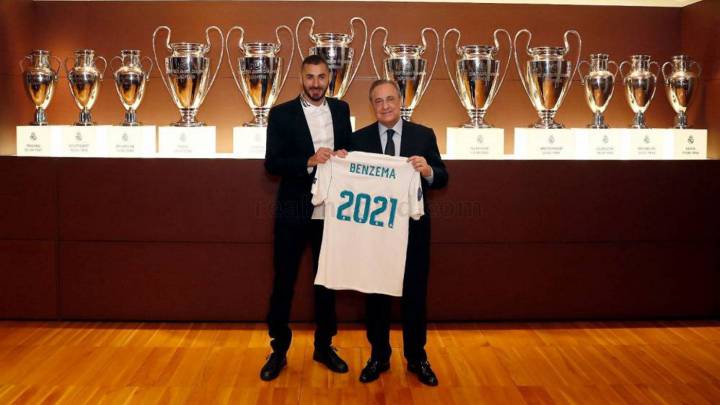 Real Madrid president Florentino Pérez spoke with France Football about the current situation of the club and how strong Los Blancos are, and not needing to spend for the sake of it.
Pérez boasts about his Real Madrid
"Our players have won the last three Ballons d'Or. We have the best squad in the world."
In a particularly bullish interview, the Madrid chief was asked about potentially getting his chequebook out in order to buy a world-class centre-forward.

"We have the best squad in the world and the trophies we've won show that. We will not spend for the sake of spending. For years I have read and heard that Madrid needed to sign a number nine when in reality Karim Benzema is the best centre-forward.
"What we have done is sign up very young players who will be stars of the future, like Vinícius and Rodrygo, the latter of whom was nominated for the Kopa trophy."
Ballon d'Or and PSG
With it being a conversation with France Football, it was inevitable that the topic of the Ballon d'Or would be mentioned. The president was proud in his feelings over the trophy.
"The last three Ballons d'Or have been won by Real Madrid players. We are happy for Modric, for his football, and for what he represents. I am sure that the youngsters who we have at Madrid will be strong candidates for the award."

"Our objective is to be the best. This club must live up to its history. We never give up."
Asked about his relationship with Ligue 1 giants PSG, Pérez was very complimentary.
"It is a great club and a friend of ours, a club that is already part of the footballing elite. We don't need to give them any advice because they have put French football where it deserves to be. Nasser Al Khelaifi has done an excellent job."