Marcelo promised Solari he'd lose three kilos and work harder
Ahead of the Copa del Rey Clásico at the Camp Nou, the manager and player spoke about what was needed for the Brazilian to get his form back.
"He is a great man, he is our vice-captain, an emblem of the club, who always puts Real Madrid ahead of anything else. He happily works every day and we all love him."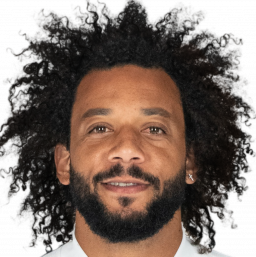 Marcelo commits to changes
These were the words used on Tuesday by Real Madrid manager Santiago Solari in reference to Marcelo, on the eve of the first leg of the Champions League last 16 match against Ajax. This praise contrasts with the curtness with which the Argentine coach talks about Isco, another of his 'victims', about whom he said: "Players have to train 100%."
The difference between one and the other is evident. And it would seem that while Solari is accepting the loss of the Málaga-born midfielder, he believes that the Brazilian is recoverable. Or at least, this is what the full-back wanted to convey.
Before the first leg of the Copa del Rey semi-final against Barcelona at the Camp Nou, the coach and the defender had a conversation. In it, Solari explained the situation to Marcelo and told him what he needed from him to regain his position in the team. He told him that he was really happy with the young pretender Sergio Reguilón, as he was perfectly fulfilling the high-pressing requirement, something Marcelo was struggling to maintain. This argument was backed up with the performance of the Brazilian in that Clásico, with his fitness not being at the optimum.
Solari explains Marcelo concern
It was at that moment, that Marcelo committed to losing three kilograms, modifying his eating habits and working harder to rediscover his previously high level. For anyone looking for signs that the experienced defender was serious about keeping his word, they would have noted that last Sunday he took advantage of the rest day granted the squad to go to Madrid's Valdebebas training ground to work out alone. Time will tell what effect this has.
If it doesn't work out well, Marcelo has accepted he'll go if not wanted.