Real Madrid: Júnior Firpo injuries threaten to scupper interest
Madrid have been tipped to pay his buy-out, but having again been ruled out with a thigh issue, the wing-back's injuries are proving a concern.
Real Betis' Europa League last-32 tie against Rennes last night was less than half an hour old when Júnior Firpo pulled up with a thigh issue and had to be stretchered off at Roazhon Park. The early indications are that the 22-year-old, who had only returned to fitness a few weeks ago, has the same muscle injury that he suffered in mid-December, and can expect to miss at least another month.

Renewed Firpo injury absence a setback for Betis boss Setién...
With the season approaching its business end, it's a major blow for Quique Setién. The Betis coach has no other specialist left wing-backs at his disposal, and will once more be forced to improvise, having in the past drafted in the likes of winger Cristian Tello, right-sided wing-back Francis Guerrero and even midfielder Andrés Guardado, who deputised for Firpo for much of yesterday's 3-3 first-leg draw.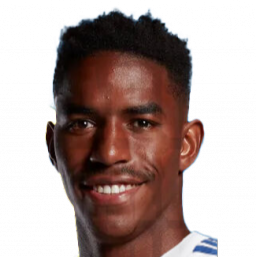 ...and a blow to the club's hopes of attracting big-money buyer
It's also a serious problem for Betis as a club, because the Dominican-born Spain Under-21 international is one of the Andalusians' most sought-after prospects and has been shaping up as a candidate to bring in a hefty transfer fee in the near future. Among the clubs who have been tracking the player - and been tipped to trigger his 50-million-euro release clause - are Real Madrid and Manchester City.
As AS previously revealed, Firpo is very highly rated at the Bernabéu; however, his not infrequent injuries (he has now picked up four of some significance in the past year and a half) could well have a damaging effect on his prospects of pulling on the white shirt. Now into his second lay-off this term, he spent several weeks on the sidelines last season ahead of his first-team debut in February 2018, before also sitting out the closing stages of the campaign with a knee injury.