Solari gives up on Isco as a lost cause
The Argentine coach feels the situation with the player is "irreversible" and has coincided with the explosion of Vinicius and ongoing positive form from Lucas Vázquez.
Since his presentation in November 2018 as Real Madrid head coach, Santiago Solari has managed to deal with all obstacles that have appeared before him apart from one... the ongoing situation involving Isco Alarcon. Things started to turn sour between both individuals at Ipurua with the player apparently making an unpleasant gesture Solari's way upon being substituted in a game which home side Eibar eventually won 3-0. For the next game against Roma in the Champions League, Solari failed to select the player for the squad with Isco forced to watch the action from the stand. This was the tipping point and since then the relationship between coach and player has reached a deadlock with the Argentine coach now realising that the situation is irreversible and doubting that the Benalmadena born player will deliver under his tutelage.
Questions, questions
In every press conference, Solari is faced with a barrage of questions from the media surrounding the player and the coach continues to use an evasive strategy in the hope that that midfielder would offer an olive branch to rectify the situation. For the interests of the club, that situation has failed to materialise and with the unexpected early adaptation to European football for Vinicius and constant solid performances from Lucas Vázquez, Solari finds himself covered despite his wishes that Isco makes a u-turn with the Argentinean also using club captain as a "bridge" to talk to Isco.
The last time Isco publicly alluded to the situation was on February 7 responding to declarations from former Madrid player Rubén de la Red ("Isco should realise that Real Madrid wait for no-one"). The 26-year.old took to Twitter stating "When one fails to enjoy the same opportunity as ones team-mates, then things change...".  Solari's reply to this latest chapter came in his pre-derby press conference claiming that: "A professional football player has to train at 100%".
Solari is aware that as time moves on and his team deliver improved performances, the gap between a return to the starting XI for Isco grows wider. Bad luck has also been a factor in the saga with Isco being forced out recent squad selection process with a back complaint.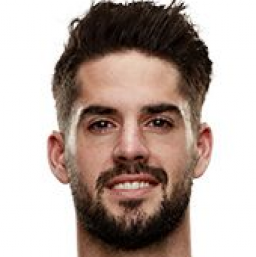 Santiago Solari has used Isco as a starter in just three matches in his time in charge and all games having little at stake: the Copa del Rey return leg against Melilla at the Bernabéu, the 0-3 defeat to CSKA in the Champions League with the side already through to the next stage as group winners and the return leg of the Copa del Rey against Leganés following a comfortable 3-0 win in the first leg.