Wanda Nara in tears on TV over Icardi case, then burns photos
The wife and agent of the Inter Milan star, who has recently been stripped of the captaincy, appeared on the programme Tiki-Taka on Canale5 in Italy.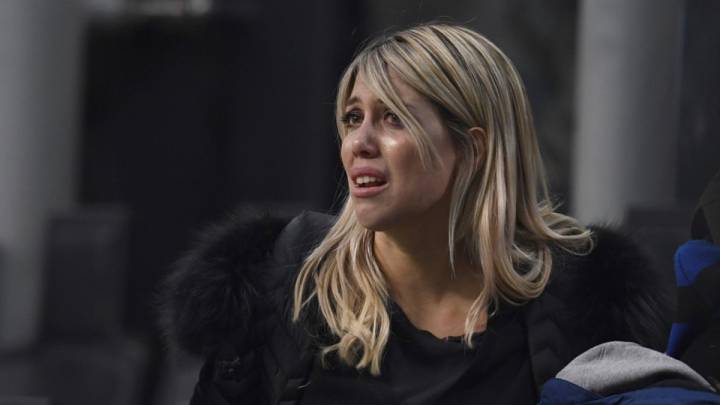 Wanda Nara, the wife and agent of Inter Milan player Mauro Icardi, broke down in tears on television as she spoke about recent developments in the ongoing rift between club and player. Icardi has been stripped of the captaincy amidst an on-going contract renewal dispute and some of the club's fans, in particular groups of ultras have voiced their discontent over the player. As a culmination of this rage, the car driven by Wanda Nara, with one of her children inside, was hit by a rock on Saturday morning as she drove near the San Siro stadium.
Wanda Nara discussed this incident in her appearance on Tiki-Taka on Canale5 before going on to the other parts of the controversy:
"It was eight o'clock in the morning, I was taking one of my kids to his match, and the incident we all know about happened. I didn't want it to get out, but I reported it to the police and it was soon everywhere. When it happened I was in shock, I couldn't drive, Mauro was asleep, I called the Inter Milan bosses and they helped me a lot".
Icardi losing captaincy at Inter Milan
Taking the armband off Maura was like cutting off his leg. He's proud of the Inter shirt, he never thought about money, everyone knows what he earns and if that was what he cared about he would have made different decisions. Being captain was a source of pride for me, it wasn't easy after Zanetti and he did everything possible to honour the role. I never thought what has happened could happen, I'm always in touch with the club's bosses. It was a surprise. I found out about it on Twitter.
Problems with the club's board due to what you've said
The journalists are saying that, but I had a three hour meeting with three very important people at the club and they didn't say absolutely anything about it, not to me or to Mauro. Inter is a family. Mauro has scored 120 goals for the team, he's the club's number one fan and whether he plays or not doesn't change anything for us.
Inter director Marotta on Icardi renewal
I was excited about that, he talked about family and for me that's the truth. I already told you what I did when I had a problem. I called the club. That's how we feel.
Praise from club owner Moratti
I sent a message to Moratti and asked him to help me get Icardi playing. He said: "Of course I'll help given how I know him… Give it time, this should all get fixed".
Icardi leaving in the summer?
Our idea is to stay here, stay at Inter. But some decisions don't depend on us, we'll see. Right now we don't want a renewal.
During the show Inter director Marotta called to talk about the situation and this is what he had to say:
"We want to put an end to this controversy, and calm everyone down, first of all Wanda and Mauro. Taking the captaincy wasn't a punishment. If we're a family, sometimes the parents have to take tough decisions for the children to grow. I explained the decision personally to Mauro, I've seen Wanda crying and I'm sorry. What we did was for the good of Mauro, the club and the fans. I ask you to accept our decision calmly. We took it for certain reasons that we know and which we won't comment on publicly. With Wanda we've got an agreement: we'll present her with our renewal offer and we'll do it soon, no doubt about it. Then they can calmly decide if they accept it or not."
Burning photos
Later on Monday, reports started circulating about Wanda sending a video on her Instagram stories account appearing to be burning photos of her and Mauro.
More drama no doubt not far away...