REAL MADRID - AJAX
UEFA open Madrid doors to Ajax ultras
4,000 Ajax fans will travel to Madrid to watch their side play at the Santiago Bernabéu with many ultras also being allowed to visit for the second leg.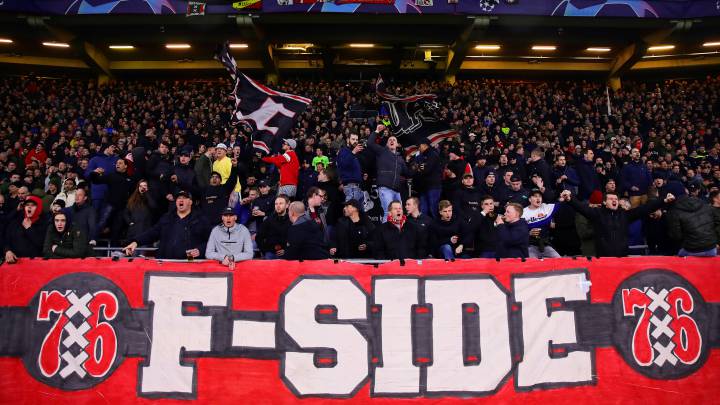 On March 5, 4,000 Ajax fans will travel to the Santiago Bernabéu for the return leg of the Champions League last 16 game and amongst them will be a group of the club's ultras, the F-Side. They are the main group of radical Ajax fans and those responsible for the fireworks outside Real Madrid's hotel in Amsterdam before the first game.
They are allowed entry because, while Ajax are to serve a ban of one game that will see them without their support at an away game, UEFA have postponed that suspension. UEFA will meet on February 28 to decide on their situation but if a decision is made to ban them, it will be too late to affect their plans for the game against Real Madrid.
The F-Side have cost the Dutch side six punishments this season between the Champions League and the Eredivisie with fines amounting to €135,000. UEFA have also opened a case from the first leg with reports of beer glasses being thrown at Karim Benzema after he scored the opening goal.
The same group were in Kiev in the previous round of the competition when a fight broke out in a cafe. That resulted in nine arrests and they were also involved in melees in Portugal when Ajax played Benfica and against AEK Athens. There was €8,000 worth of damage done to Benfica's stadium with another fight that caused significant damage to a hotel in Lisbon. Skirmishes broke out in Greece too with flares let off inside the stadium with Greek riot police being forced to intervene.