"Cristiano has won three, not five, Champions Leagues"
Atlético Madrid president Enrique Cerezo has explained why he believes Ronaldo hasn't won five Champions League titles, but rather three.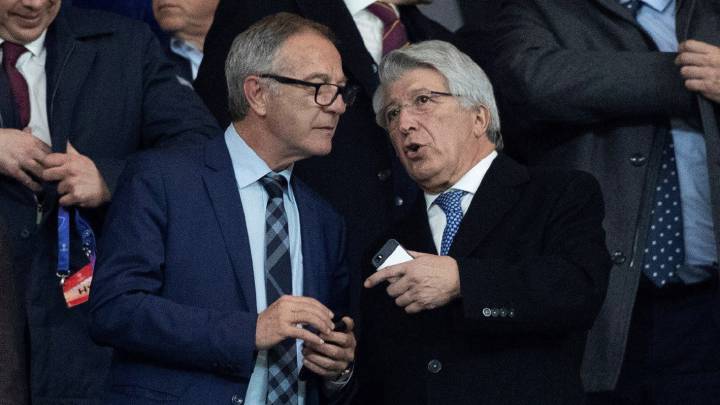 In response to the insulting chants aimed at him by Atlético fans at the Wanda Metropolitano on Wednesday night ("Cristiano, you son of bitch"), Juventus forward Cristiano Ronaldo held up five fingers to signify the five Champions League titles he has won in his career.
Later, while walking through the media mixed zone after the game, Ronaldo again made reference to his titles – putting up five fingers again before making a zero sign.
"I have five Champions Leagues, and these guys (Atlético) zero," he stated, leaving no doubts as to what his gesture signified.
But in response to the Portuguese star's actions at the Wanda, Atlético Madrid president Enrique Cerezo has claimed that Ronaldo has not won five Champions League, but rather three.
In an interview with Italian radio station Radio CRC on Thursday, Cerezo explained: "For me, Cristiano doesn't have five Champions Leagues. He has three and for one very simple reason: Both against Atlético Madrid he didn't win. Who won them? That, we'll talk about in the next interview."
Cerezo on VAR and Simeone's celebration
Also speaking with Radio Kiss Kiss Napoli this Thursday, the Atlético president criticised VAR's performance in the Atléti-Juve game, particularly over the decision to rule out Álvaro Morata's goal in the 70th minute for a perceived push on Juventus defender Giorgio Chiellini.
"It was a clearly legal goal. I think you would have to push much harder to knock over Chiellini. You would need a crane," he said.
Simeone's crotch-grabbing celebration after José Giménez's opening goal for Atlético has drawn much criticism in Italy, but Cerezo defended his Argentine coach, saying it was not meant as an offensive gesture towards Juventus.
"It was a moment of joy," he explained. "I understand the reaction of 'Cholo' (Simeone) who, by the way, was not being offensive towards the Juventini. He was referring to our fans. For Atléti, el Cholismo is everything."