Barcelona begin the difficult search for Luis Suárez's replacement
Bartomeu doesn't want to make the wrong decision. Jovic (Eintracht), Maxi Gómez (Celta) Rodrigo (Valencia), André Silva (Sevilla) and Piatek (AC Milan) in Barça's list.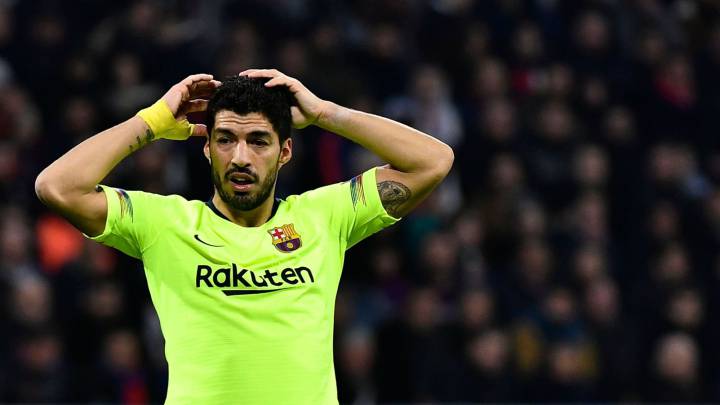 Luis Suárez's failure to find the net against Olympique Lyon on Tuesday has reopened a debate which started several months ago: Barcelona need to start thinking seriously about who will replace him. Now 32 and under contract until 2021, Suárez himself admitted that it is only logical that the club acts now before it's too late.
The debate over who should be brought in to eventually replace Suárez is a delicate theme at Barça - he is not any old player. He's the fifth top goal scorer in the club's history - only Samitier, Kubala, César and Messi have scored more for the blaugranas. His arrival from Liverpool was a risky gamble by Andoni Zubizarreta following the Uruguayan striker's sorry episode at the World Cup finals when he sank his teeth into Chiellini and was subsequently hit with a hefty fine and four month suspension by FIFA. But after that, his performances surpassed all expectations. That, together with his understanding and friendship with Messi earned him a contract extension with Barcelona two years ago. Bartomeu knows that it will be practically impossible to sign a player who can deliver anything remotely close to the figures Suárez has achieved over the past five years.
Candidate list to replace Luis Suárez
9


For the time being, Bartomeu has time on his side. Suárez is under contract until 2021 and despite being in a barren patch, he's still the team's second top scorer this season. Barça feel convinced that he has at least another year left in him at the top level but seeing as his dips in form have become more frequent, they are thinking of signing someone this summer. High profile and costly options like Harry Kane, Romelu Lukaku and Marcus Rashford have been ruled out for being way beyond Barça's budget; Pep Segura, Éric Abidal and Ramón Planes must now settle on the kind of player they are looking for and his characteristics. On Barça's list there are players with contrasting profiles: pure finishers like Maxi Gómez (Celta), Jovic (Eintracht), Piatek (AC Milan); forwards who have more involvement with the team's moves such as André Silva (Sevilla) and versatile all-rounders who are able to switch into different attacking positions but guarantee goals, such as Valencia's Rodrigo.
Economic considerations
Barça, who are also weighing up another highly expensive signing in Matthijs De Ligt, must consider how much they are prepared to spend on a new striker and whether it will be a medium-term or long-term investment. They don't want a player who will spend a year in Luis Suárez's shadow - neither are they willing to break the bank for an experienced player who would be ready to be incorporated into the team right way. For the excellent relationship the Uruguayan has with Messi and Ernesto Valverde, the latter seems an unlikely option. Suárez's performance levels noticeably dip when the team is nearing the end part of the season or when he has to play two, full games in a week - like recently in Barça's trip to the Sánchez Pizjuán and Bernabéu. But even when he's tired, Suárez still has something to give - which is why Barcelona hope to phase him out gradually and find a suitable replacement that can be easily and seamlessly introduced into the team.