Isco: Real Madrid man's falling value a concern for Los Blancos
Transfermarkt.com values the out-of-favour player at 15m euros less than at the start of the season - and his worth is likely to carry on falling.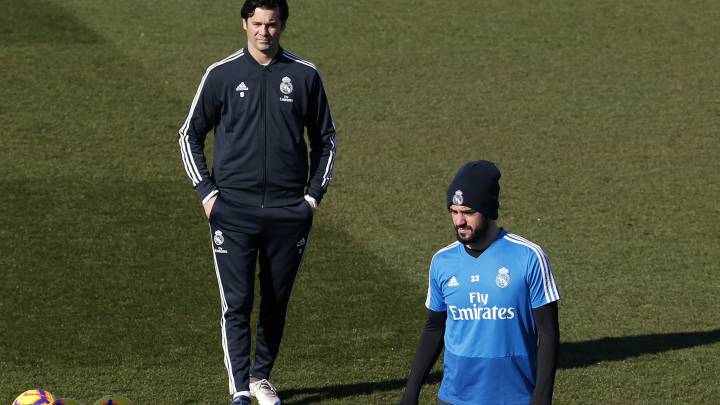 "If we wanted to sign Isco, we'd talk to Real Madrid first," said Barcelona president Josep María Bartomeu when asked about Los Blancos' out-of-favour midfielder recently. A move to Madrid's arch rivals is, in all likelihood, as good as mission impossible; however, there is no shortage of other major European clubs keeping a close eye on his situation, not least Pep Guardiola's Manchester City.
Isco value has dropped by 15 million since start of 2018/19
Whoever Isco's suitors may be, his issues with Madrid head coach Solari, whose stance has the backing of the Bernabéu board, has served to cut 15 million euros off the Spaniard's market value in the space of just a few months. Transfermarkt.com, which uses a series of parameters to set footballers' estimated price tags, valued Isco at 90 million euros at the beginning of the season. Now, says the specialist website, the 26-year-old is worth 75 million.
And given his predicament, that figure is in danger of falling further. Particularly as there are suggestions that Isco - who is currently out with a back injury which, it is thought, may even be related to the stress of his situation - has lost hope of regaining his place under Solari, and has taken his foot off the gas in his attempts to get himself back into favour.
Isco is under contract at Madrid until 2022. Despite his relative youth, he is now in his sixth season at the European champions, who paid 30 million euros to sign him from Málaga in 2013, with the Andalusian one of the first purchases made as part of Florentino Pérez's shift to a transfer policy focused on buying young talent, a strategy that has since seen the likes of Marco Asensio, Dani Ceballos, Vinicius and Rodrygo Goes follow him in joining the LaLiga giants.
Isco hasn't made decision on future, Madrid keen to cash in
He is yet to make any decisions on his future; he plans to wait and see whether Solari is kept on beyond this season. Madrid, on the other hand, appear to be minded to cash in on him in a bid to help fund their close-season pursuit of big-name targets such as Chelsea and Belgium star Eden Hazard.