James Rodríguez wants Real Madrid summer return
A meeting is scheduled to take place between Madrid, Bayern Munich and the player, timing linked to Champions League, to agree Colombian's future.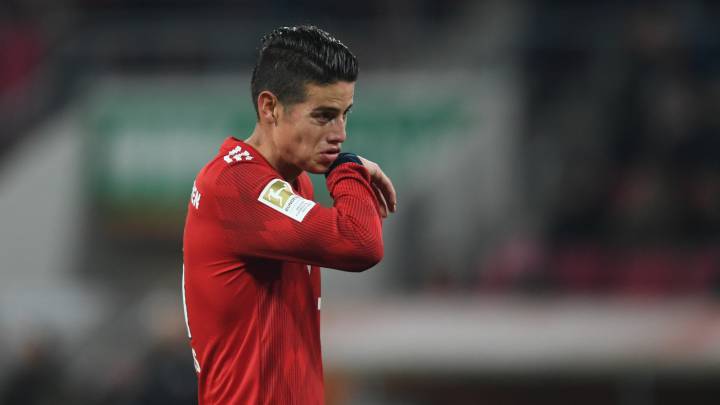 James Rodríguez is at an important juncture in his footballing career. His loan deal at Bayern Munich is coming to a conclusion, and although the German's have the final say, his desire to return to Real Madrid may be enough to secure the move.
James targets Madrid return
"In Madrid, I have everything. I have a house and people who love me. We will have to see what happens, but at the moment I have a contract with Bayern Munich. I just want to finish the season and we'll see what happens.
"I keep in touch with some Real Madrid players, and exchange messages with them..."
This is how James responded to Spanish journalists regarding his current situation when speaking after Bayern Munich's Champions League match against Liverpool at Anfield. He suggested more about a return to his parent club than had previously been made known.

According to AS sources, the Colombian would indeed love to return to Madrid, and for this reason he has put the wheels in motion. There is a meeting planned between representative of Real Madrid, Bayern Munich and the player to see what can be done to make it happen. This meeting is scheduled for next month following the return leg between the Bundesliga and Premier League giants on March 13. The date will be confirmed based on the outcome of the tie: if Bayern is eliminated it would take place at the end of the month, if they progress, it will be delayed until April.
Changing form and fortune
This meeting is the key to James' future and it is Bayern who will have the final say. Early in the season, some strong performances from the Colombian had senior club officials looking positively about keeping the midfielder in Munich. This would involve paying the remaining 42 million euros of the operation in which 13 million was already handed over for his two season loan.
But since that early boost, the situation has changed. James has been used as a substitute more than as a starter, but this doesn't rule out the possibility that Bayern will still take their purchase option and then sell the player to another European side. From James' perspective, however, he feels that in his final two campaigns for Los Blancos, under Zinedine Zidane, he was not given the necessary opportunities to shine as he had done previously. And now, after two seasons in Germany, he feels a more mature and capable player, ready to shine again at the Santiago Bernabéu.